A lot of figure skaters have a period of highlight in their life when they shine the brightest. During that period, they participate in many competitions and often win several of them. But, once retirement takes hold, they disappear from the eyes of the public, enjoying a low-key life shielded from thousands of eyes.
Same is the case of the astounding figure skater Oksana Baiul who is enjoying her retirement with a beautiful family. If you are interested in knowing what her life looks like after retirement, let's jump in and find out what she is doing now.
Where Is Oksana Baiul Now?
1994 Olympic champion Oksana Baiul retired in 2010 when she was thirty-three years old due to some severe health issues. Oksana then married her manager named Carlo Farina in 2015. The athlete moved to Las Vegas with her husband and even gave birth to daughter Sophia in June 2015.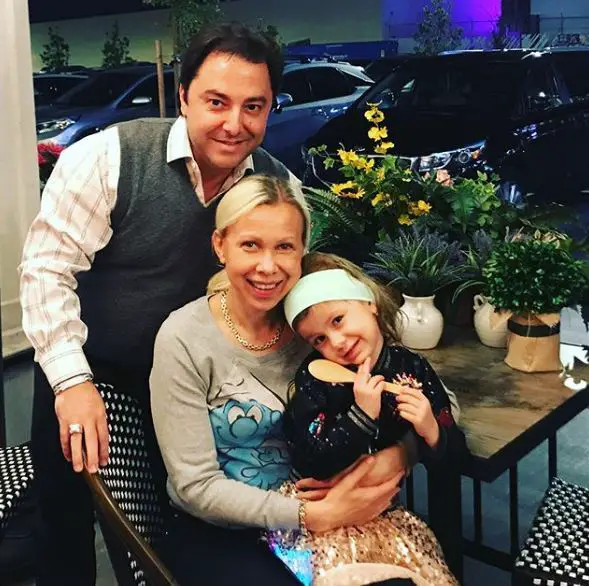 Oksana Baiul with husband Carlo Farina and daughter Sophia on November 2019 (Photo: Oksana Baiul's Instagram)
It is not known when she met with Carlo and got married. It is so due to the secretive life Oksana likes to live, away from the prying of the media.
Queen Of The Ice's Age & Early Life
The story began in Ukraine, where Oksana Baiul was born on 16 November 1977 as the only child of Sergei and Marina Baiul. Sadly, the life of young Oksana was not a very happy one as her father left the family when she was just a toddler. She then resided with her grandparents and mother.
Look Up The Story Of Another Figure Skater:- Ashley Wagner Wedding, Parents, Retired, Net Worth
Things got even worse when she was thirteen as both her grandparents and even her mother had passed away by then. She went on to live with her figure skating coach named Galina when she took her in and became her surrogate parent. Galina recalled Oksana's struggles to prepare for the Olympics to the Chicago Tribune in 1994, saying,
"You have no idea how this girl prepared to be Olympic champion. We had no Zamboni in the rink. I hosed down the ice myself. No Olympic champion ever had such bad conditions to prepare in."
But regardless, she emerged out as one of the fantastic figure skaters of history.
Her Career & Net Worth
Oksana was into figure skating since she was four years old. And, by 1993, at sixteen years of age, she had won both the World Figure Skating Championships and Ukrainian National Championships. Furthermore, in 1994, she won the gold medal for figure skating in the Olympic Games in Lillehammer, which made her the second-youngest figure skater to win the gold medal in the history of the Olympics.
You Might Like:- Mirai Nagasu Boyfriend, Net Worth, Parents
She then moved to the United States and became a professional skater. In 1997, she wrote her book called Oksana, My Own Story, and Secrets of Skating. And in 2002, she created her brand of skating apparel called Oksana Baiul Collection.
With all her success, she has been able to collect a total net worth of $20 million.