The most successful U.S. female skater of her era Ashley Wagner...The most successful U.S. female skater of her era Ashley Wagner (who retired from competitive skating) was also a victim of...Additionally, Ashley also workes to make the environment safer for the next generation of figure skaters as she does...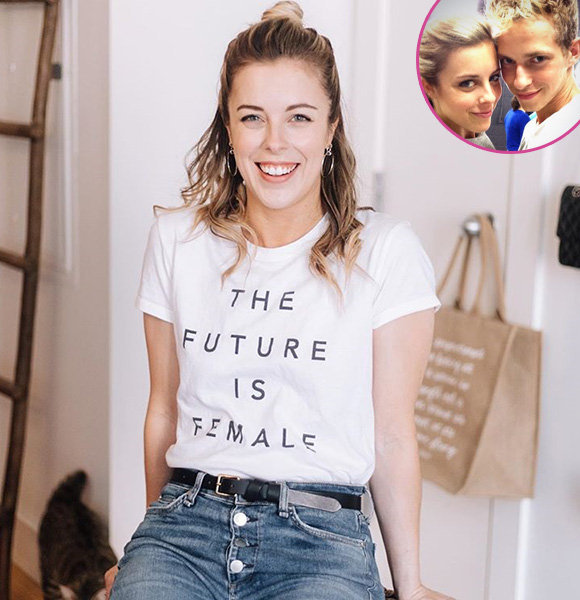 According to NSVRC, one in four girls and one in six boys are likely to be sexually abused before they turn 18 years old in the U.S.
In such a grim situation, some choose to share their story later on in life to let other victims know they are not alone.
U.S. female skater Ashley Wagner is one of them. A victim of sexual assault as a seventeen-year-old, she chose to share her story with the world through an interview with USA Today published on 1 August 2019.
Retired: Career & Net Worth
A lot of athletes show the signs of their talent at a very young age and start working on it. Ashley Wagner is one of them.
Ashley's mother offered her to choose between ballet lessons or ice skating lessons. Ashley chose the latter. She showed that she was a natural at figure skating and even at the age of five, was very competitive. She already had her eyes set on the Olympics by 1998.
Following her passion for skating, Ashley later became known as the first U.S. woman to win back-to-back U.S. Championships after winning them in 2012 and 2013.
She joined the Olympics in 2014 and won the bronze medal for figure skating.
After reaching such height in her career, Ashley decided to retire from competitive skating. She decided to retire because of the weight of constant competition and needed to take a breather.
From Our Vault:- Mirai Nagasu Boyfriend, Net Worth, Parents
Now, Ashley is starting a new phase in her professional life, post her skating career. She chooses to perform on non-competitive shows like Aurora Games, where she can skate at her own accord. Also, act as a commentator when opportunities come along.
Though Ashley is very successful, her total net worth is not known to the public.
Personal Life
Ashley Wagner is somewhat secretive about her dating life. While she does have few connections with some guys, it is not enough to conclude that one of them is her partner.
Among them, a notable person that pops up is Olympian Adam Rippon. He is Ashley's best friend and her practice partner. But since Adam is openly gay, their relationship is strictly platonic.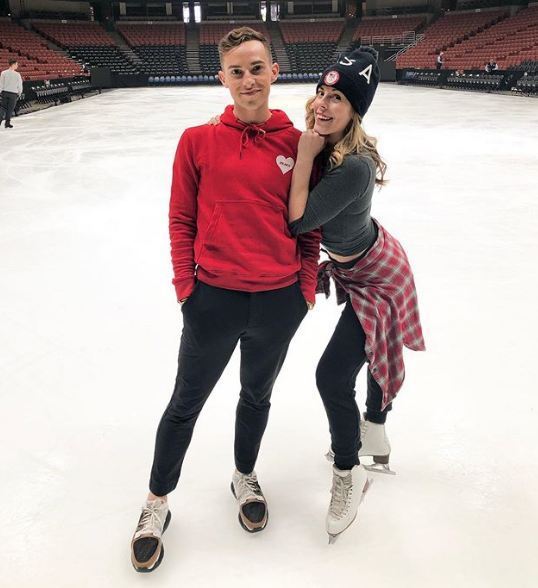 Ashley Wagner with best friend Adam Rippon in May 2019 (Photo: Ashley Wagner's Instagram) 
The figure skater also tweeted a thread on 2 January 2019. The thread linked to screenshot from Wikipedia which mentioned she was married to Charlie Blackmon. Ashley was just as shocked as anyone and joked about not attending her wedding.
As of 2019, Ashley does not seem to have a husband. Further, no evidence proves if she is single either.
Early Life, Parents & Ethnicity
Ashley Wagner was born to a retired lieutenant colonel Eric Wagner and a former schoolteacher Melissa James. The athlete also has a younger brother named Austin Wagner.
The Caucasian figure skater grew up in a military family and lived in several places; six states in the US and two countries. Her parents moved a total of seven times before finally settling in Northern Virginia.
Explore Another Figure Skater:- Figure-Skating Johnny Weir Back at Pyeongchang Olympic 2018! Plus Personal Life
Due to consistent moving, Ashley was constantly changing schools. Her mother even homeschooled her for seven months. She later attended Potomac High School for the 2007-2008 school year.
When she graduated, Ashley studied at Northern Virginia Community College through its online Extended Learning Institute. And as she wanted to study further, she enrolled in Saddleback College, California to study Sports Journalism.
Sexual Abuse Details 
Ashely came forward with her heartbreaking story in August 2019, with the help of USA Today. She explained in details about the sexual assault she had to endure from the alleged hands of late John Coughlin in June 2008.
The incident reportedly happened when the athlete was at a party with some local Colorado Springs skaters. By the end of the fateful party, there was nobody who could drop Ashley to her hotel. So she ended up staying in the same house along with a few other girls.
Similar:- X-Pac 12360 pod-caster Sean Waltman's Sexual Abuse Story, Divorce With Wife Due To Drugs, Girlfriend Died, Married Again
However, the environment she thought safe turned out to be the most threatening one. According to Ashley, she felt John, who was 22 at the time, crawling up to her bed.
Being a victim of sexual abuse, she has used her voice to aware people about it.
To support her movement, she has proposed changes to athlete education and wellness program within the national governing body. She is also speaking in person with groups of young skaters, parents, and coaches about the topic.
Now, Ashley workes to make the environment safer for the next generation of figure skaters as she does not want young athletes to go through what she had to.