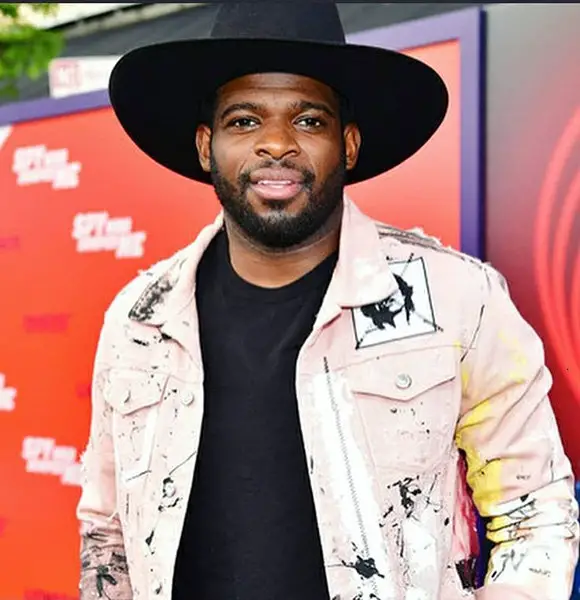 P.K. Subban is officially off the market.
In August 2019, the NHL athlete got engaged to his longtime girlfriend, Lindsey Vonn.
While proposing, Subban went out of his way to make the milestone remarkable. Popping the big question at home, he presented Lindsey with an emerald engagement ring. The stated ring happens to be his birthstone and the celebrated skier's favorite color.
Lindsey's three dogs were the only witness to the athlete couple's engagement.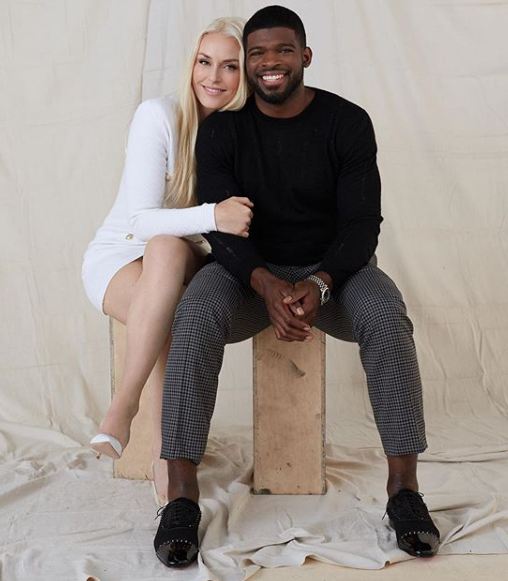 P.K. Subban with fiance Lindsey Vonn post their engagement circa August 2019 (Photo:- Lindsey Vonn's Instagram)
Following the engagement, Subban spoke to Vogue. Talking highly of his wife prospect, he labeled Lindsey as "the best thing that's ever happened to him." Admittedly, he loves the champion skier more than anything else in the world.
Talking to Vogue, Lindsey echoed similar sentiments. Despite getting engaged, she claimed that the two are in no hurry to get married. Citing Subban's playing schedule behind the delay, she shared about not pressing the NHL star into marriage.
Before Getting Engaged To Wife Prospect
Subban came across Lindsey somewhere around 2017 at the ESPY Awards. The relationship, however, didn't take a romantic turn until 2018.
Rumors of a brewing romance swirled in April 2018 after the Olympic skier got photographed at a Nashville Predators - Subban's team at the time - match.
Finally opting to go public with their relationship, Subban and his wife prospect Lindsey appeared together at the CMT Music Awards in June of 2018. Following the red carpet debut, a close source to the pair confirmed the budding romance.  
In the months that followed, the NHL star and Lindsey regularly began popping on each other's social media. In July 2018, the now-engaged duo covered the front page of Sports Illustrated Fashion 50 issue. SI dubbed the pair "the perfect match."
On Lindsey's Retirement:- Lindsey Vonn Delivers Retirement Letter; At Age 34, She's Done - Why?
Considered the most excellent skier of all time, Lindsey boasts an impressive dating history. Before Subban, she shared romantic ties with golfer Tiger Woods and NFL assistant coach Kenan Smith. Between 2007 and 2011, the champion Olympian was in a marital relationship with US skier Thomas Vonn.
Brother, Age, Parents
Now age 30, P.K. Subban was born in May 1989. A native of Toronto, Canada, he grew up as one of his parents' five children. He is siblings with sisters Natassia, Natasha, and brothers Malcolm and Subban.
While his sister Natassia is an accomplished visual artist, both of his brothers are professional hockey players. A goaltender by trade, Malcolm got drafted in 2012 as NHL side Boston Bruins' 24th overall pick. Meanwhile, Jordan was Vancouver Canucks fourth-round select in 2013.
P.K. Subban was the first one in the family to get drafted in the NHL.
Net Worth, Height & Weight
Following four years stint at the Ontario Hockey League, Subban signed with NHL outfit Montreal Canadiens. In 2014, he penned an eight-years long contract worth $72 million.
Before the completion of his deal with Canadiens, Subban got shipped to Nashville Predators in 2016. Three years later, the Predators traded him for Steven Santini to New Jersey Devils.
Beyond boasting $25 million in net worth, Subban stands six feet (1.82 m) height and maintains 95 kgs in weight.