Sports
Lindsey Vonn Delivers Retirement Letter; At Age 34, She's Done - Why?
Retirement Alert! Another chapter awaits for Skier Lindsey Vonn, age 34, as she is set to retire from the sport of skilling from the 2018-2019 season.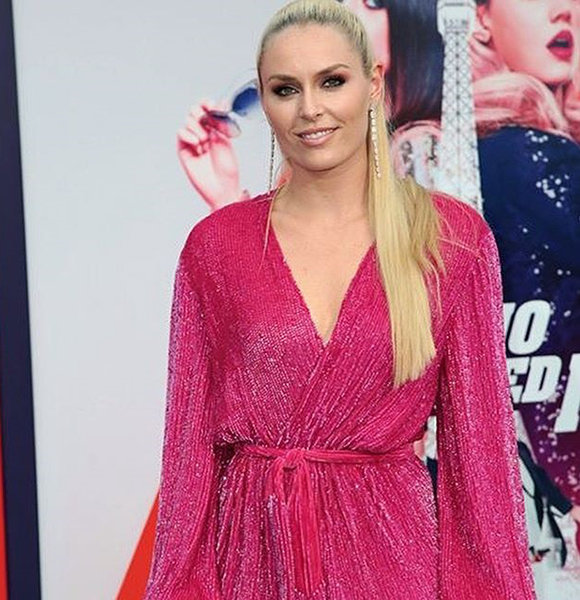 Retirement Alert!
Another chapter awaits for Skier Lindsey Vonn, age 34, as she is set to retire from the sport of skilling from the 2018-2019 season.
Earlier this month, talking to PEOPLE at a function celebrating her Heroes of the Year cover of The Red Bulletin, the Olympic alpine skier suggested that she might retire soon.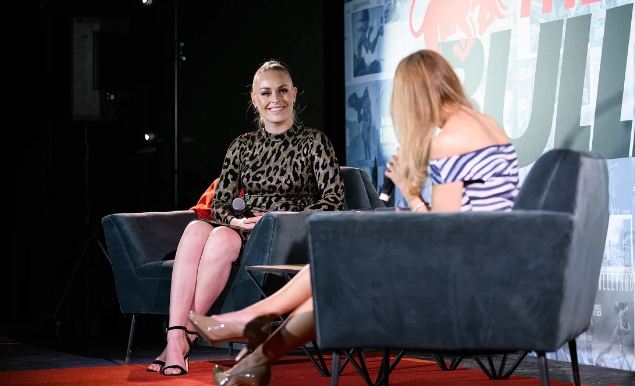 Lindsey speaking to People (Photo:- people.com)
Don't Miss:- Redmond Gerard Snowboarding Through PyeongChang 2018 Olympic Winter Games
Lindsey - who holds the record of most World Cups wins at 82 - is just four short of Ingemar Stenmark's 86 World Cups wins. In her PEOPLE interview, she referenced the hype surrounding the records by saying:
"I have been saying the past few years that I'll keep skiing until I break the record, but I've come to the realization that my career is not the sum of this record." 
The Saint Paul native followed by acknowledging her World Cup record. The 34-year-old then explained why she need not require to break Ingemar's World Cup record to solidify her name in the upper echelon of Skiing, She explained:
"I've done things in ski racing that no one's ever done before, and I'm proud of that and what I've accomplished as a whole, and I don't necessarily need this record to solidify anything or prove anything to myself or anybody else."
Her assertions don't mean that she has completely lost her hopes on ever breaking the record. Lindsey - who has a reported net worth of $6 million - said:
"I think it would be incredible, but I'm proud of myself no matter what. And just knowing that gives me peace of mind and makes it a lot less nerve-wracking. I'm just gonna enjoy this season and not think about the record and try to win like I always do."
Despite the Minnesota native's desire to continue her skiing career a little longer, her body won't let her. Injuries and Surgeries have taken an immense toll on Lindsey's physicality.
Read Also:- Marit Bjørgen Bio: Cross-Country Skier Who Marked History On 2018 Olympic Winter 
As for her decision to bid farewell to the sports of skiing, she has zero regrets. She told People:
"I have to accept that and I have and I'm at peace with it, and I'm happy with my decision."
Lindsey - who dated disgraced golfer Tiger Woods for three years - then expressed excitement on knowing that a new chapter awaits after she gets retired. In a cheerful tone, she divulged:
"I'm excited about the next chapter. I really am optimistic and excited, and I think the next chapter is gonna be more exciting than what I've done so far. There's a lot of opportunity out there and I'm looking forward to the next chapter."
Although she seems enthused with the impending future endeavors, Lindsey can't help but think that it will be a weird transition. The three-time Olympic medalist confessed:
"I think initially when I was thinking about it, I was nervous because all I've known and all I've focused on my whole life has been skiing, so to think about something else as my main focus is weird, to say the least."
Lindsey sounded confident - all the while acknowledging the upcoming shift -  when she claimed that she would be just as successful through hard work and dedication.
Other Athletes In Our Vault:- Ryan Nassib, NFL Quarterback Stats, Salary & New Contract
About ten days after her interview with People, Lindsey took to Instagram to announce her "official retirement." In the post, she urged the interested fans to check her bio which would then link them to her retirement letter published on Sports Illustrated's official website.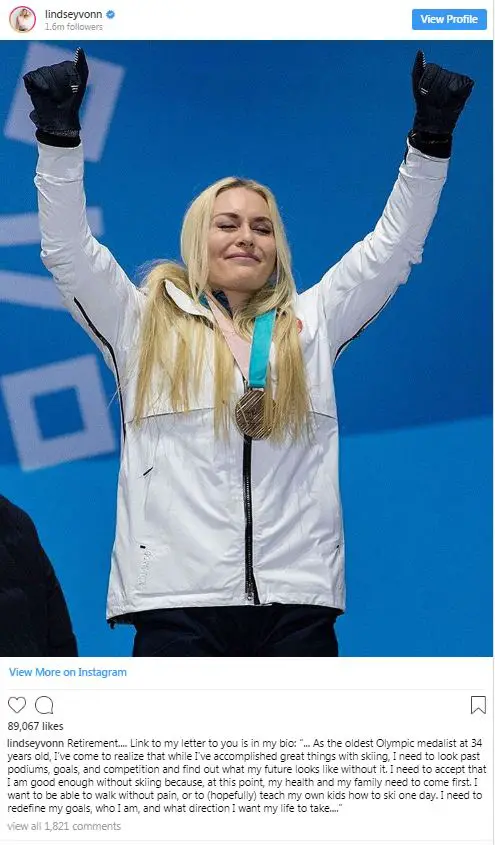 Lindsey asks interested fans to read her retirement letter (Photo:- Lindsey Vonn's Instagram)
Much like her PEOPLE interview, her retirement touched on numerous topics including the pressure she felt growing up all the while dreaming of becoming the best skier that the world has ever seen.
She then recounted all her injuries and how she has always strived for more despite the fact. As per her decision to be retired, the Minnesota native writes:
"I need to accept that I am good enough without skiing because, at this point, my health and my family need to come first."
Referencing the Ingemar's World Cup record, Lindsey insisted that she can still break it in her retirement letter. She ends the said letter by asserting that her retirement is just a new beginning. The 34-year-old skier explains:
"I am a woman ready for the next chapter. I can do this! My legacy will be more than skiing and there are many chapters left to write."
Lindsey - who was romantically linked with ice hockey player P.K. Subban in July -  ended her retirement letter by thanking her family, friends, and fans.
Interesting:- Retired FBI Philip Mudd Bio Unfolds: Age, Married Status, Wife & Family Details
Here's to Lindsey hoping that she finds as much success off the snow as she did when she was on it!