Padma Lakshmi Talks on Her Husband and What Caused their Married Life End in Divorce! Also, she is dating her ex-boyfriend. The Indian-born American author Padma Lakshmi she has been enjoying this roller-coaster ride since the age of seven. Same goes with Padma, as her success is the result of the struggles she has faced. Today, let's stroll around her failed marriage, love life, battle with "severe endometriosis" and its effect on her blissful relationship.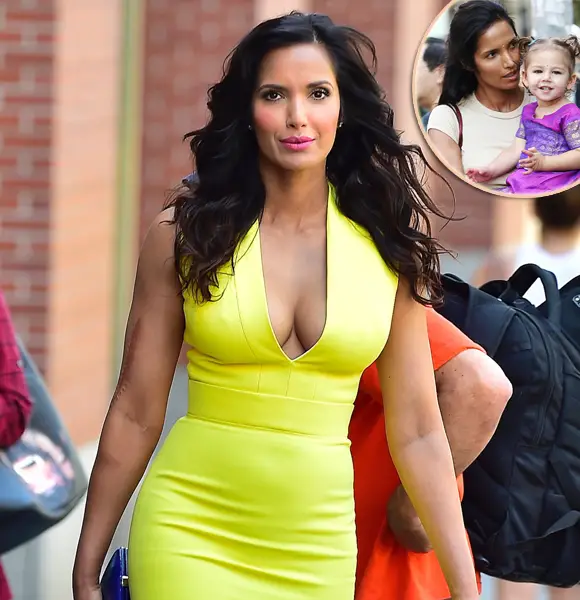 Life is a journey with many hurdles. When you believe that everything in your life is going smoothly, something comes up that turns your life upside down. The Indian-born American author Padma Lakshmi knows this rule very well, as she has been enjoying this roller-coaster ride since the age of seven.
Today, let's stroll around her failed marriage, love life, battle with "severe endometriosis" and its effect on her happy relationship.
Padma's Married life And Divorce
The young cookbook author Padma Lakshmi was married to novelist Salman Rushdie on 17th April 2004. Before getting married, Lakshmi was dating Rushdie for three years, and they even lived together in the same house.
Despite knowing Rushdie for a long time, Lakshmi's marital relation couldn't last long. Padma and Salman ended their relationship with divorce just after three years of marriage.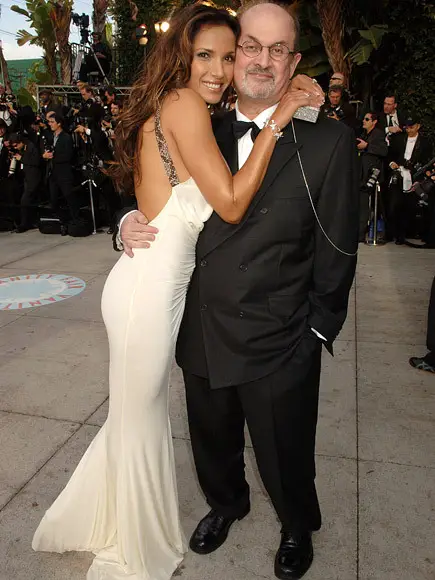 Padma Lakshmi pictured with her husband Salman Rushdie in 2006 (Photo Credit: PEOPLE)
In March 2016, Lakshmi sat down with Jess Cagle, the editorial director of PEOPLE and Entertainment Weekly to talk about her new memoir Love, Loss and What We Ate. 
Another Hollywood Divorce:- Richard Tyson Wife, Relationship, Divorce, Family
She even gushed some information related to her love life, failed marriage and sex. In the interview, Lakshmi revealed that she met Rushdie in the year 1999 at a party and was hypnotized by his brilliance. She explained-
"Imagine a young woman in her twenties, who loves books and who had published her little cookbook and in comes this guy. I mean, he was the best thing that ever happened to me by a mile. The fact that somebody of that stature and caliber was even interested remotely enough in me to want to take me to lunch was kind of unbelievable."
Lakshmi, who was seduced by Rushdie's words, enjoyed her first date in Central Park and eventually fell in love with him. When Lakshmi was talking about how happy the relationship she enjoyed with Rushdie in the early years, she turned the interview into "how her relationship was affected?"
Lakshmi revealed that she used to suffer from chronic pain due to "severe endometriosis" and as a result, she was unable to have sex. Lakshmi wasn't shy at all to say that she was involved in many arguments with her partner due to lack of intimacy. Lakshmi said-
"Endometriosis was definitely a major reason that my marriage failed and I don't think either of us understood it at the time. I think that's also because I hid it to a certain degree, not intentionally but you know, it's weird to talk about your period all the time. It's like the least sexy thing in the world to do."
She continued-
"I think that Salman took it personally and I think that he felt rejected and I can understand that."
Do you know Lakshmi and her ex-husband Salman Rushdie are still friends despite the excruciating split? Talking about her relationship with her former lover, she said-
"I think it's going to be hard because I do talk about intimate things and I think that's going to perhaps be difficult for him but I tried to be even-handed about explaining the wonderful years that I had with Salman too. Because I do still love him. In many ways, I consider him still part of my family. I think if you really fall in love with someone, even if you fall out of love with them, you still must have some little portion, some little imprint, on your heart that can never be extinguished or erased."
Lakshmi, who battled with severe endometriosis, was told by doctors that she wouldn't conceive a baby in the old fashioned way. However, she is now a proud mom of daughter Krishna Thea Lakshmi-Dell, who was born on 20th February 2010.
When Lakshmi first discovered that she was pregnant, she was shocked not only because of what doctors said but because she had no idea about the paternity of her child.
During that time, Lakshmi was dating billionaire Teddy Forstmann (died in 2011) and venture capitalist Adam Dell.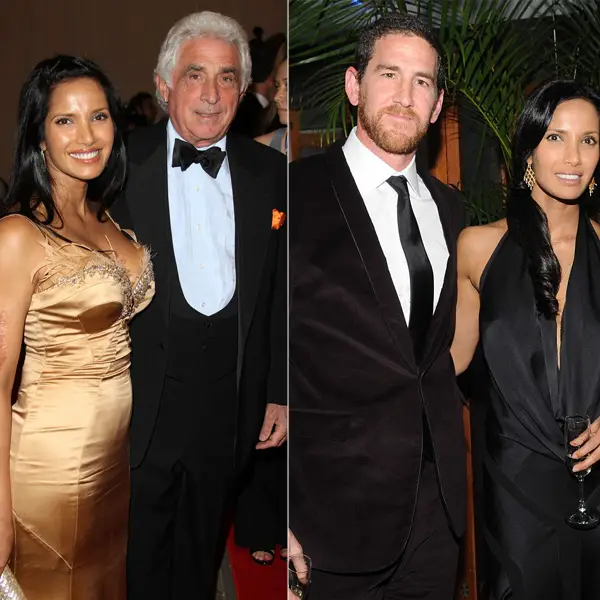 Padma Lakshmi with Teddy Forstmann (Right) and Adam Dell(Left) (Photo Credit: Liverampup)
Lakshmi, who looks beautiful without any plastic surgery, later discovered that her ex-boyfriend Adam was her child's father, with whom she ended her affair in 2009; a year ago she gave birth to their daughter.
Back With Ex-Boyfriend
The forty-eight-years-old Lakshmi, who was sexually harassed at the age of seven by her stepfather's friend, rekindled her romance with her ex-boyfriend and the father of her daughter.
The on and off pair boasted quite a tense relationship.
After the birth of their daughter, Adam sued his baby mama in 2011. He demanded that she let him meet his daughter frequently. While Padma Laxmi was apprehensive, she gave in for the privacy of her only child in 2012. Thus, the Top Chef host started co-parenting her daughter with her ex-boyfriend. Things were going well for the co-parents although they were not involved romantically.
Similar:- Will Arnett Dating Again, Who Is Girlfriend After Divorce? Kids, Age, Height
Padma even found time to date Richard Gere in 2014. However, she broke with the Hollywood A-lister after six months.
The world was shocked when there were hints of romance between the Goodwill Ambassador for the United Nations Development Programme and her baby dady. Reliable sources confirmed that she and her ex-boyfriend, Adam reconciled in early 2017.
The former exes-turned-lover's romance went from strength to strength. In May 2019, Padma stepped out with Adam with a large ring on her wedding finger. People cannot help but speculate about her engagement.