Entertainment
Paula Abdul Has Loads On Her Back; Injury While Young, Failed Married Life And The Use Of Drugs
Paula Abdul Has Loads On Her Back; Injury While Young, Failed Married Life And The Use Of Drugs. Some people crumble down to ashes after not being able to cope up with those issues, while some rise against the run of play and become even stronger in life. The famous singer and songwriter Paula Abdul can relate to the above statement, as she has faced many issues in her life like injury concerns, broken marriages, failed relationships and drug & drinking accusations.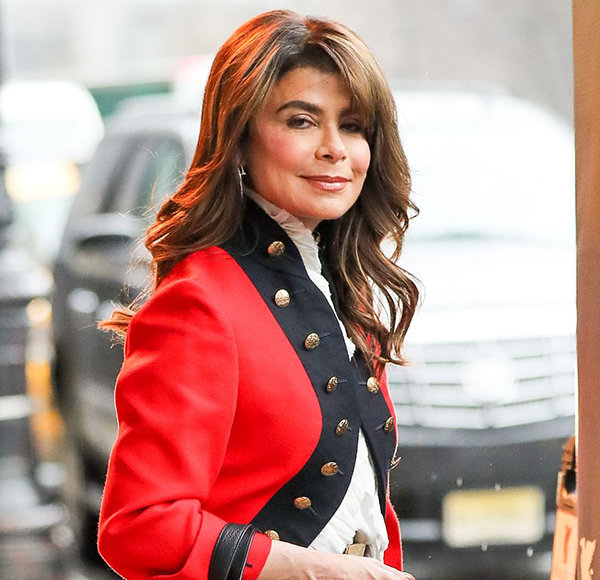 Struggles and problems are inevitable in the journey of life. Some people crumble down to ashes after not being able to cope up with those issues, while some rise against the run of play and become even stronger in life.
The famous singer and songwriter Paula Abdul can relate to the above statement, as she has faced many issues in her life like injury concerns, broken marriages, failed relationships and drugs & drinking accusations.
But, did she manage to rise back amidst the struggles, or was the downfall inexorable in her case? Let's take a closer look to find out the truth!
Young Paula Abdul's Struggles: Getting Drunk & Drugs
Paula Abdul has made some headlines with her quirky behaviors, and that has prompted people to point out some fingers towards her and accuse her of using drugs.
Drugs Problems:- Rose McGowan is Getting Arrested for Drugs Charges! View Full Report
However, this is something which Paula never agreed to; instead, she has tried her best to defend herself from such claims in public. In an interview back in 2005, she affirmed,
"I'm not addicted to pills of any kind."
She added,
"One said I was on drugs. Another described me as acting spaced out. Then someone else criticized me for being animated. They wrote, 'Look at Paula dancing up there with the contestants. Only someone on drugs would do that.' It was so hideous and mean."
In the same interview, she also opened up about how the medication, she had received for her injuries, made her act divergently.
Paula, who faced some neck injuries from the young age of 17, car accidents during the 80s, and a plane crash during the 90s, added,
"The pain would be so excruciating I'd cry all the time. I knew something was wrong, but I hid it from people. No one knew," 
It is a well-known fact that Abdul began to experience "seizure-like episodes" after those issues and once awoke to find half of her body paralyzed. Abdul was then taken to the hospital and given an injection such that it could help her body move again.
During the time frame between 1998 and 2002, Abdul underwent a dozen operations to help mend an injured disc in her neck. Paula admitted she took so much medication during that time that it made her "loopy," but after she fell into a deep depression, Abdul ditched the pills and chose to live with the pain.
Because Of Medications:- Modern Family's Ariel Winter, 19, Living Together With Boyfriend Levi Meaden, 29! Dating 10 Years Senior In Not A Big Deal
But all thanks to a medicine called Enbrel; she was able to eradicate the pain from her life! Speaking of this miracle, she expressed,
"I wonder how I got through all the time. If people only knew what I've gone through with pain and pills. I'm dancing for joy at the fact that not even a year ago I was in so much pain I could hardly get up. From where I was to where I am is a miracle. It's beyond a miracle."
However, the drug thing was not the only accusation Paula has had to deal with in her life, as she got accused of frequently being drunk while on American Idol, a talent show where she served as a judge. She then thrashed those claims saying that being drunk was not her thing.
In an interview, when quizzed if she has ever gotten drunk on air, she responded,
"Never. I've never been drunk in my life, I don't like it. It's not my thing. Spending money on clothes and shoes, that's another thing."
Whatever the haters accused her of, as per her, she was innocent all along!
Married Life - 2 Husbands & Divorce
Like her professional life has been filled with controversies and various claims by people, Paula Abdul's personal life too is not that great by the looks of it. Especially her married life, because she has faced not one but two broken marriages!
She was first married to Martin Sheen's oldest son and Demi Moore's former fiance, Emilio Estevez. The two tied the knot back on 29 April 1992 but due to some personal reasons, they ended their marriage in divorce.
Another Interesting Split:- Dr. Jackie Walters Divorce, Married, Children
Paula emphasized on their inability to hold common ground regarding their planned parenthood, as Paula wanted to have kids of her own and become parents with Emilio but he already had children from his previous relationships. Speaking of the divorce, Abdul said,
"It was very hard for him to admit that he couldn't handle having kids again, It was heartbreaking for us both."
But that was not it for them, as the two then reconnected almost 20 years after their divorce. Paula shared a then and now a picture of them on social media, which led the fans to believe that they held no hatred towards each other.
After her divorce with Emilio, she then married a clothing manufacturer, Brad Beckerman in 1996 following a whirlwind courtship. But the marriage proved just as fleeting, as Paula filed for divorce only after 16 months after stepping into a marital dimension with her husband.
No significant reasons got aired, but the relationship undoubtedly did not meet the expectations those two had!
Following her second divorce, she then got romantically linked with an American Idol contestant named Corey Clark. According to Corey, the duo had a sexual relationship.
However, Paula, who is of mixed ethnicity (her father is of Syrian descent, and her mother is a Canadian), slammed those allegations and said Clark was not telling the truth.
In 2015, Corey was arrested on harassment after confronting his then-estranged wife Monica Clark and her lover. Ironically, Corey's decision to conceal his previous arrest record got him booted from American Idol.
Besides Corey, Brad & Emilio, Paula shared romantic ties with restaurateur JT Torregiani. The on-and-off lovebirds shared a 13-year age difference between them.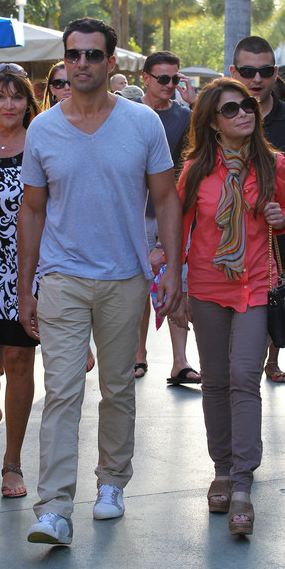 Paula Abdul with her young boyfriend Jon Caprio strolling the streets of Florida circa 2012 (Photo:- dailymail.co.uk)
After JT, around 2012 the Pop songstress ignited a romance with a much younger beau, Jon Caprio.
Father's Death; Dating Anyone In 2019?
Paula's biggest tragedy, however, came in 2019 when her father Harry passed away. He was fighting Alzheimer's Disease for a long time.
The news meant that the pop singer lost both of her parents. Lorraine, her mother, had died a year earlier.
Interestingly, both of her parents were 85 at the time of their passing.
This singer undoubtedly has faced a lot in life and still is standing firm, battling with all those issues and "fake" claims that surrounded her. Also, having had a roller-coaster-like ride in her past, Paula has not revealed much about her present dating life and a possible boyfriend.
Props to Paula for withstanding the horrid past!