Entertainment
Pauly Shore Married Status Amid Gay Rumors | Has Girlfriend Now? Details
A multi-talented personality achieving success in acting, filmmaking, and stand up comedy, Pauly Shore has left an unerasable mark in the industry. With his acting career in decline after the late 1990s, the man with a never-say-die attitude has changed his focus concentrating on stand-up career instead.
The actor known primarily for his perfect comic timing has not only seen the peals of laughter but also faced some tragic consequences. Not only has he generated headlines for his works, but also for his womanizing skills, as he has worked his charm around many women.
With a fading career, Pauly has still managed to remain in the news with his confusing social media posts regarding his sexuality. Hit or flop, the actor surely knows how to attract attention and be the talk of the town.
Not Married: No Wife But Has Girlfriend Now?
Pauly rose to fame in the late early 90s with a series of hits one after another. During his illustrious acting career, the Encino Man star has dated some huge names in the industry including the likes of Tiffani Thiessen and Kylie Minogue.
See Also: Chace Crawford Has Wife Or Casually Dating Girlfriend? Explicit Details
Pauly Shore and Kylie Minogue met in the set of his movie Biodome in 1997, which Kylie described as 'the worst move of her career.' In an interview given to The Daily Telegraph, Pauly recalls her good days with Kylie,
"I fell in love with her… big time. I didn't know who she was and she didn't know who I was and we just had a great time together. I just fell in love with her personality. I'm like, 'Oh my God, this girl's adorable"
Pauly Shore's career downfall has been nothing less than extraordinary, and one of the main reason behind it is claimed to be the trauma he faced with the death of his ex-girlfriend, Shannon Wilsey. The adult film star had committed suicide in 1994, shortly after breaking up with Pauly after an accident ruined her entire face.
In an interview given to The Los Angeles Times in 1994, Pauly mourned about the death of his ex-girlfriend,
"She was the nicest, most beautiful girl I ever met, It was a very dramatic thing for me."
Pauly, far from his prime years, is maintaining a low-key relationship status now. However, the actor was seen displaying PDA with an unknown girl rumored to be his girlfriend.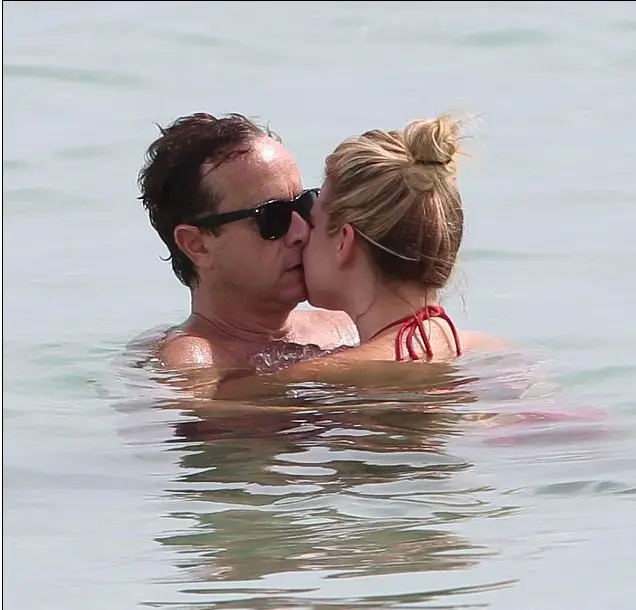 Pauly Shore involved in a PDA with the girlfriend (Photo: dailymail.co.uk)
The 50-year-old comedian was seen relaxing in the beaches of Miami with his relatively younger girlfriend in October 2015.
Gay Or Not: Son In Law Star Sparks Gay Rumors With Social Media Post
After making headlines through his PDA filled date on the beaches of Miami, he again disappeared from public eyesight for quite a few time. However, being someone who relishes having the spotlight upon him, he was recently in the news regarding his sexuality.
Paulie, despite his fledgling career, boasts a net worth of $20 million, had everyone scratching their heads recently when he uploaded a photo to his Facebook account where he identified himself as gay.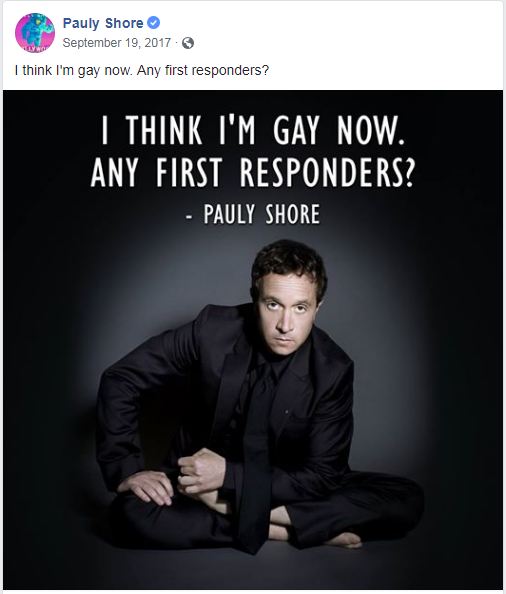 Pauly Shore claiming himself to be gay on social media (Photo: Pauly Shore's Facebook)
With not much follow up after that, it has been a huge matter of speculation, whether the actor is actually gay or not. Not just that, the topic has been a subject of discussion because of Pauly's another relationship. This time he is rumored to be involved in a gay relationship with partner Alex Noble.
With the long list of his former girlfriends, this news comes in as a big shock. However, this might just be an attempt by the actor to revive his career, that seems all but dead. With both of his parents coming from the comedy background, and Pauly himself possessing an unmatchable sense of humor, this post could also be just another one of Pauly's jokes.
After all, the Alone Together star is currently indulged in various stand-up comedy shows, in hopes that his career will catch pace again like it used to do.
You May Also Like: Openly Gay James Charles, Exceptional Makeup Artist Boyfriend | Dating?
The Pauly Shore Is Dead actor, who faked his own death in the movie in a bid to revive his career in 2003, might just be pulling off another career revival effort with the social media stint.
Want to follow the latest happenings on your favorite celebrity's life? Then follow us on our Twitter page @Live Rampup