Entertainment
Petra Kvitova Dating Anyone Now? Or Got Enough After Having Two Boyfriend Of The Same Name?
Petra Kvitova Dating Anyone Now? Or Got Enough After Having Two Boyfriend Of The Same Name? In the journey of finding a partner, heartbreak is inevitable! Every relationship teaches you something or the other and makes it more transparent about the qualities you are searching for, in your partner. Similarly, two times Wimbledon winner, Petra Kvitova has suffered heartbreaks in the past but the most asked question- is Petra Kvitova dating now or not?
Heartbreak is inevitable in the journey of finding the perfect one. Every relationship teaches you something or the other and makes it more transparent about the qualities you are searching for, in your partner.
Two times Wimbledon winner, Petra Kvitova knows that very well, as she has suffered heartbreaks in the past. But the real question here is- has she moved on from her past heartbreaks?
Well, if you're wondering about the same, tag along till the end!
Once Engaged But Is Petra Kvitova Dating Now?
The matter of her dating someone remains unclear when we take a look at the current scenario. But judging by her history, Petra is possibly in the dating zone, just keeping the matters out of the limelight!
Read Also:- Abby Huntsman Post Pregnant Bliss; Married Life To Banker Husband
Talking about her past, Petra was previously engaged to her former fiancé, Radek Meidl- a Czech ice hockey player. Petra announced her engagement to her then-boyfriend-turned-fiancé Radek back on December 17, 2015, via Twitter along with a snap of the couple.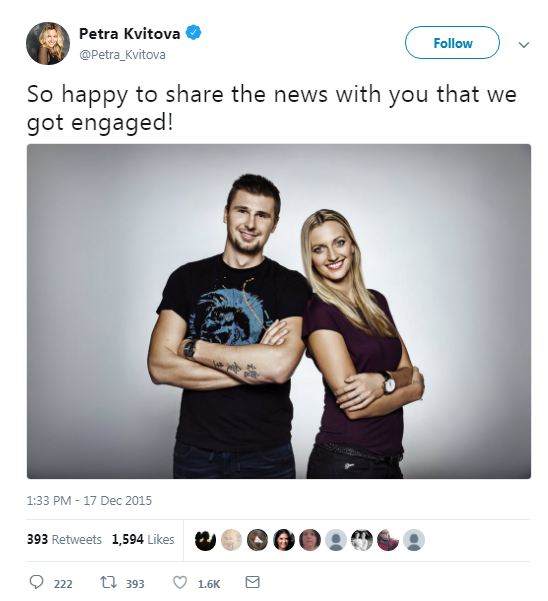 Petra announces the news of her engagement to Radek via Twitter (Photo:- Petra Kvitova's Twitter)
Moreover, Petra tweeted about her former boyfriend Meidl in her tweet while mentioning that she and her family were enjoying watching Meidl play ice hockey, back in October 2014.
The tweet which featured a snap her then-boyfriend Radek going up against his rival inside the ring and read:
"Almost time for Singapore! Has been fun to see my family and watch my boyfriend Radek Meidl play some ice hockey :)"
How much cuter the relationship seemed at that instant, it could not survive long, and the couple reportedly suffered a split back in early 2016.
Boyfriends & Affairs: Petra's Search For "The One"
Petra has also dated another sportsman who shares the same name, Radek Stepanek. During her courtship period with Stepanek, she supported him during a semi-final match of the Czech Republic against Argentina back in September 2013.
Interesting:- Actress Cassie Steele's Dating History: Wondering Who Her Boyfriend is? Also Find Professional Life
Petra, who was present in the match to cheer her man, publically smooched Stepanek in the stands too.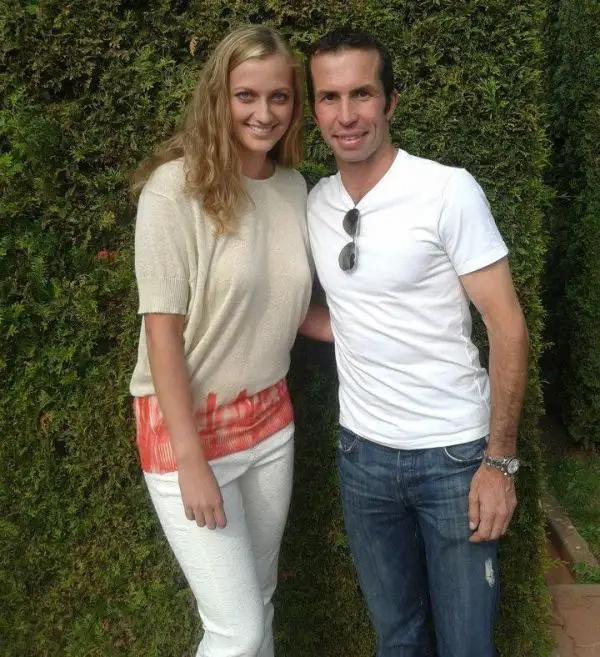 Petra Kvitova with her former boyfriend, Radek Stepanek (Photo Credit: tennisearth.com)
She even gushed about Stepanek in an interview with the 'USA Today' back in October 2013, giving an insight into their relationship.
"It's the first time I was supporting him, and I think he supports me too. If we are not together, he is watching my matches and I am watching his matches. So I think there is a big support between us, and I think that it's very important for us to have it."
As both of them belong to the same sports, she shared that they understand each other's mood and the pressure of the tour well,
"I can say we are not speaking about tennis only," 
Before dating the fellow tennis player, Petra was dating her long-term boyfriend Adam Pavlasek and some sources claim that they started dating each other since 2011 but following the growing differences, they suffered a split in April 2013.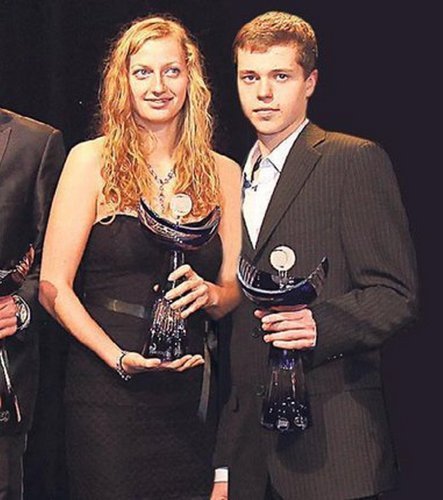 Petra Kvitova and her former boyfriend, Adam Pavlasek (Photo Credit: fanpop.com)
Furthermore, a child holds a special place in people's heart and is capable of evoking a nurturing emotion.
Better Not Miss:- Mixed Ethnicity Actress Lia Soberano's Now Officially Dating her Onscreen Boyfriend!
Petra's fans witnessed her motherly instincts after she shared a tweet regarding an essential part of a child's life back in December 2015. Her charity filled tweet on the eve of the holiday season accompanied the non-profit children organization Give Play's web address and read:
"Play is central to a child's life, but many live without it. Join me & @RightToPlayIntl to #GivePlay this holiday."
Although she is yet to embrace motherhood herself, she has a great deal of affection for kids, don't you think so?
Knife Attack Sidelines Petra For Six Months
Petra was sidelined for about six months after suffering grave injuries from a knife attack in an attempted home burglary gone wrong incident. On 20 December 2016, a knife-wielding burglar attacked Petra at her house in the city of Prostejov.
Following the gruesome attack, the tennis ace was rushed to the nearby hospital where she went four hours of surgery.
Tennis Players In Our Vault:- Grigor Dimitrov Ends Dating Girlfriend Nicole Scherzinger? Possible Split Situation
The attacker was at large until the Czech police finally apprehended him in May of 2018. After learning about the arrest, Petra said:
"It's great that they have him in custody. But probably the most, the happiest I will be is when the story will end when everything will be done and finished."
Despite the arrest of her attacker, Petra confessed that hasn't truly learned to feel safe whenever she's alone in public.