Entertainment
Grigor Dimitrov Ends Dating Girlfriend Nicole Scherzinger? Possible Split Situation
Tennis ace Grigor Dimitrov was once the boyfriend of the famous tennis player, Maria Sharapova. But, finding the love in the same profession as of him turned out as a difficult breakup, which was tended by his British songstress girlfriend, Nicole Scherzinger.
Grigor, age 27, has already had a tumultuous two-year-ride as boyfriend and girlfriend with Nicole among conflicting work schedule and baseless media speculations.
Now, the romantic couple is trying to level up their relationship by getting engaged; Well, that's what the tennis player's interview has been signaling!
Girlfriend Supports Through Rough Breakup; From "Tired Of Everything" To "I Am Loved"
It was the winter of 2015 when Grigor, who is of Bulgaria nationality, first crossed paths with Nicole, and 13 years of age difference was less of an issue for the couple.
Discover:- Why Hasn't Fox News' Bill Hemmer, Age 52, Not Married Yet? Does He Have a Girlfriend or Engaged?
They hit it off instantaneously on their first meeting, but the couple waited till January 2016 to come out as a couple.
At the time, the Bulgaria native going through a heartbreak after his two and a half-year-old relationship with Maria Sharapova came to an end, and split with his ex-girlfriend forced him through a very rough period.
Talking to Mr. Porter in June 2018, the 27-year-old tennis player told :
"I was fighting with people and I went through my breakup … I was tired of everything, one by one, falling apart."
That was the time when then-girlfriend Nicole came to the rescue, which Grigor spoke fondly, stating:
"It's not easy. The schedules are very heavy. But she's doing a better job than I am at being able to come to most of the places I'm at."
Few weeks after his Mr. Porter interview, Grigor and Nicole's split rumors made headlines after Nicole put up an Instagram story on July 9 that read:
"I am love. I am worthy. I am abundant. I am loved. I am magic. I matter. I am generous. I am alive. I am patient. I am blessed. I am awesome. I am my dreams. I value myself. I am magic. I am creative. I create my life. I am compassionate. I am loved. I matter. I am a yes to me. I am alive. I am in love."
Next morning, his girlfriend posted another story(a bible verse) that read:
"I loved you at your darkest. Romans 5:8."
Media outlets soon began reporting the news of their split after getting hold of these cryptic messages and cited hectic schedule behind their fallout.
Interesting:- Dwight Yorke Abandoned Katie Price & Son; Didn't Want Her As Wife?
To everyone's surprise, the pair were spotted vacationing in Saint Tropez, France, just a few weeks after the news of their split first broke -- essentially putting the separation reports to bed.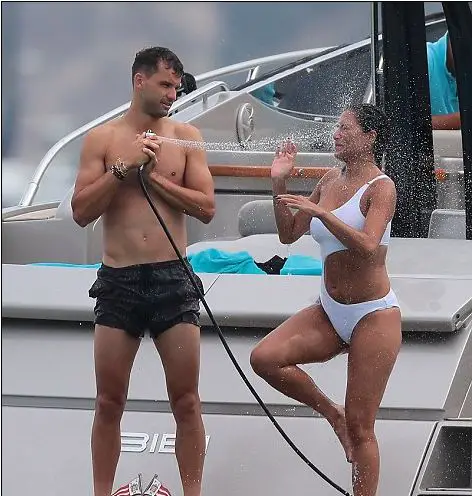 Still Dating:- Grigor and his girlfriend, Nicole enjoying their vacation in France (Photo:- dailymail.co.uk)
This wasn't the first time that Grigor and his girlfriend, Nicole were riled up in a baseless gossip.
Back in May 2017, The Sun reported that the duo hadn't seen each other in two months. Similarly, the pair had to fend off allegations accusing Nicole of helping American rapper Big Sean cheat on the latter's girlfriend, Jhene Aiko in March of 2018.
"Love To Have A Beautiful Family"; Girlfriend Turns Into Wife?
Prior to dating Nicole, Grigor had dated tennis stars, Maria Sharapova and Serena Williams. The Bulgaria native began dating Serena Williams in early 2012 after getting introduced by Patrick Mouratoglou.
Tennis Player In Our Vault:- Nick Kyrgios Is Dating! Meet Super Hot Tennis Player Girlfriend Ajla
It seems neither of his previous relationships carried the same weight as his current relationship with Nicole does; in that he has even contemplated starting family with Nicole. The 27-year-old Bulgarian, who has a reported net worth of $8 million, told Sky Sports in June 2018 interview:
"I would love to have a beautiful family one day, to win Slams, I'd love my kids to see me play before I retire."
No sooner the Sky Sports interview was released, fans of the pair began to speculate that the couple might be looking forward to being engaged. Despite the speculations, what might have kept both, Grigor and Nicole from getting engaged may be their hectic schedules.