Heavy metal band Pantera is arguably history's most significant musical acts. Formed in the 80s, the group had a stronghold in the 90s and the mid-2000s metal scene.
Behind Pantera's international popularity were its charismatic defacto leader Dimebag Darrell and its lead vocalist Phil Anselmo. In 2004, the former got assassinated. His death dashed away any hope that the legendary band might get reunited.
Long before Dimebag's assassination, Phil was applying his signature deep, rolling voice to good use by performing with bands including Down, Viking Crown, and Spiritualjoint Ritual.
Phil Anselmo's Net Worth
Phil contribution to the success of Pantera shouldn't go unpraised.
From Metal Realm:- Ron McGovney Wife, Net Worth, Now
Before he replaced Terrence Lee as its lead vocalist in 1987, Pantera was an unsigned act with three albums under its belt. With Phil at its helm, the band went on to released six chart-topping studio projects.
Far Beyond Driven, Pantera's most revered work till date, even debuted at #1 on Billboard 200. All thanks to the New Orleans, Louisiana native's immaculate vocal chops.
After the group's three-year-long hiatus and eventual disbandment in 2004, Phil teamed up with other musicians. He even pursued a solo career. However, nothing came close to the critical praise he recieved during the Pantera years.
With over $6 million in reported net worth, Phil - who owns the label Housecore Records - is easily the wealthiest Pantera member alive.
His Wife - From Wedding To Divorce
Pantera's 2001 hiatus coincided with Phil's marriage to his ex-wife Stephanie Opal Weinstein, an amateur actress/musician.
Phil and Stephanie tied the knot on 31st October 2001 surrounded by friends and family. True to his public image, the metal singer didn't wear a traditional tuxedo but instead opted an all-black ensemble. His bride, on the other hand, looked pretty in a white gown.
In 2004, the duo divorced. Ironically, that very year Dimebag got killed, and Pantera disbanded.
Fellow Metal Legend:- Lars Ulrich Contrasts From Stage Acts As Family Man With Wife & Kids, A "Romantic"
Years after the split, Phil has yet to remove an X-rated tattoo of his ex-wife Stephanie from his arm.
Dating History With Girlfriend Kate Richardson
Immediately after separating from Stephanie, he began dating Kate Richardson.
Phil couldn't have asked for a better girlfriend. Not only did she help him manage his label Housecore Records as its VP but, also assisted him in overcoming his drug addiction.
Back in 1996, Phil almost died due to accidental heroin overdose. Twenty years+ later, in 2018, he claimed to be three years sober.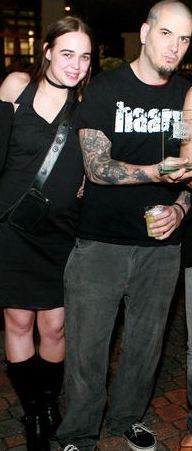 Phil Anselmo with his girlfriend Kate Richardson in 2010 (Photo:- famousfix.com)
Dating since 2004, the musician and his girlfriend of nearly 15 years Kate reside in a secluded 17-acre spread in New Orleans.
Bio - Age & Family
50-year-old Phil was born in 1968 as Philip Hansen Anselmo. He is of Danish, Italian and French heritage.
His family - biological father Phil, to be more specific - operated an eatery in Louisiana called Anselmo's before it shut its door following the Hurricane Katrina.
Discover New Artist:- Hozier Bio, Girlfriend, Gay, Age, Net Worth
A quiet and secluded person from an early age, the world-renowned musician burnt his parents' house while playing a prank on his sister. He was 14 at the time.
During his youth, Phil used to rock a rancid hairstyle. But now that he is in his 50s, he fancies a bald cut. His tattoos, meanwhile, only look more menacing with every passing year.
In terms of height, the pioneering metal vocalist is five feet and eleven inches (1.82 m) tall.