Entertainment
Who Is Phil Foden Girlfriend? Details On Baby, Parents, Salary
Phil Foden is an English football player... currently plays for Manchester City Football...is in a relationship with girlfriend Rebecca...had a baby named Ronnie in 2019...still lives with his parents despite having a son...is not engaged to Rebecca...is 19 years of age as of...signed a contract extension with Man City in...earns a massive salary of...his ratings in FIFA19 are...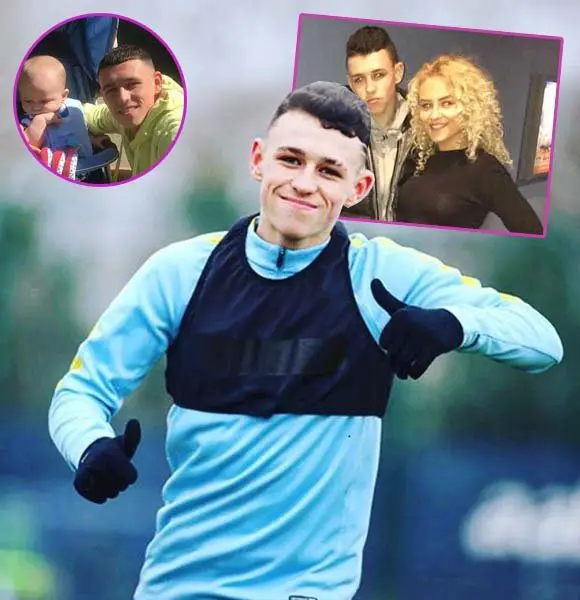 Manchester City football club has been dominating the English Premier League for quite a while now. This has been possible due to many talented players in the squad. And among the group of talented players is young Phil Foden.
Phil, who rose into stardom after his heroics at the U-17 level, helped England win the U-17 World Cup. He has since been in the first-team squad at Man City playing under Pep Guardiola.
However, despite the attention he gets on the pitch for his footballing abilities, his personal life has not been explored much. So, let's know a little bit about Phil Foden's private life.
Who Is Phil Foden's Girlfriend?
Phil is in a relationship with Rebecca Cooke. The couple is said to have known each other for a very long time, possibly from their high school days.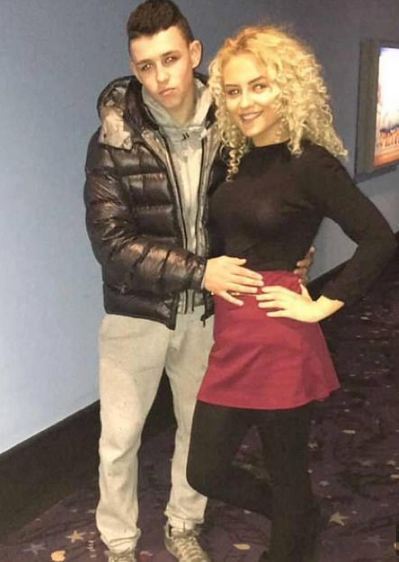 Phil Foden poses with girlfriend Rebecca Cooke in 2018 (Photo: Daily Mail) 
And Phil is pretty serious about Rebecca. In fact, he even has a baby with her. The youngster became a father at 18 years of age, and his son Ronnie was born in January 2019. 
According to sources despite being so young, Phil was overjoyed to become a dad.
However, in spite of the happiness, Phil and Rebecca have chosen not to start living together just yet. Phil still lives with his parents, and Rebecca and his son live with her mother. This move shows maturity on the part of the couple.
The pair isn't married or engaged yet. 
Phil Foden: Parents
Phil was born in Edgeley, Stockport, to Phil and Claire Foden. He grew up in a low-income family with five siblings.
His family relocated to Cheadle when Phil was 11. After the move to Cheadle, he enrolled in St. Bede's College. And this was where he started to showcase his talent in football.
Also Read About:- Andre Gray Girlfriend, Dating, Parents, Tattoo
Around this time was when Phil got chosen by Man City to play for their youth team. Since then, he has worked his way up to the first team now, earning a decent amount of riches.
However, getting rich doesn't always mean forgetting your roots. And Phil is still a family guy, living with his parents to this date.
As mentioned above, Phil's parents didn't have money when he was young. But as the player's stature grew, so did his financial ability. And he returned the love to his parents with a grand gesture.
In October 2019, the Man City youngster bought his parents a new house, worth a massive $2.5 million in Manchester. He now lives with them in this house, located in an affluent part of Manchester.
Net Worth And Salary
Phil has been playing at Manchester City since he was eight-years-old and living in Stockport. The club, too, has recognized the talent of this wonderful young player.
The U-17 World Cup winner with England, he signed a contract extension with Manchester City in December 2018. The contract earns him a decent around $30,500 per week and ties him down with Man City until 2024.
You Might Be Interested In:- James Rodriguez Wife, Dating, Children, Parents
This contract could be the reward for his hard work and perseverance, as he turned down many offers from other clubs to go out on loan and get first-team experience. He now regularly features for Manchester City and is set to take over the midfield once David Silva leaves the team.
Despite his salary and contract figures being out in public, how net worth is yet to be revealed.
Interesting Facts: Age, FIFA 19 Stats
Phil Foden was born on 28th May 2000 in Stockport, England.
The player, who is often called 'Stockport Iniesta,' has a height of 5 feet 7 inches (1.70 meters).
He has 75 overall ratings in FIFA19 and has just earned a one-point increase in overall ratings in FIFA20, making it 76.
Phil prefers to play in the CM or CAM position on the field.
He is also the Guinness World Record holder for the Youngest Football Player to win the Premier League at the age of 17 years and 350 days. He achieved this record at the end of the 2017/18 season.