Basketball was something that came naturally for the Kentucky big boy, PJ Washington. The Kentucky Wildcats prodigy made the most of it by declaring himself in the NBA in 2019.
After an impressive performance in the NCCA and becoming the best player of his team for two consecutive seasons, PJ was bound for something big.
While his selection in the draft was a surety for the power forward, it was a game of who takes the offer first. Meanwhile, the Cleveland Cavaliers were the hot favorites to welcome the player, but there was a twist in the tail as he was selected 12th overall in the 2019 NBA Draft by the Charlotte Hornets.
Dating Girlfriend?
PJ Washington is an aggressive forward who displays his emotion on the basketball court quite often. But, PJ has not been able to express his feeling for someone special in his life as of yet.
While he is still single and not dating a girlfriend, the Hornet's new signing enjoys his time joking about love. Besides, he confirmed being single in Jan 2017, which justified his behaviors on the internet.
Must Read:- Adam G. Sevani Wife, Girlfriend, Family, Now
On 2019 Valentine's Day, the 21-year-old tweeted "Happy Valentine's Day" with a photo of himself. Following that, he appeared in the comment section of the Instagram model Brittany Renner, which hinted he was trying his chances.
Net Worth Info
PJ Washington's rise to success has been a tremendous one. By looking at his journey to reach the NBA, it proves that hard work certainly pays off.
The raise for the Hornet forward started back in the days of high school. Soon, he stepped up his game and posted impressive performances in the NCCA. In his sophomore season, he was the best player of the Wildcats.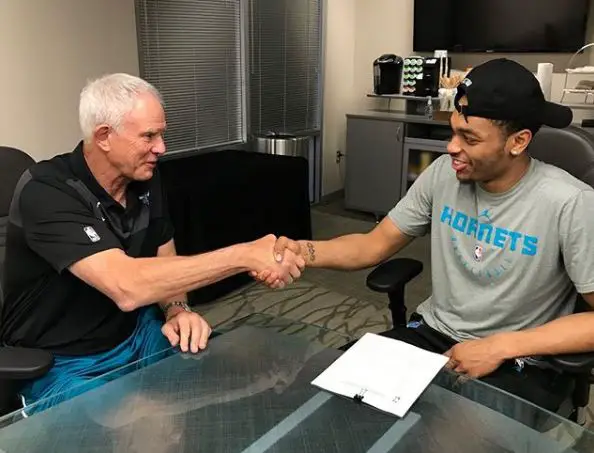 PJ Washington makes it official with the Charlotte Hornets in July 2019 (Photo: PJ Washington's Instagram)
In the 2018-19 season, he averaged 14.8 points, 7.4 rebounds, and 1.2 blocks with eight double-doubles in 34 games. Also, he was picked the NBA for the performances he put inside the basketball court.
Now he has a salary of $3,831,840, which will have a significant impact on his overall net worth.
Family, College, Height
PJ Washington Jr. was born in Louisville to parents: Sherry and Paul Washington. Accompanying him were his two sibling brothers named Spencer & Tyler, and a sister, Alexandria.
Famous Talent:- Caroline Sunshine Boyfriend, Parents
Raised in a family of basketball players, PJ was always with a basketball lying around his house. Soon, he started playing high school basketball for Findlay Prep in Henderson.
There, he crafted his technique and made his move to the senior level at Kentucky. His height of 6 feet 7 inches (2.01m) and weight of 107 kgs also helped him tremendously to improve his game.
Playing two years for his college team PJ was already their best player and ready to enter into the NBA. And in 2019, he was picked in the NBA draft by the Charlotte Hornets to play in the 2019-20 season.