Entertainment
Rachel Robinson Death Hoax Swirls; Still Alive & Carrying Husband's Legacy Proudly
Be it accidents or intentions, celebrities are always subject to death rumors, especially in the times of the internet world.
Among all this, those celebrities get targeted much, who are older in age and one of such name is the Congressional Gold Medalist and widow of a legendary baseball player, Rachel Robinson.
Rachel's age has crossed more than 90's but her energy and passion has not lessened for a bit. Instead, she is still alive and kicking continuing her husband's legacy.
For all the death questions, she has a perfect answer to give. 
Death Rumors Turned False: Earning Awards To Net Worth
Age can be one of the major factors for the death rumors to circulate in Rachel Robinson's life as she is running in 96 years of age. Despite such age, she is in her good health, instead has her own way of proving she is still alive. 
Although she has grown old now, Rachel is still active in her social life and has contributed a lot in respect to her late husband, Jackie Robinson, as she has founded the Jackie Robinson Foundation in honor of her late spouse.
Related:- William Hurt, Death Hoax Debunked! Vehemently Battling Cancer & Winning
A nurse and civil rights activist, Rachel has been involved in various social activities advocating equal rights to African-American citizens and providing free education to talented black students. 
For her contribution to the society, she has received several awards including the Congressional Medal of Honor in 2005, the Commissioner's Historic Achievement Award in 2007, the UCLA Medal in 2009, and more. 
Even though the exact figure of her net worth is not disclosed, it is assumed to be in millions. However, she previously sold her luxurious mansion in Stamford, Connecticut worth $1.3 million in 2016, which certainly became the boost for her net worth.
Family Tale: College Sweetheart To Honoring Husband's Legacy
Rachel first met the baseball legend Jackie Robinson in 1941 while they were both attending the University of California Los Angeles (UCLA) and the pair soon began dating. The couple even intended to marry, but their marriage was delayed as Jackie was called to serve his Military years during which Rachel got her bachelor's degree in nursing. 
See Also:- Carlos Correa Engaged To Girlfriend Is Dream Come True! Wife-To-Be Biggest Fan
Rachel and Jackie eventually reunited and got married after the end of World War II on 10 February 1946. During this time, Jackie had already started his baseball career and was the first African-American to play in a major baseball league. The partners were achieving success in their respective careers and even became parents to three children namely Jackie Jr., Sharon, and David.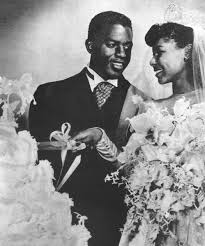 Rachel and husband Jackie Robinson on their wedding day on 10 February 1946 (Photo: Jackie Robinson Foundation)
The Robinson family was leading a prosperous life, but soon became part of the several racist propaganda. But, the happy times passed for Rachel when tragedies started to fall on the family of five. 
In 1971, Jackie Jr. died in a car accident while driving to his parents' house located in Stamford, Connecticut. Jackie Jr., a Vietnam war veteran and troubled drug addict, was pronounced dead at the spot of the accident due to multiple injuries. 
The series of death followed in the family as Jackie died the following year due to a heart attack when he was 53.
Rachel, who was married to Jackie for 26 years, was not about to let the name of her husband died with his physical body. So in 1972, Rachel established the Jackie Robinson Development Corporation following another organization, Jackie Robinson Foundation in 1973 in honor of her deceased spouse.
Read Also:- Jordan Spieth's High School Girlfriend & Wife To Be, Fascinating Love & Dating Affair
The foundation helps talented students of color with their education by providing scholarships to poor scholars and also help them develop leadership by rewarding them with various training programs.
Still Alive: Baseball With Children
Rachel, who is healthy and well, has her two children to carry on her husband's legacy. What's more, her kids who are both above the age of 50, are also doing well in their respective lives.
Recently on 15 April 2018, Rachel along with her children: Sharon and David, attended the baseball match between New York Mets and Milwaukee Brewers which was held at Citi Field in New York City. During the game, all players wore #42, the number of Jackie's jersey, for honoring the legend on the occasion of Jackie Robinson's Day.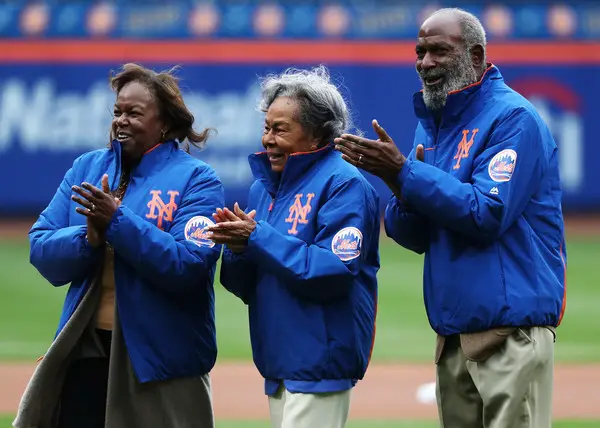 Rachel, along with children Sharon and David, attend the baseball game on Jackie Robinson's Day (Photo: Zimbio.com)
Rachel's only daughter, Sharon Robinson is a thrice-married woman who leads a comfortable life with the third husband Molver Fieffe and her son Jesse Martin Robinson Simms, whom she had from a previous relationship. Sharon currently works as a nurse and an educator.
Rachel's youngest born, David is also a successful coffee farmer in Africa. He has followed his father's ideals and wants to create a better society for the future generations.