Entertainment
Who Is Wild 'n Out's Rasika Mathur Boyfriend & What Is Her Ethnicity?
Standup comedian-cum-actress Rasika Mathur is the last of her dying kind. A triple threat by definition, she excels at acting, writing as well as producing movies and TV shows.
Like most immigrant parents, Wild 'n Out star Rasika's too are vocal about her dating men outside of her ethnicity. As new pictures of her boyfriend kissing another woman surfaces, a question begs: did she gave into the family pressure of being married to a man as the same race as theirs?
Read along to find out including the Ottawa native's age!
Behind Wild 'n Out Star's Ethnicity; Family Pressuring Her Into Getting Married?
Throughout her stint at the hit MTV 2 show Wild 'n Out, one question has been plaguing the minds of the fans who tune in to watch her do the bits: what's Rasika's ethnicity?
Indian-American Comedian:- Aasif Mandvi Talks About Family And Religion But Why Not Girlfriends? No Intentions On Getting Married?
Born to Indian parents who initially migrated to Canada and then to America, the "Crazy Stupid Love" actress identifies herself as belonging to the Indian-American ethnicity.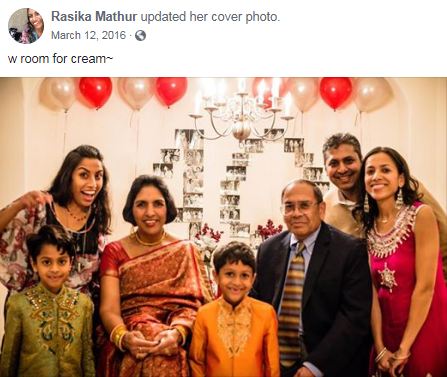 Rasika poses alongside her family for a snap (Photo:- Rasika Mathur's Facebook)
An Advertising & Japanese graduate of the University of Texas, she moved to Chicago following the completion of her study to pursue her comedic aspirations before finding her right home in Los Angeles. However, it wasn't until much later that her parents would begin to understand her career choices.
Despite all her success in movies & TV shows - Cloverfield, My Name Is Earl, Weeds, & The McCarthys, to name a few - her family remains an integral part of her life especially in the subject of who she should get married in the future.
The fact that her sister is married with two kids and a husband leaves her vulnerable to the taunts from the relatives as well as her parents. To make matter worse, she has been dating a "white man" for nearly a decade now.
42-year-old Celebrity:- Dakotaz Face Reveal At Age 42? His Real Name & Girlfriend Talks
Is Rasika Mathur No Longer Dating Her White Boyfriend? Tweets & Insta Pics Suggests So
All things indicate toward Rasika, age 42, & her longtime boyfriend Grant Ball calling it quits.
Now pictured sharing intimate snaps of him and his new girlfriend Emily Violet, Grant hasn't taken much time to move on from their decade-long relationship.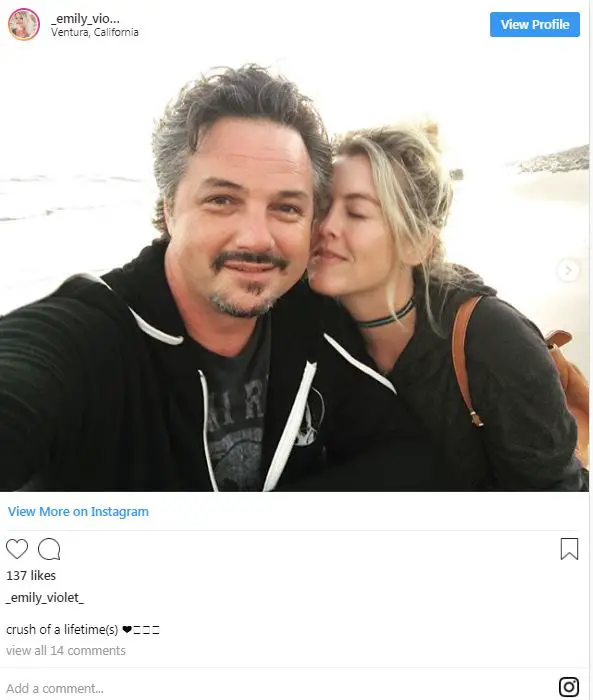 Wild n Out star's ex-boyfriend, Grant Ball gets cozy with his new muse (Photo:- Emily Violet's Instagram)
Nevertheless, the Sari W(rap) musician enjoyed eight glorious years with her former lover. From cheekily referencing her then-boyfriend in interviews to attending formal as well as casual functions with him, she was everything but unhappy during their time together.
Split With Longtime Partner:- Jess Origliasso Splits From Longtime Girlfriend On April 1st! Dating Ends, No Kidding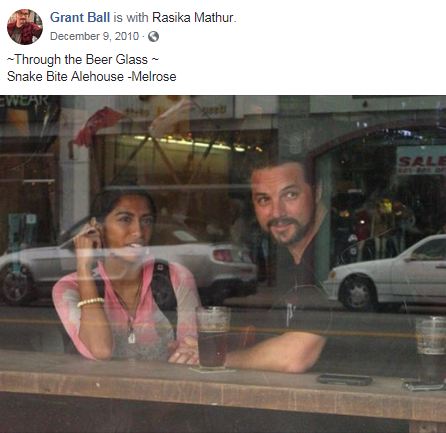 Rasika Mathur & her then-boyfriend Grant Ball early in their relationship (Photo:- Grant Ball's Facebook)
The L Word actress first hinted about the possible breakup via 3rd September 2018 tweet. In addition to sharing her father's dating advice, she also suggested her newfound singlehood when she tweeted:-
"Actual text from my dad at 7:22 this am: Start dating some Indian boys. You need some financial security in your life. So all you Indian dudes know what this is about when we talk."
Did she succumb to the cultural norms set by her conservative family? Less likely than not.