Entertainment
Rumored Gay Raul Esparza Wife Rift Because Of Boyfriend? Law & Order Star Sexuality Outed
American actor Raul Esparza rose to prominence after landing a role in the famous television series, Law & Order: SVU. The four-time Tony Award-nominated actor has further amazed fans with his prolific acting skills in several TV shows including Hannibal, The Path, BoJack Horseman and more.
Despite having a successful acting career, Raul has faced troubles adjusting to his personal life. A bisexual man by nature, he suffered the death of a loved one and the tragedy of a broken marriage.
Let's spare some moments and the haphazardous love life of Raul and his early life as a rebel.
Married Life Conundrum, Presence Of Lover Ended Marriage?
Raul got married to Michele Mary Perez on 22 October 1993 while reportedly on their honeymoon. Their couple's marriage was full of ups and downs, separating and reuniting again on several occasions.
The partners almost got divorced in 2000, but couldn't go through with it once they reached Miami for paper works.
You May Also Like:- Last Man Standing's Christoph Sander's Dating: His Onscreen Girlfriend, Married and Wife?
The couple separated again after a couple of years, and this time it was for good. They finally finalized their divorce in 2008.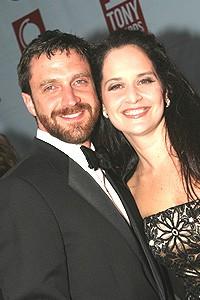 Raul attends the Tony Awards with ex-wife Michelle in 2004 (Photo: Broadway.com)
The 47-year-old came out to the New York Times in 2006 to reveal his identity as a bisexual man while he was still legally married but already separated from his wife. Further, the actor admitted to being in a relationship with a man although he didn't reveal the name and identity of his boyfriend.
Some even believe that the cause of Raul's separation from his wife was his affair with this man. However, the truth is only known by Raul and his wife.
Former Lover Commit Suicide; Blames Himself
In the interview with New York Times in November 2006, Raul also talked about his previous love to a man. After the Wilmington-born actor moved to New York for a sophomore year in college, he fell in love with a male instructor who was a few years older than him.
The man, as Raul proclaims was harsh and manipulative but also believed in the actor and trusted him to be a big star someday.
Don't Miss:- Ryan Lochte Suspended & Sad! IV Photo Scandal, 14 Months Competing Restriction
However, Raul's mother was against this same-sex relationship and suggested her son see a therapist. His boyfriend, on the other hand, was against Raul's mother interfering in his personal life.
The couple's forbidden love was not meant to last forever, and the Company actor slowly distanced himself from his lover, whom he once loved and adored. And finally, two years after graduating college, he got married to his high school sweetheart in 1993.
In 1998, Raul's ex-boyfriend committed suicide, which most fans believe is due to Raul abandoning his past lover. The following years, he started having nightmares and began blaming himself for the death of his past lover. When asked about the traumas he faced, Raul replied,
I saw this guy, one time, at the foot of the bed laughing at me. This dead man, my friend who had killed himself. He was rotten in the dark, laughing at me and how unhappy I was.
However, as the years passed, Raul gradually recovered from the tragedy and is currently focussing on his professional and personal life.
Gay Portrayal In Law & Order: Special Victims Unit
Apart from being confident about his sexuality, Raul is also brave enough to portray a gay character onscreen. Although the actor has never described himself as gay, he flawlessly played a homosexual on the American drama series, Law & Order: Special Victims Unit.
More From LiveRampUp:- Luciana Barroso Bio Details Age, Ex Husband, & Content Family With 'Martian' Star
Raul joined the show on season 14, performing the recurring role of ADA Rafael Barba and was later promoted as one of the main cast in the upcoming seasons. He appeared for a total of 115 episodes before exiting the show at the end of the 19th season.
Childhood, Parents And Career Highlights
Born as the son of Cuban immigrants in Delaware, Raul grew up with his parents in Miami, Florida. A follower of Christianity, he graduated from Belen Jesuit, a Roman Catholic school in 1988.
Nearly nine years of his graduation, Raul landed his first acting job appearing in one of the episodes of Spin City in 1997. He got his breakthrough through theatre performing in the Broadway revival of The Rocky Horror Show in 2000. Later on, he went to work in several Broadway plays including Company, Taboo, Cabaret and Chitty Chitty Bang Bang.
Moreover, Raul has also performed in movies and television shows including A Gifted Man, Hannibal, The Path, Custody, Find Me Guilty and more.
In 2018, he moved to the theatre and performed in the drama The Waves. The play ran at New York Stage and Film and Vassar's Powerhouse Theater and recieved generally positive reviews from the critics and audiences.