Raven Symone was part of every 90s kid childhood as the star of That's So Raven. Although she was in the entertainment industry since an infant, the cult hit show propelled her career to another level. The merchandise of the much-loved TV-series even earned Disney a whopping $400 million.
But, the big question here is where and what is Raven doing now? Find the answer along with Raven's sexuality and relationship!
Raven's Gay Sexuality
Since the American actor was at the forefront of attention as Disney's lead star, there were a lot of speculations about her sexuality.
In 2012, she unofficially confirmed being gay when she moved in with openly gay, AzMarie Livingston. Her relationship with America's Next Top Model contestant girlfriend clarified her preferred sexuality.
On top of that, what fueled public knowledge was her tweet supporting same-sex marriage in 2013. The tweet read,
I can finally get married! Yay government! So proud of you!
However, while appearing on Oprah's show, Where Are They Now? in 2014, she expressed her desire to be free of any labels regarding her sexual preference.
Relationship With Girlfriend
Whether Raven, age 33, liked to be addressed as a lesbian or not, things were going well in the former child star and her partner's relationship. The pair even starred together in the hit TV show Empire in 2015.
Raven played a character named Olivia opposite Jamal, played by her real-life best friend Jussie Smollett while AzMarie played a role called Chicken on the hit show.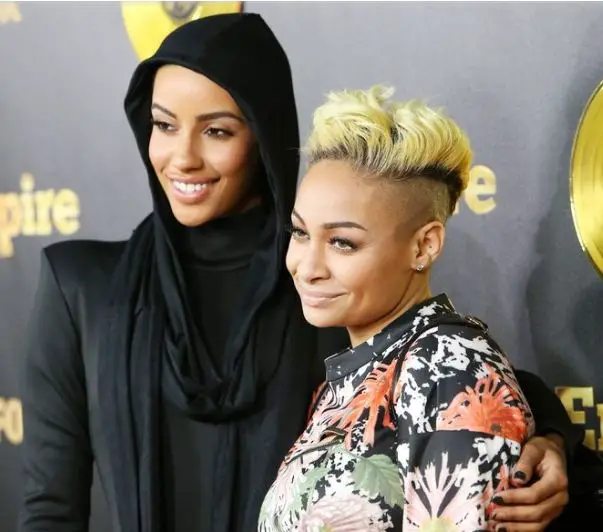 Raven Symone poses with girlfriend AzMarie Livingston at Emmys red carpet (Photo: www.nydailynews.com)
Whatever the on-screen scenes may be, the relationship between Raven and her partner couldn't stand the test of time in real life. And, the trouble in paradise was detected by fans when Raven was seen getting cozy with Orange Is the New Black star Samira Wiley in 2015.
More About The Break Up:- AzMarie Livingston After Split With Girlfriend: Dating Someone New?
Since the break up with her long-time partner, there is an absence of stable individual in Raven's life.
Mysterious Daughter
In 2009, media went rife with rumors that Raven was pregnant with a child.
The Dr. Dolittle 2 star had an unconventional tale of becoming a parent. She reportedly asked her gay friend Jussie Smollett to donate sperm and gave birth to a baby girl. She named her daughter Lilliana Pearman. But, the pair's arrangement was such that they didn't become parents to the baby girl; instead, Jussie was only present as the sperm donor.
Now, the American star is extremely private about her daughter; so much that information about her little munchkin is unavailable in public.
Raven's Net Worth
Working since an infant, the American actor was part of several projects.
Besides the massive hit That's So Raven, she was part of projects like Queen: The Story of an American Family, The Little Rascals, Zenon: Girl of the 21st Century and The Zequel to name a few.
Courtesy of her acting stint she boasts a net worth of $55 million. Well, the famous star is also an inspiration for many as she is open about her weight loss journey.