Entertainment
Rebecca Lobo & Journalist Husband, Immense Love For Children & Family
The basketball star Rebecca Lobo met her husband...........at a smoky bar, after multiple dates and games, the duo tied the knot and are now blissfully living their after married life with their four children.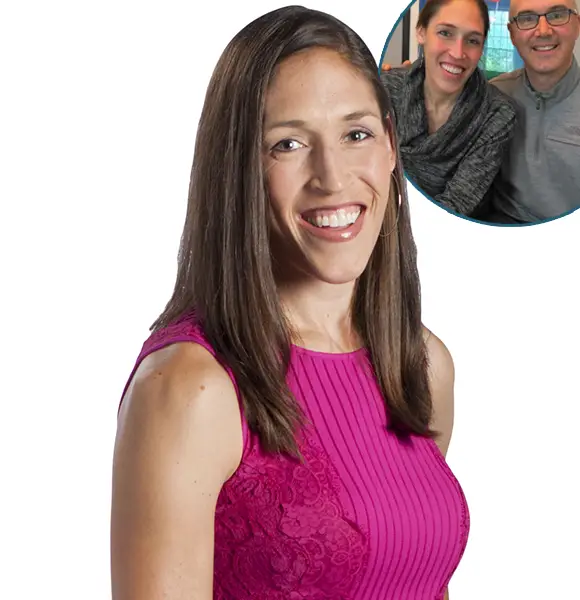 If you say "some dream starts at home" American basketball analyst, Rebecca Lobo might give you a big nod! 
Looking at her big brother score the ring, Rebecca Lobo was sure she wanted to be a basketball star from an early age of 8. However, never might have the former women's basketball player believed that her husband would fall for her without watching a single match of hers!
But the Hartford, Connecticut native grew up to engrave her name in the Hall of Fame and has heaps of thank-yous to pass on to her family and loved ones!
Love never left Rebecca when it comes to her family and kids!
"Anyway--Love At First Slight"; Husband Joke Turns Into Married Life 
Rebecca Lobo was a 6 grader with a height of 6'4 feet, who loved to dress in an oversized jersey and a cap. From a tender age, the craze of basketball swept her, building a dream of becoming an NBL star.
Her long legs and feet that grew to size to 12s just earned her a new nickname "Rebecca Monkeytoes" given by her father.
More Hall of Famer: He's Hired! Patrick Ewing Back to Georgetown as Men's Basketball Coach, View His Contract Details
Who knew she would've found the love of her life in a smoky bar who would fall for those long legs of her later in life!
It was right after Steve Rushin has written a joke in the Sports Illustrated, he crossed path with Rebecca Lobo who asked him about his mock.
After their brief connection, Rebecca asked Steve whether he has ever attended a women's professional basketball. When Steve replied a no, Rebecca invited him to one of her shows at Madison Square Garden in NYC.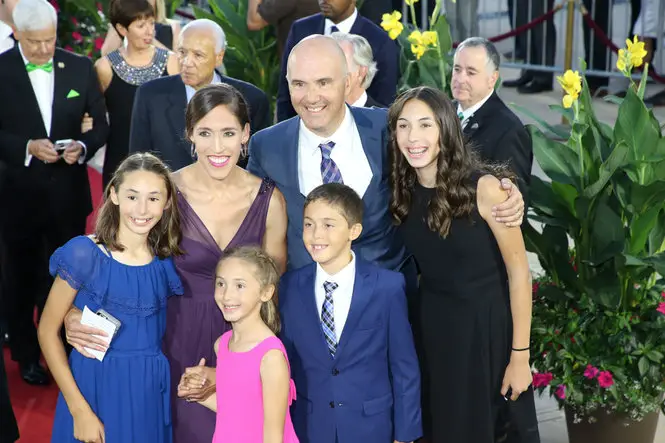 Rebecca Lobo with her family at her induction to Hall of Fame (Photo: Masslive.com)
It was at this point, journalist Steve describes his embarrassing meetup as :
"It was--for me, anyway--love at first slight."
In one of his blogs that, he wrote for Vault, he explains Rebecca as:
"She had the longest legs, the whitest teeth, the best-sown cornrows I had ever seen, and I imagined us to have much in common. I ate Frosted Flakes right out of the box, and she was on boxes of Frosted Flakes. I am ludicrous, and she was name-dropped in a rap by Ludacris. We were, I thought, made for each other."
It took the pair many matches and dates to wake up to Steves's Birthday on September 2004, where Steve wore the vintage 1984 Minnesota Twins jersey given to him by Rebecca, just to kneel down in one leg and ask her if she would marry him!
Discover More: Paige Price Engaged To Actor Frankie Muniz; Officially Getting Married Now
After her easy YES!, the pair tied the knot in April 2003 and has lived life happily ever since.
Even though many people accuse Rebecca's husband to have piggybacked on her success and her $1.5 Million net worth, the Sports Illustrated journalist makes it clear that he has his own stand as a hit writer.
A Blissful Marriage With Four Kids!
The Hall of Famer, who had given her tear-jerking speech about her beloved mother at her induction, is now a proud mother herself.
RuthAnn Lobo was the WNBA legend's mother, who had believed in her daughter from the time she was born. Her mother's dedications and commitment to watch her grow into a star made Rebecca learn all the lessons on becoming a good mom.
Currently married to Steve, the couple shares four children. Three daughters and one son.
Similar Article: Why Keenen Ivory Wayans & Wife Split Despite 5 Children & Immense Love?
Rebecca is busy scheduling time to attend her second-grade daughter's first basketball match. She reminisces the day when her own mother convinced the couch to take Rebecca into an all boy basketball team just to watch her daughter play basketball for the first time.
Now, a proud mom of four doesn't hesitate to share her children's tale in her Twitter.
She shares: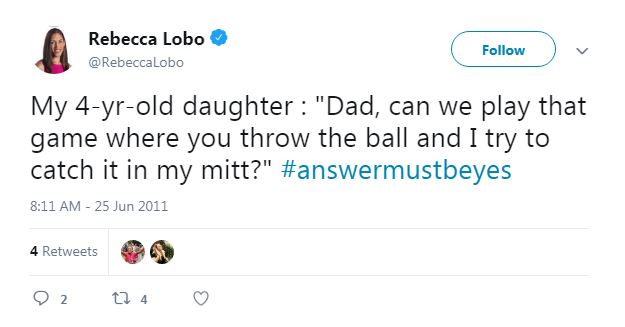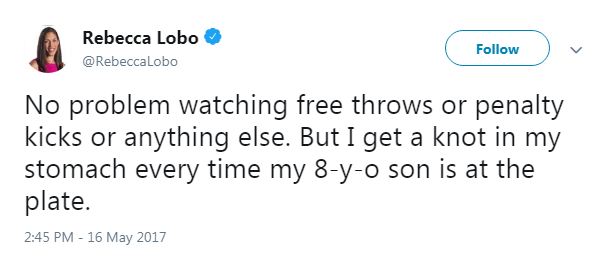 Winning the 1995's Naismith National Player of the Year Award and becoming the youngest member to win a gold medal in the Olympic team, Rebecca Lobo has felt the weight of success upon her.
Now, blissfully relaxing with her husband and family just adds an icing to her epic tale!