Entertainment
Who Is NBA Reggie Miller's Wife? His Relationship Status, Kids & Net Worth
Reggie Miller is one of the best players to ever play the game of basketball in the NBA...his age is...was married to his ex-wife for nine years...is now separated...has kids with his current girlfriend of 16 years...grew up with a sister and a brother...went to UCLA for college education...wore the number 31 jersey during his time with the Indiana Pacers...has a huge net worth of about $90 million...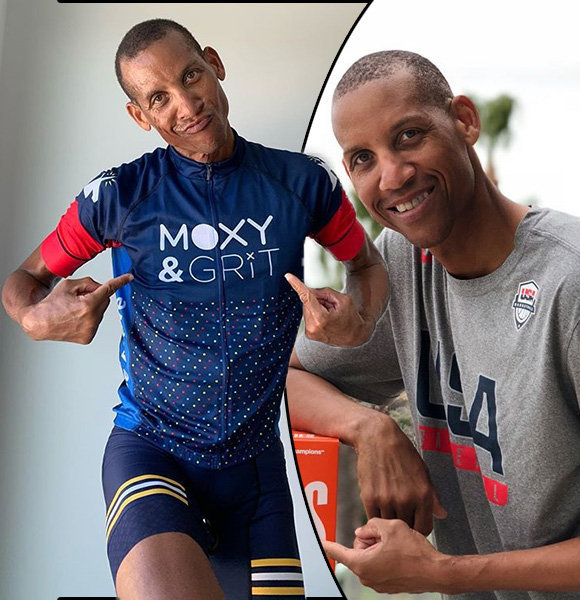 Indiana Pacers basketball legend Reggie Miller is arguably one of the NBA's greatest long-range shooters. But, apart from his amazing shooting abilities, Miller is also quite famous for his messy divorce with his first wife. 
Reggie's Failed Marriage
The Pacers star was first married to an actress- Marita Stavrou. They tied the knot on 29th August 1992, only to get divorced eight years later on 2nd April 2001. It was Reggie who filed for divorce in August 2000.
However, the athlete's divorce was quite messy. During their legal proceedings, Marita accused Reggie of hiding his wealth and trying to reduce her share of the divorce settlement.
Marita had already been paid $5 million as agreed in their prenup contract. But according to Reggie's attorneys, Marita was waging this accusation as an attack to get back at him.
"It's absolutely ludicrous...We already gave that woman $5 million. Now she's waging this vicious attack on Reggie, just to get back at him."
This accusation led to Reggie's former teammates getting called into the court for questioning.
Except for this, not much else has been revealed about the settlement. Whether Marita got some more money out of her ex-husband's fortune or did Reggie get out of the marriage without further financial loss is yet to be touched on by the former athlete. 
Read About:- Tyronn Lue Wife, Parents, Contract, Net Worth
Blissful Life After Divorce
In comparison to his married life with Marita, which ended up being a chaotic mess, Reggie's life after the divorce has been heavenly. He is now enjoying a stable relationship and a happy family with his current girlfriend.
Reggie's partner's name is Laura Laskowski, and they have been together for 18 years as of December 2021. The couple also has three kids.
Reggie's older son was born on 4th September 2013, his second child came into the earth on 25th May 2016, and their third child was born on January 2021. 
The family currently resides in Malibu, California, and the kids frequently feature on their parents' social media accounts.
What Is Reggie's Net Worth?
Being a basketball legend and having such a long career has its perks, including a constant and stable inflow of cash during and after the career.
And similar is the case with Reggie, whose playing career was so legendary and well-paid that the legend now has a huge net worth to his name, even years after his retirement from the game.
Most of this wealth is the result of his career with the Indiana Pacers, whereas some of it is due to his current career as a basketball analyst with TNT for NBA.
Another NBA Player:- Thon Maker Parents, Brother, Education, Contract, Salary
Reggie Miller's Bio 
Reggie was born on 24th August 1965 in Riverside, California, US. His full name is Reginald Wayne Miller. He stands at the height of 6 feet 7 inches.
Due to hip deformities from his birth, he had to wear hip braces during his childhood. His family includes his sister Cheryl Miller- a WNBA legend and brother- Darrell Miller, NBA analyst- and former Major League Baseball (MLB) player.
After graduating from Riverside Poly High School in 1983, he attended the University of California, Los Angeles (UCLA) for his college education. An Indiana Pacers legend, he wore the jersey with number 31 on the back during his playing time.