Entertainment
Thon Maker Parents, Brother, Education, Contract, Salary
Thon Maker is a Sudanese-Australian basketball player playing in the NBA for the...his age is...moved to Australia with his parents when he was around 5 years...has two brothers who are also involved in sports...received education in Australia and the US...his height, weight numbers are given below...has been traded once in his career...earns a decent salary from his contact with the...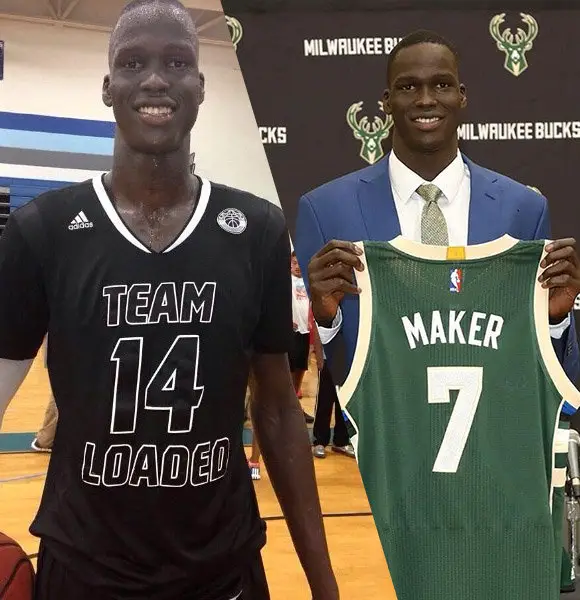 An Australian born in Sudan, Thon Maker is becoming one of the best Australians in the NBA top division. Drafted in the 2016 NBA Draft by the Milwaukee Bucks, he plays for the Detroit Pistons in the 2019-20 NBA season.
However, Thon didn't always play basketball as his first choice sport. The African basketball pro initially started playing competitive soccer in Australia. But, a move to the US at age 14 as a high school freshman changed his sporting choice from soccer to basketball. The change, evidently, did him a lot of good.
Parents And Background
As mentioned above, Thon is a Sudanese. His parents are the descendants of the Dinka people of Sudan, who make up about 18% of the total population of the country.
Dinka people are also one of the tallest people in the world, making Thon's height of 7 feet (2.13 meters) a not-so-surprising thing. His mother measures at around 6 feet 3 inches (1.90 meters) and his father at 6 feet 8 inches (2.03 meters).
Also Read About:- Chandler Parsons Dating, Gay, Family, Net Worth
The genetic predisposition for height carries down to his brothers, Matur Maker and Maker Maker. Matur, who stands at 6 feet 10 inches (2.08 meters), was drafted by the Detroit Pistons in the 2019 NBA Draft.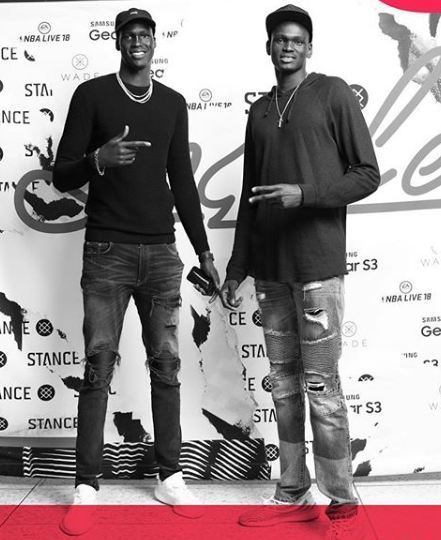 Thon Maker poses with brother Matur Maker in June 2018 (Photo: Thon Maker's Instagram)
Meanwhile, Maker Maker - who is an exception in the family for choosing to play soccer instead of basketball - is hoping to make it in the A-League, the Australian soccer league.
Thon's family moved to Perth, Western Australia when he was five. And, the intention behind their relocation was his parents' wish to give Thon and his brothers a Western education.
Thon grew up playing soccer in Australia till the age of 13 when he was spotted by Edward Smith, the founder of the Next Level Basketball Academy in Sydney. It was Edward who took Thon under his wing and brought him to the US, becoming his coach as well as his legal guardian.
Thon's Education
Upon his arrival in the US, Edward admitted Thon to Metairie Park Country Day School in Louisiana in eighth grade and part of ninth grade. However, it wasn't until one year later that Thon would play competitive basketball at the school.
After his time in the US, he moved to Martinsville, Virginia, with Edward. There, he attended the Carlisle School and played for the high school team, winning a state title with the varsity squad. Further, his brother, Matur, joined him to live with Edward.
Eventually, Thon got so good at basketball that he skipped college to play in the NBA. He is the first player to be recruited directly out of high school.
Trades, Contract, And Salary
Thon was drafted by the Milwaukee Bucks on 24th June 2016 during the 2016 NBA Draft. He signed with the team on a deal of $11,622,123, a 4-year contract. The player earned $2,905,531 annually during his time with the Bucks.
Another NBA Player:- Is Bryn Forbes Married? Wife, Dating Life, Son, Family
After the completion of his three seasons with the Bucks, he was traded to the Detroit Pistons in February 2019. The athlete signed a two-year deal with the Pistons, which earns him a salary of $3,569,643 in a year.
During his three years in the NBA, Thon has earned a total cash amount of $16,483,977.
Exciting Facts About Thon: Age, Height, Weight
Thon Maker was born on 25th February 1997 in Wau, South Sudan.

The NBA star stands at the height of 7 feet (2.13 inches) and weighs 100.2 kgs. He has a massive standing reach of 9 feet 3 inches (2.81 meters).

Thon is very adaptable as he has lived in many parts of the world during his life.