Reggie Watts is one of a kind comedian who uses loop pedal-based acapella songs...In the music scene, Reggie is the band leader in...Thus, the status of Reggie and his wife hopeful...Reggie is diffident when it comes to his dating or married life...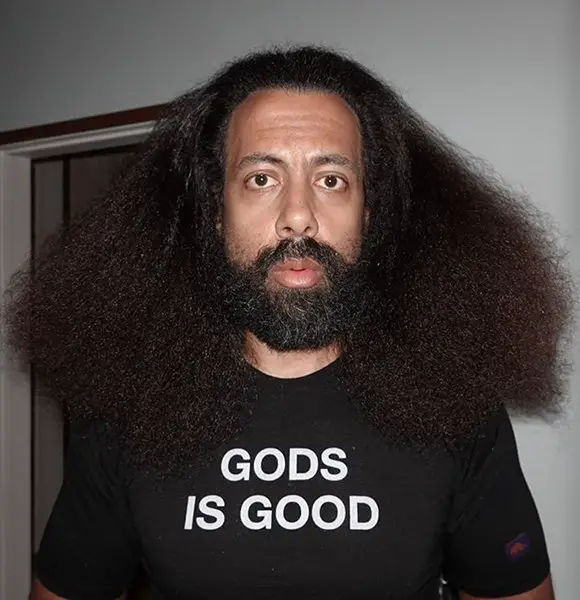 Reggie Watts is one of a kind comedian; he uses loop pedal-based acapella songs in his performance. He was chosen by Conan O'Brien to headline the coveted show Prohibited From Being Funny on Television.
Since then, the comedian performed sold-out shows across America including Bonnaroo, The Edinburgh Festival, SWSX, The Montreal Comedy Festival, and Bumbershoot. His comedy sets include Why $#!+ So Crazy? and Reggie Watts: A Live At Central Park.
Moreover, Reggie is the band leader in The Late Late Show with James Corden and co-hosts IFC series Comedy Bang! Bang! In 2019, he branched out to acting via Tuca & Bertie - an adult animated show.
Is Reggie Watts Married?
Unlike the comedian's professional life, his personal life remains in the shadows. Reggie is timid when it comes to his dating or married life.
Although he mentioned his girlfriend in interviews, he never revealed her identity.
Discover:- Roseanne Barr Children, Husband, Net Worth
However, the TV host often posted pictures of a female friend named Andrea Feyler. Though he never exposed his relationship with Andrea, the pictures suggested that she was his timely mentioned girlfriend.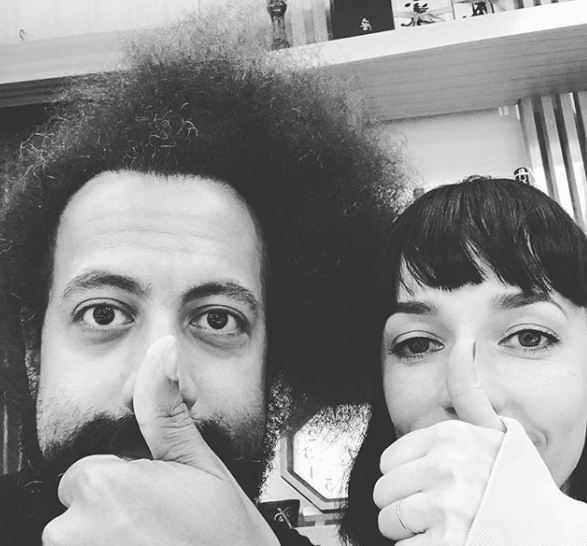 Reggie Watts goofs around with alleged girlfriend Andrea Feyler in August 2018 (Photo: Reggie Watts' Instagram)
Judging from Reggie and his female companion's Instagram activities, the pair seemed rather close.
But, the comedian and his alleged girlfriend stopped featuring each other in their respective social media since August 2018. Thus, the status of Reggie and his wife hopeful's relationship is unclear for early 2019.
Weight Loss & Hair 
Reggie of age 47 went through a dramatic weight loss, and people were left wondering about his transformation. It so happened that in the earlier times of the comedian's career, he used to be on tour and eat junk food.
But, once he booked jobs on TV, Reggie felt that he could perform well with a toned down body. Thus, he hired a nutritionist and a trainer and worked towards a healthier way of life.
While talking to GQ in 2018, the comedian revealed that he felt good when people complimented on his toned body.
Besides, Reggie's weight loss, people marvel over his unique hair. According to the Comedy Bang! Bang! host; people, especially women, come up to him and inquire about his eye-catching hair.
While he doesn't mind the inquiries about his hair, it is when individuals touch his hair without permission, Reggie is irked.
Reggie's Net Worth 
Reggie of - height 6 feet (1.83 m) - started learning piano and violin as a child. His creative predilections were evident since his early years. Thus, it was no surprise when Reggie began to works towards an artistic career.
By 2000, the Germany born comedian had found his unique way of presenting comedy with music. His talent slowly found a place in NewYork's comedy scene.
You May Like:- Chris Fleming Girlfriend, Gay, Net Worth, Family
Now, with nearly two decades of comedic career, Reggies has cemented his status in Hollywood. With major late-night show gig, TV hosting and comedy shows, the comedian brings in a decent income.
He boasts a net worth of $2 million as of 2019.