Entertainment
Reviewing The Time When Dean-Charles Chapman Of Game Of Thrones Went Shirtless! Still Dating His Co-Star Girlfriend?
The battle for the Iron Throne is what has made "Game of Thrones" a blockbuster success. And one of the famous characters who made some significant contributions to the show's success is Dean-Charles Chapman, as he portrayed the role of Tommen Baratheon.
Today, we shed some light on his work on the show, as well as address the moment he went shirtless and had some intimate scene. 
Moreover, we all know Dean was dating one of his co-stars, but do they still share a boyfriend-girlfriend relationship? Are they still dating? Let us find out!
The Moment Dean-Charles Chapman Went Shirtless In An Intimate Scene in Game of Thrones:
During season 5 of the epic show, Dean-Charles Chapman's character Tommen and Natalie Dormer's character Margaery Tyrell were involved in an awkward and unexpected scene, a sex scene.
And if you missed out on the scene, we have all covered it for you, as the actor relives that again during an interview. 
And what better way to hear it from the actor's mouth as- 'what it is was like, during the shoot?'
In an interview in May 2016, he spoke on the very scene, calling it not awkward. He said,
"It's not awkward, it might look awkward on screen because of the age difference but it's pretend, it's all pretend,"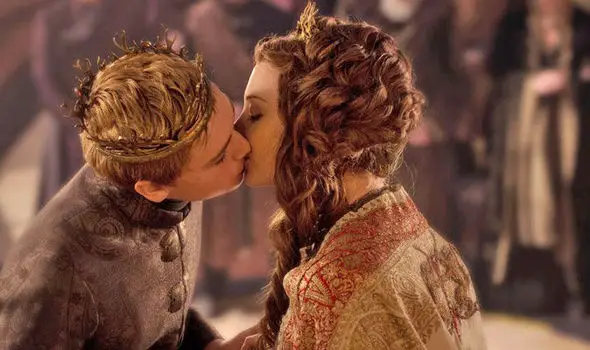 Caption: Dean-Charles Chapman and Natalie Dormer kiss one another during a scene in Game of Thrones S5.
Photo Credit: Express
He revealed that his co-star made him comfortable because of which the scene went as planned.
"We're actors, Natalie's a lovely person, she made me feel unbelievably comfortable. Hopefully she was comfortable with me. But the sex scene and stuff, it all ran smoothly. It's all planned, we talk about it, it's a normal day."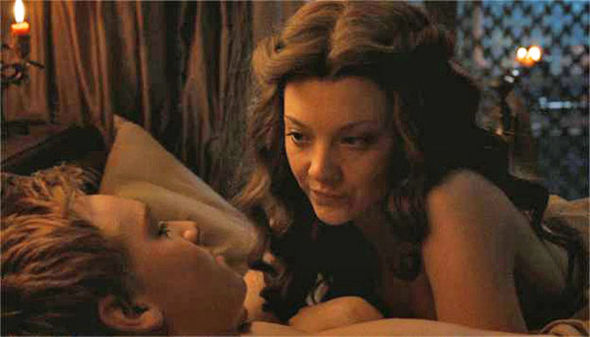 Caption: The Cringeworthy sex scene between Dean-Charles Chapman and Natalie Dormer.
Photo Credit: Express
In the show, the scene was a cringeworthy for the viewers due to the age gap between Tommen Lannister and Margaery Tyrell, as the young Lannister king was only around 12 or 13 while on the other hand, his new wife was some years older.
In real life, Dean was just 16 at the time of filming the scene against his 33-year-old co-star.
Adding more, he said he was not expecting the sex scene,
 'Oh, we've done you a favour, we've written you in a cheeky little sex scene' and I was like, 'cheers'. That was the last thing I was expecting."
Unexpected or not, this was one of the game-changing scenes on the show!
Off-Screen Dating Life of Dean-Charles Chapman- Still Dating His Co-star Girlfriend?
Dean-Charles and Nell Tiger Free, the on-screen Lannister siblings, Tommen and Myrcella were reportedly dating one another back in 2015.
The two never made any official confirmation about the rumors and reports, but they shared photos over Instagram, adding more fuel to the ongoing rumors.
We know that this is a casual photo, but they spent a lot of times together, creating a lot of hype in the media. 
But if they were dating back then, what is the nature of their relationship now? Are they still dating?
Well, so far, the answer to that is somewhat unclear as they have not seen together lately. Further, Dean-Charles and Nell have not been vocal about their connection through social media either, which leads the fans to speculate that they have parted ways.
However, chances remain that they might be keeping things in shadows.
So let us hope either of them comes forth and addresses the fans' curiosity!
Additionally, people often speculate Dean-Charles to be a gay, but if the relationship between Dean-Charles and Nell were an actual one, the rumors would shut down. However, he has not come forth and addressed the rumors, which is why we can not reach any conclusion as of yet.
More You'd Like To Know About Dean-Charles Chapman:
Born on September 7, 1997, in Essex, England, Dean-Charles Chapman is an English actor who is 19 in age.
He is famous for portraying the role of Tommen Baratheon on HBO's "Game of Thrones," and he has also made some appearances in episodes of the BBC shows like Cuckoo and Casualty.
He is adamant about not opening up about his personal life, which is why he has not revealed any key details on his parents as well as family life.
Along with Dean-Charles Chapman, performers including Lena Headey, Emilia Clarke, Jon Snow, and Maisie William have created a place in the heart of the audience with their performance.
In a recent news in 2017, rumors have been flying around everywhere that the final season of Game of Thrones would not air until 2019. So the fans may have to wait a little longer for the show's finale!
Stay with us for the emerging updates on Dean-Charles Chapman and Game of Thrones!