Entertainment
Rick Mercer, Enjoying Splendid Net Worth With Partner, Said: 'Gay Teens Need More Help'
If you are asked to name the particular person who you want by your side in your good times and bad times, what would be your answer? Will it be your family, friends or your partner? Above all, your ideal partner will be someone who dares to be with you in every up and down of life.
Of course, it's not necessary to fall in love with a person of opposite sex. You can just get hitched to the person with whom you feel comfortable and live your life to the fullest.
Well, Richard Vincent "Rick" Mercer, who is popular for his Comedy show on CBC television, This Hour Has 22 Minutes and The Rick Mercer Report, is openly gay and is happily living with his partner.
The actor, who enjoys a decent net worth and lives a comfortable life with his partner, has been vocal about the problems faced by gay teenagers in coming out of the closet and thinks "gay teens need more help."
Dating Partner For More Than Two Decades But Not Married, Hates Discussing Personal Life
Rick first met his longtime partner Gerald Lunz in 1990, the period when Rick used to worry about his sexuality. He was afraid about being asked about it in interviews. But as soon as he encountered Gerald, the pair immediately hit it off and began dating.
Apart from their loving relationship, Rick is also partners in business with the veteran television producer who produced the show, This Hour Has 22 Minutes.
Don't Miss:- Out Gay Brian Justin Crum Dating Status Now; Is Boyfriend Love Lost?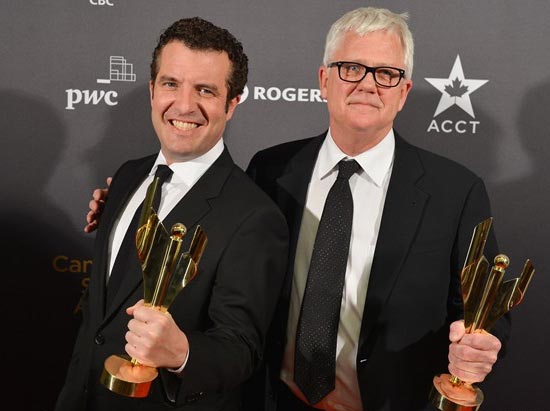 Rick Mercer with partner Gerald Lunz in the 2013 Canadian Screen Awards Gala 2 (Photo: Academy.ca)
Rick, who had been shy his whole life about coming out of the closet, finally dared to publicly announce his gay sexuality in 2003. Without the love and support of his partner, Rick's coming out journey would not have been easy.
Despite their unconditional love for each other, Rick and Gerald are yet to get married. Getting married is seeking validation from others and Rick is a strong critic of the prevailing formality.
You May Find Interesting:- Fredrik Eklund & Husband, Perfect Gay Couple! First Vacation For Twins
Rick is also a reserved person and likes to keep his private life low-key. In an interview with theglobeandmail.com in 2012, Rick said that he was proud of being a gay but mentioned that he hated talking about his personal life. Rick stated,
"It's fine to talk about being gay simply because it's the fact and it's important to the gay kid in Flin Flon. So, yes, happy to be out and proud, yadda yadda. I just don't like to talk about my relationship."
Rick doesn't even like people asking about the car he drives or about the summer vacations he takes with his partner.
Rick's Worry: "Gay Teens Need More Help"
Mercer, who is openly gay, said in a 2011 interview that gay teens needed more role models. Since the suicide case of Jamie Hubley, a 15-year-old from Ottawa went viral, Mercer has been raising his voice loudly on the issue.
Rick Mercer talks about suicide case of Jamie Hubley, a 15-year-old gay from Ottawa, in 2011
Talking to CTV's National Affairs, Rick mentioned that during his high school years, a teen coming out of the closet was a rare instance. He even praised the youngsters for their bravery. Rick said in the 2011 interview,
"Young people in junior high and high school are now coming out of the closet. This is a relatively recent phenomenon. When I was in high school I certainly wasn't out of the closet and certainly it wasn't even on the table".
Rick, who came out to his family and friends in his early 20s, further expressed that gay teens needed more gay role models to whom they could look up to and worship as idols.
"I'm not saying people need to step up and be a leader or gay activist . . . (I'm) just saying it would be better if there were more visible gay cops, gay soldiers, gay hockey players".
Rick also mentioned of a gay friend who was bullied mercilessly for his sexuality during the high school years and explained that the boy could have mustered up the courage to fight back if he had a role model.
Enjoys Dazzling Net Worth And More Details
Most of the celebrities have a splendid net worth, and so does Rick Mercer. A Canadian television personality, comedian, and author, Rick receives a wonderful salary from his profession.
He enjoys the net worth of $10 million along with his partner Gerald's sole net worth. No doubt Rick is hard working, and his dedication towards his work has helped him to receive a splendid salary. Mercer appeared on The Rick Mercer Report (2004), The Industry (1998) and Talking to Americans (2001). He is also popular for appearing on the CBC Television comedy shows This Hour Has 22 Minutes.
See Also:- How Much Is Efraim Diveroli Net Worth & Where Are War Dog's Now? | Bio
Born on October 17, 1969, Rick Mercer attended Prince of Wales Collegiate in St. John's but dropped out before completing his diploma. During his teen years, he was a member of the Royal Canadian Sea Cadets.
An author, Rick has published five books to date namely Streeters: Rants and Raves from This Hour Has 22 Minutes, 1174 Bc: The Exodus Discovered!, A Nation Worth Ranting About, Rick Mercer Report: The Book, and Rick Mercer Final Report.
Mercer is also popular for the television comedy show The Rick Mercer Report.
For his television works, he has received more than 25 Gemini awards. On September 23, 2015, Rick was officially invested into the Order Of Canada as an officer in a ceremony at Rideau Hall. Rick can be seen in "The Rick Mercer report" on CBC every Tuesday at 8 pm.