Evan Eckenrode could have easily let his physical condition define him. Standing at height 4 feet 2 inches(1.27 m), he was mocked incessantly for his dwarfism.
But, he found the best way to deal with all the criticisms. The man with American nationality managed to create a name for himself in the YouTube world via channel Dwarf Mamba.
He is one of the most popular YouTube stars now. 
What Is His Age? Increasing Net Worth
Evan is 22 years old. Initially, he wasn't set out to be a YouTuber.
After finishing high school, he was checking out social media especially now defunct, Vine. But, life had other plans; he met YouTuber Logan Paul at Dwarf Athletic Association in San Diego in 2014, who convinced him to give social media a try.
Well, the pair became best of friends during the event and even shared a room. 
More About Logan:- YouTuber KSI To Fight Logan Paul, Brother Deji Alongside; Net Worth, Dating Status & More
Encouraged by Logan, he started posting videos on Vine. His inhibitions were all gone when audiences began responding to his comedy.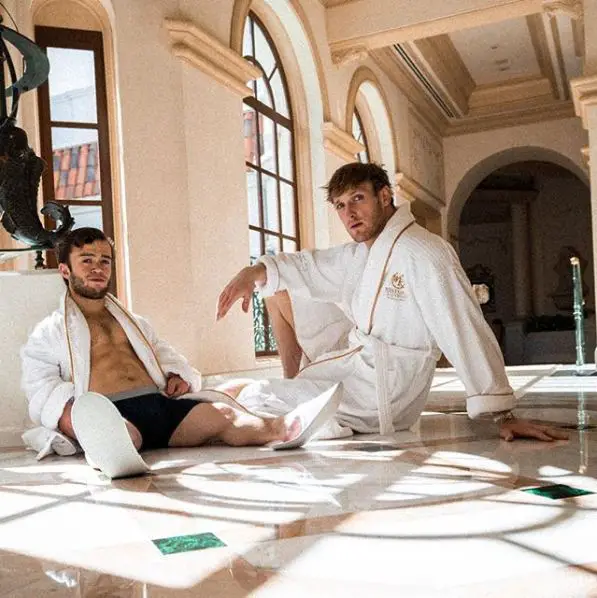 Evan Eckenrode poses with his best buddy Logan Paul on 14th February 2019 (Photo: Evan Eckenrode's Instagram)
However, Evan didn't start his own YouTube channel till 2017. He only made appearances in videos of Logan. The reason behind his delay was another important thing that was happening in his life; he was attending college at Salisbury University. Only after finishing his college, he left for Los Angeles to pursue his dreams.
Due to his appearances on hit videos, it didn't take long for him to grow his YouTube channel. His account Dwarf Mamba went from zero to one million subscribers in just thirty-six days. His honorary brother- Logan - helped him with the YouTube nicknacks; the siblings kept entertaining the audience with funny banters.
See Also:- Graham Phillips Spotted With Ariana Grande, Dating Again?
Now with 2 million subscribers, the hit channel fetches him $1.9K - $30.8K per year and evaluates his net worth. The success story of Evan, beyond all odds, prove the facts that hard work and dedication can come handy above any adversities.
On Evan's Parents And Girlfriend
Evan was born on 11th February 1997 to Jim and Kerry. His father was a football coach at a high school located in Smithsburg. Although their son was the only person affected with dwarfism, they gave him a normal upbringing.
With his parents' nurture and love, he became a confident kid. He could laugh at himself even when others mocked his height. While Evan wanted to pursue a career in YouTube, his parents were skeptical but, still supported him.
Now, a major star he takes his father to meet celebrities during his working gigs.
Well, a successful YouTuber like him cannot remain single, can he? But there is no sign of a girlfriend nor his dating life. Instead, he jokes about his single status constantly. Once, he even asked major superstar Ariana Grande out on Twitter.