Robert Kenneth Kraft is an...A few decades later, the...But fate certainly did have...Finding love while studying at the...works alongside his father as the...Sharing only good times with...Under the guidance of his...With such high net worth, the...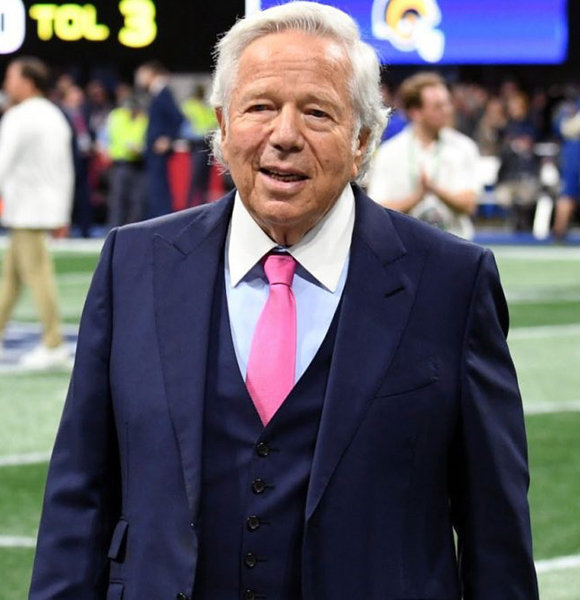 American business tycoon Robert Kenneth Kraft is popularly known for being the CEO and chairman of The Kraft Group. A genius in the world of business, Robert has exceptional eyes that can identify profitable outcomes.
In particular, he came in the headlines in 1994 when he decided to buy the Patriots, who had only won 19 games in the previous seasons. Many people wondered if it was a productive career decision or a big mistake made on pure impulse.
Inclining to his profit, a few decades later, the Patriots became the most successful teams in NFL history.
Family Background
The business magnate was born on 5 June 1941 in Brookline, Massachusetts, U.S.
Growing up in a Jewish family, his father Harry, who worked as a dress manufacturer, wanted him to be a rabbi in the future.
From Massachusetts Institute of Technology:- What Is Neri Oxman's Age? Dating Status After Split With Husband
But, fate certainly did have other plans for young Robert. The Brookline High School product was a good student and senior class president in school. Showing exceptional academic reports, he recieved a scholarship to attend Columbia University.
Finding love while studying at the university, he married his wife, Myra Nathalie Hiatt on June 1963, and within the same year graduated from Columbia. He later went on to receive his MBA from Harvard Business School in 1965.
Married To Wife, Children
From his marriage to Myra, Robert is the father of four sons, namely Jonathan Kraft , David Kraft, Joshua Kraft, and Daniel Kraft. His son, Jonathan works alongside him as the president of The Kraft Group.
Robert sadly lost his wife on 20th July 2011 due to Cancer. But, the magnate soon found the company of his girlfriend, model Ricki Noel Lander. Despite their 30 years of an age difference, the pair started dating in 2012.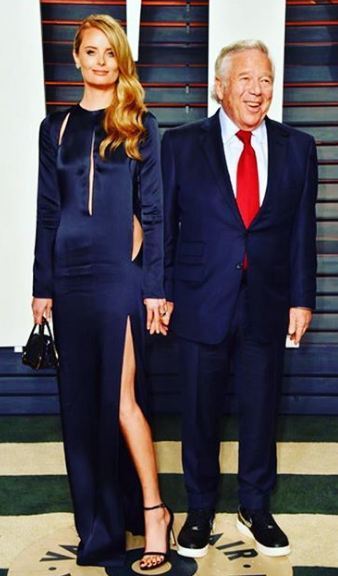 Robert Kraft with girlfriend Ricki Lander on March 2016 (Photo: Ricki Lander's Instagram)
However, after five years, the couple separated on amicable terms.
The same year, in 2017, the duo's relationship gained the attention of the public again. News about Ricki being pregnant and giving birth to a baby surfaced out, and Robert was the first to be questioned.
Many speculated the child's father to be Robert, but according to a report by People, Robert was not the biological father. Nevertheless, he showcased his support to her for being a mother.
For a while, Robert was assumed to be single but, from early 2019, he started being spotted with a woman named, Dana Blumberg. Their public appearance hints the two to be dating. But, Robert is yet to spill the beans on the matter.
Net Worth & Age
Under the guidance of his father-in-law, Jacob Hiatt, a well-known businessman of his era, Robert also flourished as a businessman. After inheriting Rand-Whitney Group, a packaging company owned by Jacob, Robert expanded the packaging industry to new heights.
Now, at the age of 78, Robert owns the multifaceted company, The Kraft Group. Although he faces problems in business time and again, it has not stopped him from owning a whopping sum of 6.6 billion as his net worth.
Also A Billionare:- Greice Santo And Billionaire Husband! Married Life Too Strong To Stumble
With such high net worth, the billionaire stands in the no. 79 positions among the wealthiest man in the US, according to the Forbes 400 list. However, he has had his fair share of controversies as well.
In February 2019, he was arrested for allegedly soliciting prostitution and also human trafficking.