Entertainment
What Is Neri Oxman's Age? Dating Status After Split With Husband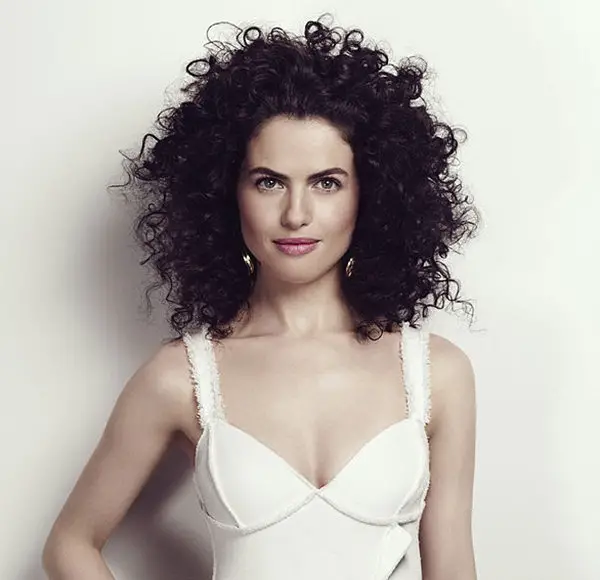 American-Israeli architect, Neri Oxman, is a renowned professor at one of the world's renowned universities, MIT (Massachusetts Institute of Technology). 
Known to many people for her contribution to the architecture field at a young age, she was once a married woman before she eventually got a divorce from her former husband. The talented figure also came to the limelight after she was rumored for dating a well-known Hollywood celebrity, Brad Pitt. 
Addressing the dating rumors, let's reveal the goodies of Neri Oxman's married life down below!
Neri Oxman's Dating Rumors With Brad 
In 2018, Neri Oxman was rumored to be dating famous Hollywood actor Brad Pitt. Neri met the actor through an MIT architecture project and collaborated on the project, which sparked the dating rumors. 
Brad, who is single after his married life with Angelina Jolie ended, was supposed to be sharing a close relationship with Neri. Some paparazzi even termed the duo's relationship as more than a friendship.
See Also:- Who Is Ella Purnell Dating? This Beauty Reveals Boyfriend Amid Rumored Affairs
Also, an architecture and design connoisseur actor Brad Pitt, who ages 58 and celebrates his birthday every year on 18 December, was working on his Make It Right Foundation's works when he reportedly grew close to Neri. A source addressed Neri's dating rumors by talking to Page Six TV in April 2018. The source stated,
"Brad and Neri instantly hit it off because they share the same passion for architecture, design and art. This is best described as a professional friendship."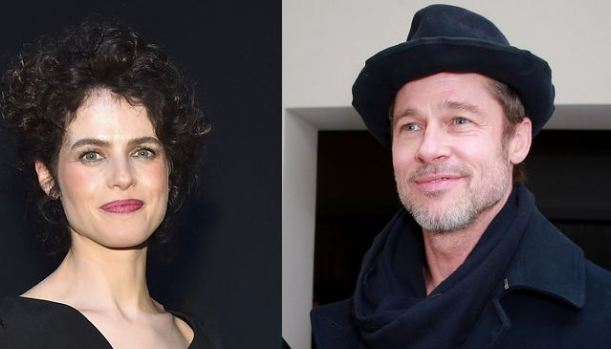 Neri Oxman and her rumored boyfriend, Brad Pitt (source: gettyImages.com)
Although the source denied the presence of any existing romance between Neri and Brad Pitt, he/she didn't reject the idea of a relationship that may nurture shortly. The source said,
"Their friendship has not turned into romance … as both are cautious and this is, again, more of a professional friendship, but Brad is very interested in spending more time with Neri, she is fascinating." 
A friend of Brad's also supported the claims of the source and confirmed that they have never been more than just friends. In reply to the rumors of the alleged affair, he/she stated,
"You are correct that they are just friends and she is very impressive"
The alleged couple even posed for a photo, which many assumed was a picture to mark their six months as a couple. However, an insider claimed their relationship to be strictly professional.
Don't Miss:- Caroline Wozniacki Age 28, Dating & Engaged - Again! NFL Boyfriend - Real One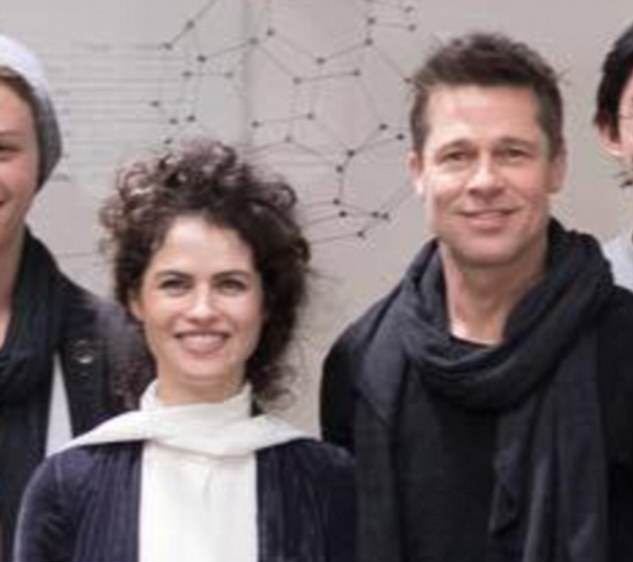 Neri Oxman and Brad Pitt pose for a picture together (source: DailyMail.co.uk)
Though Neri's dating rumors with Pitt was halted at friendship with little to no chance of Brad becoming her next husband, her name got involved in dating rumors again with another man named Bill Ackman.
Dating and Marrying Billionaire Husband
As reported by multiple sources, Neri, 46, was allegedly dating a billionaire husband, Bill Ackman, for seven months.
Back in July 2018, Neri was spotted in Paris, attending a charity tennis match played by Bill. After the end of the game, Neri accompanied her rumored boyfriend, now husband, to a party held at L'arc, where the two looked comfortable in each other's company.
Despite the claims, Neri and her husband Bill, who is the founder and chief executive of a finance company named Pershing Square Capital Management, have not given any official statement regarding their dating gossips. Though sources are claiming the pair's love, fans may have to wait-and-watch until the couple addresses the rumors themselves. 
Well, if the rumored couple decides to tie the knot, it won't be their first as both Neri and her husband Bill were already married in the past. Bill was the husband of Karen Ann Herskovitz, but the two divorced in 2017 after 25 years of remaining married.
Whereas Neri, a Haifa, Israel native, was also formerly married to Grammy-winner composer Osvaldo Golijov.
You May Also Like:- Bella Heathcote Confirms Being Engaged To Long Time Boyfriend; Will They Get Married After All?
Neri and her ex-husband, Osvaldo, got married in 2011 and registered their marriage at Brookline, Massachusetts, on 14 July 2011. However, the pair, who do not share any children, have not disclosed their divorce date. 
Married Again, Husband and Child
With the start of 2019, Neri gave marriage another shot by tieing the knot with her boyfriend, William Albert Ackman. They married at a private wedding ceremony among their loved ones, with the ceremony initiated by Rabbi Angela Buchdahl.
The two first met in September 2017 after being introduced by Marty Peretz, a former professor at Harvard University. He is the close acquaintance of Neri and a mentor plus father figure to her husband, whose net worth is a whopping $1.6 billion. Of course, since he is the CEO of the reputed firm, his monetary value doesn't come as a surprise.
Their first date took place at a restaurant in Cambridge, Mass, and interestingly, her partner William took an extreme liking towards her in a short period of time. He shared about the experience quoting,
"She was everything they had described her to be. I knew in about five seconds that she was perfect for me."
Likewise, after the marriage, the pair shared an interesting piece of news about Neri's pregnancy. The pair couldn't wait to welcome a new member into their new family. And as expected, they were awaiting the arrival of their baby in spring 2019.
With much-anticipated wait, the couple now share a child together.
More About Neri
Neri Oxman was born in 1976 in Haifa, Israel, to her parents; Robert Oxman and Rivka Oxman. Neri's father, Robert, was an American working as a professor at the Technion-Israel Institute of Technology, whereas her mother, Rivka Oxman, was a digital architecture researcher.
Neri, who still has not disclosed her birthday, studied at the Hebrew University in Jerusalem for two years and then transferred to the Technion-Israel Institute of Technology.
Oxman shifted to the United States in 2005 at the age of 29 and became an associate professor at MIT in 2010. During her career at MIT, she has been involved in significant research with her team, including computational design, digital fabrication, materials science, and synthetic biology. 
Neri, who also has a Ph.D. in Design Computation, is the founder of the group "Mediated Matter," which researches bonding design and architecture with a natural and biological environment.
Neri is also an artist, and her works have been featured in collections at MoMA, Paris' Centre Georges Pompidou, Vienna's Museum of Applied Arts, and Boston's Museum of Fine Arts and Museum of Science. 
Prof. Neri, along with her team, has bagged the International Earth Awards for Future-Cultural Design (2008), the Vilcek Prize in Design (2014), and an Emerging Voices Award from the Architectural League of New York (2015).
Neri was also named the "most talented, intelligent, funny, and gorgeous Jewish women in the world" by Shalom Life in 2012. She also won the 2018 National Design Awards, which was organized by the Cooper Hewitt, Smithsonian Design Museum.
Stay with us for more updates!