Entertainment
Robert Sheehan Wished For A Girlfriend And Got It! But Is He Still Dating Her?
Not every wish comes true! Some people, despite hard work, are left with disappointment; while sometimes the aspirations materialize without much investment. 
Robert Sheehan, an Irish actor, also once wished to have a dating affair. And for someone like Robert, who looks like a lady charmer, finding love shouldn't have been a difficult task. Surely enough, Robert's wish came true! But the question is, is Robert still with the girlfriend who fulfilled his dating desire?
We will have to take a stroll past Robert's dating life to find out.
Dating Co-Actress; Girlfriend Seemed To Have Move On
Popularly known as Nathan Young in Misfits, a British science fiction comedy-drama TV show, Robert, who belongs to the Irish ethnicity, is an actor whose beautiful eyes, charming smile, and a hot shirtless body have been able to attract many female fans' attention.
But despite such captivating personality, Robert, who supports gay equality, was single back in 2013. Well, it was then that he addressed the fact that he wanted to find a soul mate.
Discover:- Antonia Thomas Reveals She Is Dating And Has A Boyfriend; Any Thoughts Of Getting Engaged And Married Anytime Soon?
And, guess what?
Naturally, his wish was granted a year later: he first met Sofia Boutella on the set of their movie Jet Trash in Goa, India. The two started dating in March 2014, while maintaining a low-profile romance. The duo soon began making public appearances, and their love was all evident.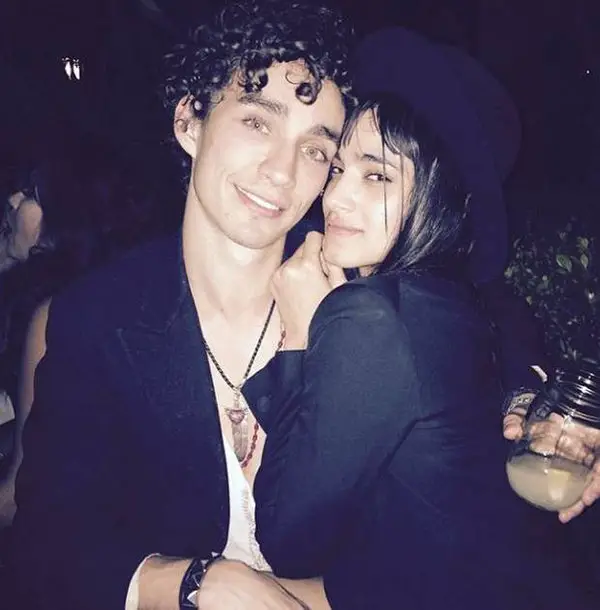 Robert Sheehan cozying up with Sofia Boutella (Photo: independent.ie)
Furthermore, in an interview with Independent back in 2015, when asked who the last person to see him naked was, he said,
"It was a girl called Sofia . . . she's my lovely other half,"
The couple then happily made it to 2015 and even got an opportunity to take a flight in a helicopter piloted by Tom Cruise. Robert had planned a surprise weekend with Sofia which got ruined, as Sofia was demanded at Oxford for the rehearsals. Robert described the scenario as,
"I took her to Dorset, had it all planned out. I was going to take her to Monkeyworld. That was the piece de resistance. But then she gets a call on Saturday saying, 'sorry, we need you in Oxford for rehearsals'. Wasn't thrilled about it, but work comes first. A car picks us up, we get there, meet Tom, and they get to rehearsing."
Everything was going all good with the two lovebirds until Sofia was rumored to be dating her co-star from Star Trek Beyond, Chris Pine. The rumors started swirling after Entertainment Tonight reported that Sofia and Chris were spotted flirting at 'Coachella Valley Music and Arts Festival' in April of 2017.
Don't Miss:- Natasha O'Keeffe, Pregnant for the First Time: Boyfriend-Turned-Husband by Her Side
However, no further confirmation came forth from the concerned parties, and they were supposedly only good friends. 
Meanwhile, Robert and Sofia's fans were just starting to get relieved after the rumors of Sofia dating Chris faded away when Sofia threw a bummer in September 2017 by sharing a video on Instagram where she kissed Miles McMillan in Lady and the Tramp fashion.
After the incident, everybody started to ponder if Sofia and Robert split. And, for fan's dismay, Robert eventually confirmed his break up with Sofia. Misfits actor blamed their similar profession and long distance for their break up. Jet Trash co-stars' demanding schedules put a strain on their relationship.
But, conveying they were still friends in 2018. He said,
"We still love each other a lot. We still acknowledge that you know." 
There ought to be some love and friendship after all their relationship lasted for four long years which is a long time in this tricky showbiz world.
However, things seem to be looking up for the Irish actor; he wants to start a family as soon as possible. Is there a lucky lady in the picture? Who is he dating? We can only stay alert as Love/Hate star is keeping his personal life low key as of know. Only time will tell.
Read Also:- Matthew Rhode Age 36 Married, GOT Themed Romantic Wedding Ceremony
In an interview, Robert opened up about taking advantage of his fame, to the extent of having sex with his fans. But don't get too excited people! He stopped leveraging his popularity to get laid and put an end to his rendezvous a long time ago.
Well, the Irish heartthrob's wild secrets don't end there, he even experimented with his sexuality with guys and had friends with benefits. It suffices to say he's had quite exciting experiences
The Umbrella Academy
Robert who commenced his acting career in early 2003, has successfully enlisted his name among the top celebrities of Hollywood. And he has recently appeared on Dean Devlin's Bad Samaritan and Netflix's Umbrella Academy.
In the thriller movie, Bad Samaritan Robert portrayed the character of Sean who is a valet at a local restaurant of Portland, Oregon. And on May 2018, Collider interviewed Robert about his new movie at the Los Angeles' press day.
While talking about Bad Samaritan, he also talked about his Netflix TV series, The Umbrella Academy where he portrayed the character of Klaus. He appeared as the regular in the series.