Roger Federer is one of the most recognized athletes in the world.
With a record 20 grand slams, including eight Wimbledon, he is a pro tennis player in the real sense. Interestingly, Roger was ranked #1 position in the Association of Tennis Professionals from 2004 to 2008 for 237 consecutive weeks.
Roger Federer's Kids
The tennis legend is a father to four kids, who are two sets of twins. The first twins are daughters, Myla Rose Federer, and Charlene Riva Federer. Well, the little munchkins were born in 2009.
And, the second set of twins are boys named Leo Federer and Lennard Federer. Roger's family grew from four to six after their arrival in 2014. Like their father, the US Open champ's children are into the sport, tennis.
It was in an interview with CNN in 2018 that Roger revealed his kids were interested in the game.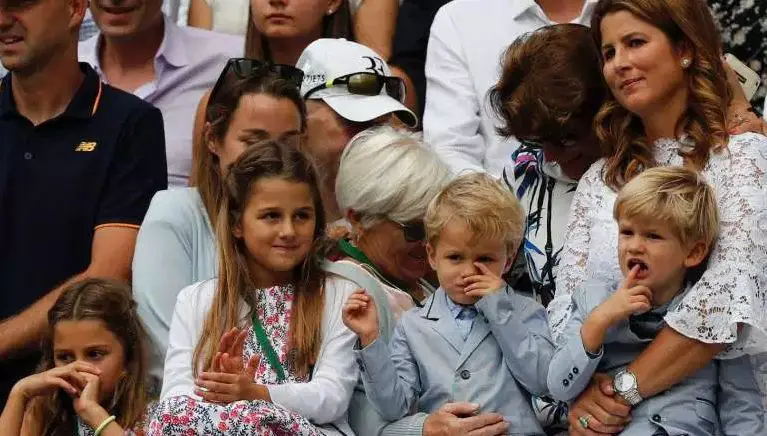 Roger Federer's wife Mirka Vavrinec(left) and kids during the Wimbledon 2017 finals on 16 July 2017 (Photo: heavyeditorial.com)
Well, his children have also appeared on to cheer on their dad. In 2017, the world got abuzz when the identical twin pair donned on matching outfits and rooted for their father from the stands in Wimbledon.
Relationship With Wife
Roger is married to the mother of his children, Mirka Vavrinec since April 2009. The Swiss pair has the sweetest romance.
Well, Mirka used to play pro tennis and she participated in all Grand slams namely, US Open, Wimbledon, the French Open and the Australian Open. Amid Mirka's tennis career, she participated in the 2000 Sydney Olympics.
Olympic Legend:- Michael Phelps Wife, Pregnant, Baby
It so happened that Roger was also representing Switzerland in the same major event. It was there at the Australian city where he met his future wife, Mirka. The pair shared their first kiss on the last day of the 2000 Olympics, that sealed the deal forever.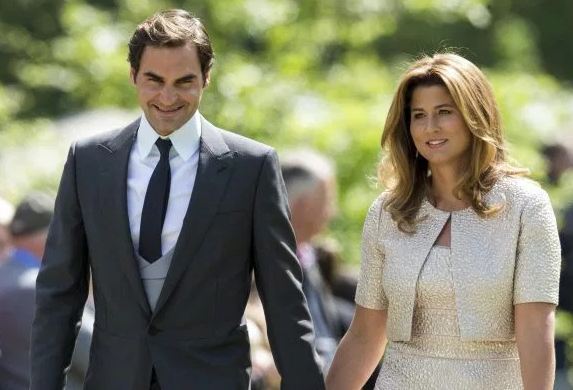 Roger Federer and wife Mirka Vavrinec attend Pippa Middleton's wedding on 20 May 2017 (Photo: www.thesun.co.uk)
After their romance began, Mirka's tennis career also started to take off.
She reached her career-high of 76 ranks in 2001. However, the success was shortlived as the tennis pro's athletic career got plagued by a persistent foot injury. Thus, she retired from the game and became her husband's public relation manager instead.
Now, the couple works as a team in professional and personal life and travel the world for Roger's career, along with their children in tow.
Roger's Family Background & Age 
While Roger has established himself as the greatest tennis player of all time. It may come as a surprise to many that his family has no history of professional sports. According to his parents, Robert and Lynette, the tennis pro was a gifted child, who excelled in the games.
Explore American Basketball Player:- Ray Allen Wife, Gay, Kids, Net Worth
Well, the 37-year-old's father manages, Roger Federer Foundation. The organization works in countries with high mortality rate and invest in education and sports-related activities.
Other the blood-related family, Robert had an extraordinary person in his life in the form of his coach, Peter Carter. Sadly, he passed away in 2002 via a car accident.