Roger Stone was found guilty on all counts in Wikileaks hacking case...is a lifelong republican...has had two wives in his life...divorced his ex-wife Ann in 1990...married current wife Lydia in 1991...has one daughter and one grandson...also has a godson...is not gay, but has been involved in controversies related to homosexuality...bio and net worth are as follows...is 67 years old...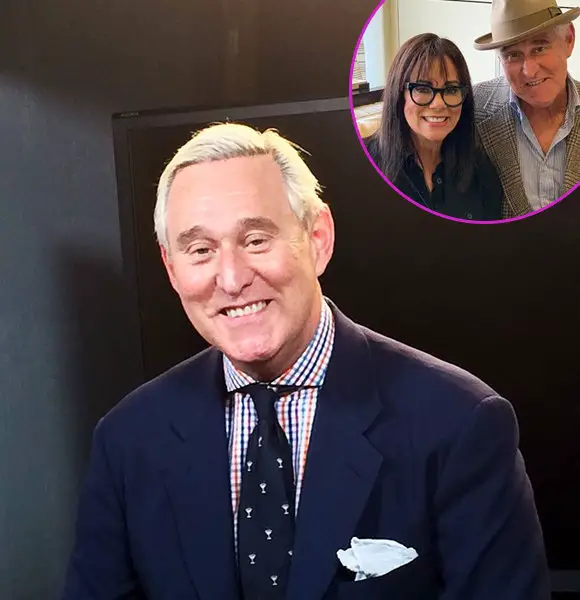 A longtime adviser to President Trump, Roger Stone, was found guilty on all counts in WikiLeaks hacking case during the 2019 presidential Impeachment hearing. He was found guilty of making false statements, obstruction of justice, and lying to Congress.
Surrounding the fall of Roger's decades-long political career, and Trump's defense of his advisor via his tweets, this article covers how it all started; Roger Stone's family life, along with his family information.
Roger Stone: Family Life
Roger was born on 27th August 1952 in Norwalk, Connecticut. However, his mindset turned into a conservative pathway after his family moved to a more rural area when he was just a kid. They settled in Lewisboro, Westchester, where his mother, Gloria Stone, was a journalist for a local newspaper, and his father, Roger Stone, ran a drilling facility.
Having a journalist mother probably helped to develop an interest in politics in Roger. He started volunteering at the local Republican headquarters every afternoon from a young age, and that's how his career began as a conservative politician. 
Roger's First Wife
Roger was married to Ann Elizabeth Wesche, more popularly known as Ann Stone. The ex-couple tied the knot back on 15th June 1974.
A Republican herself, Ann met Roger at the George Washington University. But, while Roger dropped out of college to work for the then-president Richard Nixon's re-election committee, Ann continued her studies. She graduated with a bachelor's degree in History and Communications.
Other Political News:- John Neely Kennedy & Nancy Pelosi Clash, What Just Happened?
However, their relationship wasn't meant to last, and amidst Roger's substantial political participation, Roger and Ann legally separated on 21st December 1990. Ann said in a Washington Post article that she and Roger grew apart and decided to separate as it was the right thing to do, according to her.
Roger's Current Marriage
However, Roger didn't wait around moping about his ended marriage. Instead, he went on and found another woman for himself. And, the second woman that he encountered was his current wife, Nydia Stone. 
Roger Stone with his current wife Nydia Stone in November 2019 (Photo: Lydia Stone's Instagram)
Roger tied the knot to Lydia on 7th December 1991, and they are still together. As for their children, the couple has a daughter named Adria Stone. Roger also has a step-son named Scott Stone and has a grandson, Nick Stevens, from his daughter's side of the family. 
About Lydia Stone
Talking about Lydia, she was born outside the US. Her birth took place on 8th May 1946 in Cuba, but her family migrated to the US in 1959.
It was after her family's relocation that her modeling career took off. She worked as a model in various local advertisements. In addition to modeling, she was also interested in photography as Nydia also worked as a news photographer.
And this choice of career led her to meet Roger. She was working as a photographer in the presidential campaigns of Ronald Reagan, and that's where she met Roger.
Their connection was instantaneous, as they began dating shortly after their introduction. And the marriage has seen some bizarre acts. The couple liked to experiment in their sexual life. And this led to them posting a swinger advertisement, looking for single, male partners.
Bio, Net Worth, And Interesting Facts
Roger Stone's full name is Roger Jason Stone Junior. The political personality has a height of 5 feet 11 inches (1.8 meters).
However unbelievable it may sound, the public figure, despite his long career and political influence, has a net worth of just around $50 thousand. His assets have decreased since his arrest in January 2019, as his legal defense against his arrest cost $2 million.
Another Republican Politician:- Will Hurd Wife, Parents, Ethnicity, Net Worth
Roger has been involved in a fair amount of controversies over the years. One of the most-highlighted controversies was his comments about homosexuality. Roger compared gay rights to Nazism and continued the comparisons by equating homosexuality to pedophilia.
Roger is also a godfather to Kristin Davis's son, and also has close ties with Kristin, also known as the "Manhattan Madam."