Entertainment
Who Is Romeo Lacoste's Girlfriend? Bio, Dating Life, Tattoos
Affiliated with many celebs like Justin Bieber, Ariana Grande, and The Janoskians, Romeo Lacoste is a treasured artist in the tattoo business.
As a celebrity tattoo artist, Romeo displayed his skills and works in the famous reality show, Best Ink (2012-2014). Further, he is also active on YouTube through his self-titled channel with nearly a million subscribers.
Romeo is based in Los Angeles, where he owns a tattoo lounge. His specialty is unique hand-drawn designs and cartoon characters. Though his work may vary depending upon the client getting tattooed, his craft can be considered to be top-notch.
Who Is Romeo Lacoste's Girlfriend?
Romeo was previously in a relationship with Instagram star Gigi Angelica Marie.
You May Like:- Hamish Linklater Wife, Married, Family, Net Worth
The pair apparently started dating in 2015. The two were so much in love that Romeo even got a tattoo of Gigi to show how much he loved her. The duo also went strong with their social media presence and updated their relationship from time to time.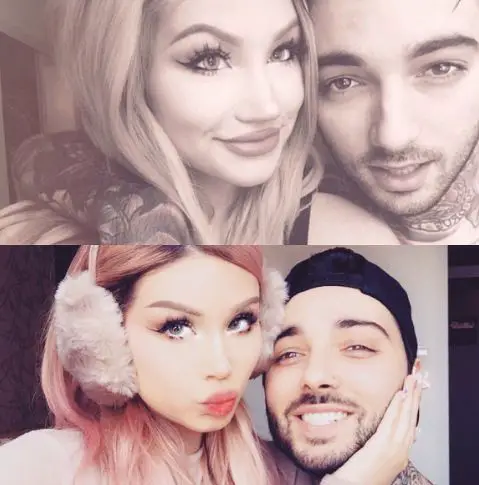 Romeo Lacoste with girlfriend Gigi Angelica Marie in 2015 (Above) & 2018 (Below) (Gigi Angelica Marie's Instagram)
The Canada native and his girlfriend's last post together was on Gigi's Twitter handle. In the post, Romeo could be seen holding a small pet that his girlfriend referred to as their "baby girl."
Sadly, without any news of separation or split, the duo has called it quits. The end of their relationship became apparent after she was seen with a new guy on her Instagram handle in June 2019.
As for Romeo, he is yet to be seen with another woman. As of 2019, with no rumors or sightings of a potential relationship, his dating status is assumed to be single.
His Bio: Age, Tattoo History
Romeo was born on 19 January 1989 in Montreal, Canada.
Even since he was a child, he was very interested in art. With the hope of becoming an artist, he created different forms of art and paintings earlier in his schooldays. He particularly enjoyed drawing cartoon characters from shows like Dragon Ball Z, SpongeBob SquarePants, Ninja Turtles, Pokemon, and other childhood shows.
Read More :- Abbie Burnett Married At Age 26, Details On The Wedding With Husband!
By the time he was 15, Romeo had begun dwelling more into the art world, incorporating new methods and elements to take his work into a new dimension.
He later got his first ink at the age of 17 with a  skunk tattoo that he made himself. Now, his body is literally a work of art. With tattoos all over his body, there is little to no space left where he can add a new one.
Facts On Romeo
Romeo celebrated his 30th birthday in 2019.
His height is 6 feet 3 inches (1.9 m).
He was once accused of sending inappropriate messages to underage fans, which he claimed was a false accusation.