Entertainment
Rory Reid: Gun Lover or Kitten Lover?: Allegedly Gay, Unmarried Foul-Mouthed 'Top Gear' Presenter
The new editions to the team of 'Top Gear' have been a great asset for the show. Even the highly criticized presenter, Rory Reid has played his role brilliantly. So, why is the allegedly gay journalist criticized for being a foul mouthed gun lover? And if he is not gay then who is he involved with in his personal life.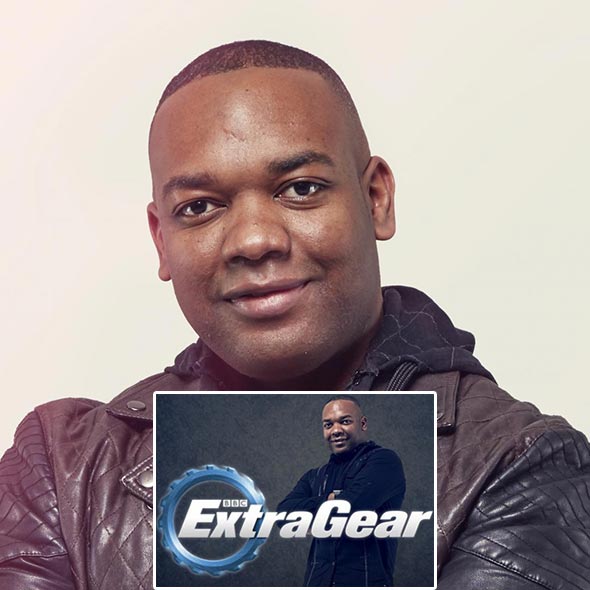 Rory Reid, a television presenter who specialized in motoring and technology, has a lot in his plate. From his career in front of the camera to his family life with his possible wife and kids, Rory has been very blessed in his life.
He has been sharing romance as well as a family with his longtime girlfriend while having a career of his own. However, his career along the path has not been all sunshine but instead has faced criticisms for his acts in the social media.
Eager to find out what lies behind this successful television presenter's life? Read below!
Received Title As "Gun Lover", Defended By A Friend
Back in 2016, the new additions to the team of 'Top Gear' had been great assets to the show. Rory Reid was one of the members of the show's new seven-strong team until he is relegated back to the Extra Gear in October 2018.
Discover: Loving Husband and Caring Father of 3 Daughters, NBC's Auto-Racing Analyst Rutledge Wood Family Life
During the early days of his joining at Top Gear, Rory was criticized for brandishing shotguns posting his picture on a social media. He posted a picture on his Facebook account where he is seen holding two shotguns on his shoulder.
The picture somehow gained popularity and became famous in the online world. After the photo was greatly talked about and even misinterpreted, Rory took to Twitter to explain the picture: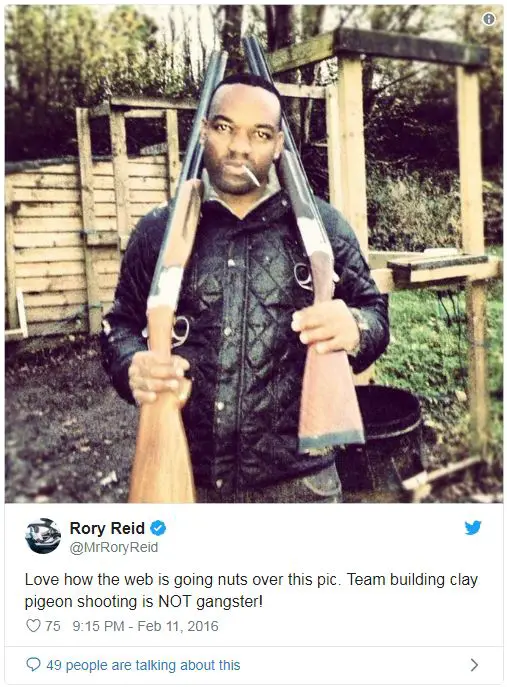 Rory Reid defending his picture through twitter post. (Photo: Rory Reid's Twitter)
Rory defended himself by clarifying that the picture was from the time when he went Clay-Pigeon or Inanimate bird shooting. He also justified that he was just smoking a roll-up. One of his friends also supported him saying,
"Ridiculous! Rory is a family man. He was clay pigeon shooting in those pictures." 
Well, instead of guns, turns out he is a lover of cats unexpectedly having soft spots for them. His friend further expressed, 
"Last year he bought his two kittens, Thunder and Ginger, and he is besotted with them, that's all he talks about."
Later his friends also defended him in an article in 'Mirror' on February 12, 2016, saying that he is no gun lover.
Criticized As "Foul-mouthed"
Back then, even though Rory seemed someone new for the viewers of 'Top Gear' but is no stranger to the camera. He has quite a famous YouTube channel 'Fast, Furious and Funny' and Rory Reid, which features him reviewing cars and other automobile-related topics.
His videos also include bits and pieces of humor along with censored moments and little harsh jokes, which has earned him the criticism of foul-mouthed.
Something Intresting: Sabine Schmitz, Married to Klaus Abbelen: New 'Top Gear' Presenter, Sexist Fans' Reaction
Apart from swearing now and then, he has also joked about how he would trade his Grandma's kidneys for a car. Then, he held out a bloody bag representing the kidneys in his youtube channel.
False Gay Rumors, Dating Longtime Girlfriend - Soon To Be Wife?
Well, it is not exactly known how he earned his alleged gay identity but acknowledging the relationship that he shares with his girlfriend sure sheds some light on his false gay rumors.
Turns out there is no truth in the gay rumors that surrounded him as he is already a father of two - a son and a daughter. Well, Rory seems to be a very private person and prefers to keep his personal life confined within the four walls of his house. 
He has not yet opened up about his long-time girlfriend or has been keeping his family life at the bay for his eager followers. As mentioned by the same friend who defended him on his 'gun lover' criticism, he is a family man sharing the life with his possible wife.
The friend also divulged saying,
"He used to be a bit of a party boy but has two children with his long-term girlfriend."
Indeed, he is the proud parent of his two kids sharing them with his girlfriend who he has been dating for a long time. As the friend of his only mentioned his lover as a girlfriend, the pair might have not married yet. 
Bio Revealing His Road To Success
Rory Reid was born on 1979 in London. He is the editor-in-chief of Recombu Website and has also developed websites for Cnet UK. He was a presenter for 'Gadget Geeks' since 2012 and had also launched/presented Cnet's Car Tech channel.
Don't Miss: The Gadget Show's Suzi Perry's Exotic Wedding With Her Husband, Awesome Way to Getting Married
He also worked for the BBC Radio 5 in 'Saturday Edition' as their technology expert. Recent updates about him include his interview on his experience with 'The Top Gear' on 22 July 2016 and slamming Chris Evans after he scored more on the 'biggest jump in rallycross car' on April 9, 2016. 
Currently, he is returning as the face of the spin-off show Extra Gear. He has also joined Carfection and is set to make some interesting films with them.