Entertainment
Loving Husband and Caring Father of 3 Daughters, NBC's Auto-Racing Analyst Rutledge Wood Family Life
A simple man with a passion for wrenching and owning a car, Rutledge Wood is one of the co-hosts of the History Channel's show, Top Gear (US). Moreover, he is a loving husband and a caring dad. NBC's auto-racing Analyst, a car addict, and an automotive expert.
Rutledge, who is passionate about cars and motorsports, believes that he must own a car where his girls could fit and feel comfortable. Currently, he has only one two-seater and says he would love to drive every single day if it would be '55, '56 or a '57 Chevy wagon and it would be the perfect family classic.
If you are a car lover and love watching Top Gear U.S then you must have to know Rutledge Wood, don't you?  Well, most of us are aware of his professional life but aren't you interested to know Rutledge as a husband and a father?
Rutledge not only love cars but also love spending time with his girls; his gorgeous wife and three daughters.
Well, do you know that proud papa of three daughters; Rutledge believes his girls as his success? Learn about the married life of Rutledge and his beautiful family. 
Married Life With Wife, Children The Source Of Success
Rutledge is happily married to his wife named Rachel and the couple is also parents to three beautiful children. Rutledge has kept the details of his wife private but his daughters are his most valued possessions and he even credits them for his professional success.
You May Also Find Interesting:- "Overhaulin" star and Cars lover, Chip Foose's Splendid Net Worth of $18.5 Million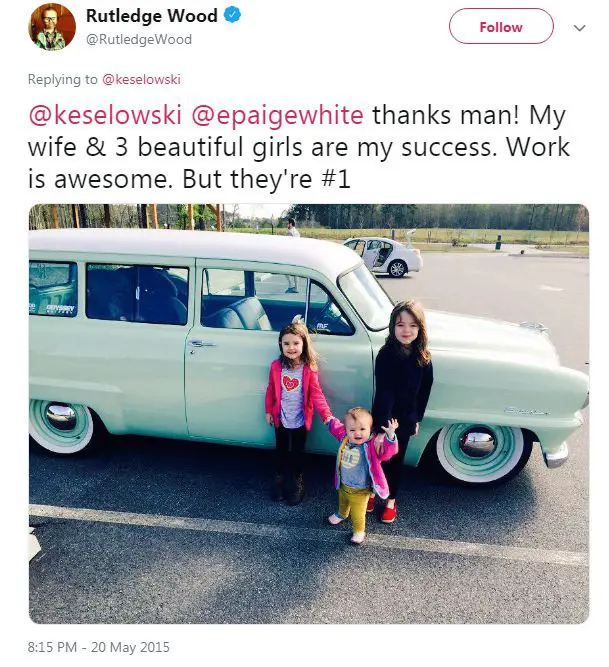 Rutledge describes his daughters as his source of success (Photo: Rutledge Wood's Twitter)
Later on 25 August 2015, he posted another post featuring his daughter and mentioned that he loved to sing for them while they slept.
"Beautiful night in #ATL tonight. Great night to cruise with my girls & sing them to sleep on the golf cart"
Well, Rutledge is a drummer and played in a band in high school and college. He loves playing the drum. Most often he jumps in and does stuff with his girls as he finds spare time from his busy schedule. He tries to have so much fun with his family and doesn't have any other hobbies outside his family and work.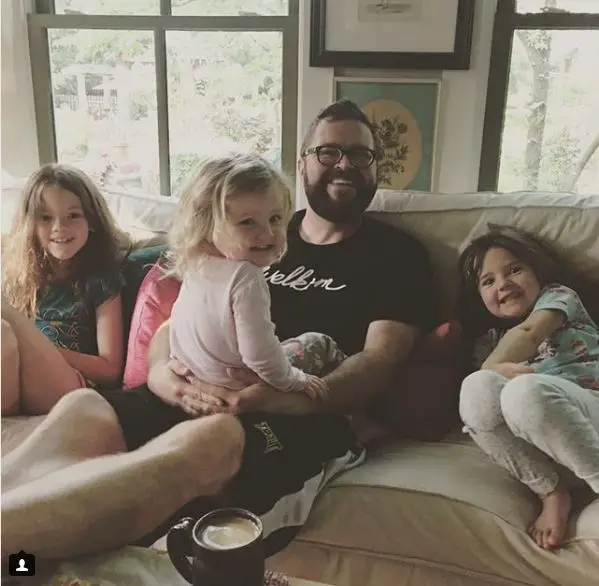 Rutledge spends his free time with his daughter on 20 June 2016 (Photo: Rutledge Wood's Instagram)
To be a dad is an amazing feeling to Rutledge. He is very thankful to social networking sites like Skype and FaceTime as it has helped a lot to connect with the kids of traveling parents.
Rutledge mentioned,
"The hardest thing about being a parent that travels, and any parent that travels knows this, you constantly want to be connected with your world at home, so when you get there, it is seamless. You pick up right where you left off.The hard thing is that when you are gone your partner has to work so hard that everything else is taken care of, and it doesn't feel the void of you being gone. So it is tough when you are all having a good time, and you have to say stop, and you get off of FaceTime, and they realize that daddy is not there. It is a very delicate balance to live off of that."
Further, he also gets worried when his daughters get ill. Back in 2014, when one of his daughters got sick, Rutledge described it as his worse experience. He even shared the news of his daughter's illness on Twitter writing, 
"Nothing worse than when your kids get sick :( Dr said we're good though, so lots of fluids & her favorite tshirt! :)"
Rutledge has balanced both of his professional and personal life despite having a hectic schedule. He lives in Georgia and enjoys his married life bliss with his beautiful wife.
You May Also Like:- Jose Diaz-Balart with Simple Love to Family! Considers Wife and Children as Life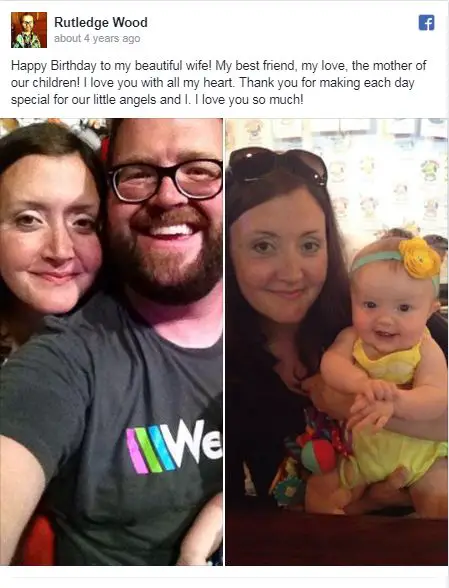 Rutledge with his wife Rachel and youngest daughter (Photo: Rutledge Wood's Facebook)
Rutledge's daughters are rapidly growing up and he takes pride in the fact and even flaunts his children on social media. He also considers his wife as a superwoman as she did a great job in raising those children. On 13 May 2018, Rutledge shared a picture of his wife along with their daughters and called the kids lucky to have a mother like Rachel. 
More From LiveRamp Up:- Tana Ramsay Bio: Wife Of Gordon Ramsay, Her Age, Children, Height & Facts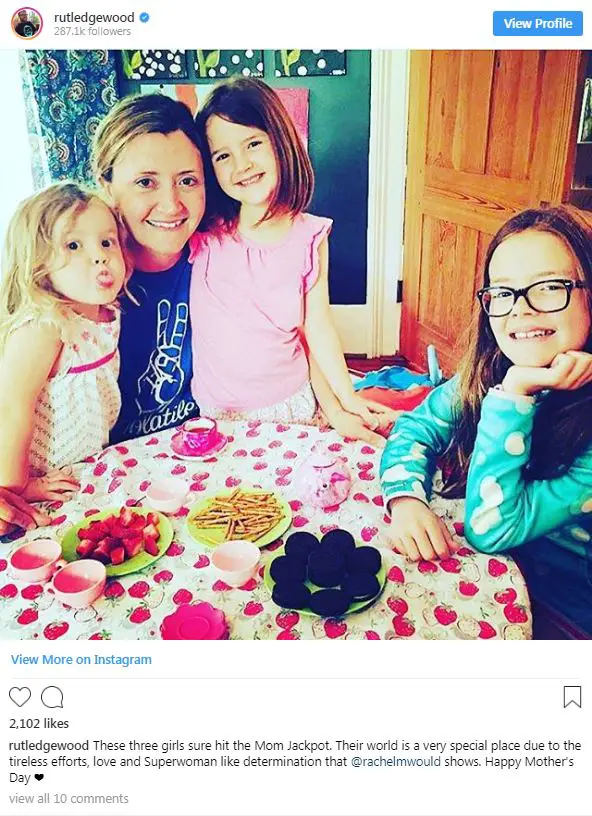 Rutledge's wife Rachel with her three daughters on 13 May 2018 (Photo: Rutledge Wood's Instagram)
Apart from his successful family life, Rutledge's career is also on the rise and he has garnered experienced working for several renowned automobiles companies and has even acted in a movie. 
Short Bio Of Rutledge Wood
Born on April 22, 1980, Rutledge is also popular as one of the hosts for NASCAR Trackside. He worked as an analyst for SPEED TV, (now FoxSports 1) where he covered NASCAR for ten seasons. In the year, he hosted the Speed Road Tour Challenge and even worked for NBC.
He has won the 2013 Long Beach Toyota Celebrity Race with Adam Carolla. Rutledge's father had a business of buying, selling and restoring vehicles both new and old which helped him to derive a passion for cars. He now owns sixty cars.
He is also popular for appearing in Lost in Transmission. Moreover, he is also set to host the upcoming SEMA show organized by Toyota.