Entertainment
Ruby Bridges Now: Still Alive & Thriving! Surprising Never Known Facts
Ruby Bridge is an American civil rights activist credited for being the first African-American to...after going through a career-defining revolution at an early age, she is currently...Married to husband...and a mother of...Ruby is set in her path to...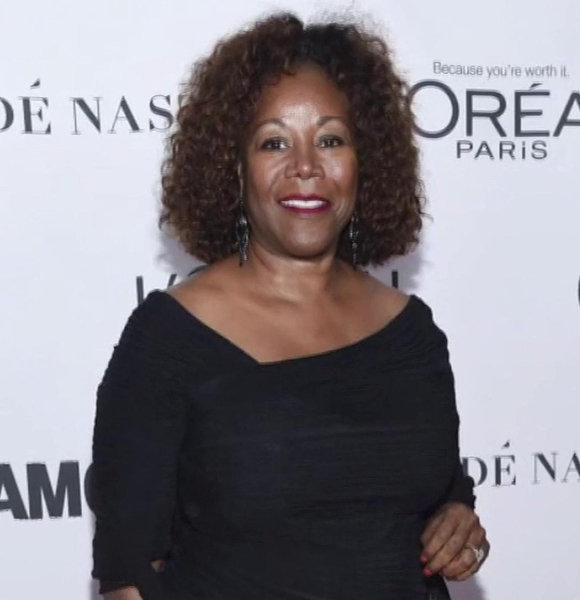 Ruby Bridges, with her immense courage and a fearless attitude, proved the world that a child should never be underestimated after grabbing headlines at a tender age of six.
An American civil rights activist, Ruby Nell Bridges Hall is one of the leading figures credited for voicing against the inhumane practice of racism. Into the focus ever since her school days, Ruby has led a life full of morals and principles acting as a symbol for justice.
With attention coming at an early age, the activist has not grabbed many headlines as of present leading to speculation about her presence. With family responsibilities to take care of, is the philanthropist still alive and active or has she gone cold?
Who Is Ruby Bridges?
With all the human rights movements and voice for equality, much of the present world is not fully aware of the long and difficult road that humanity went through to reach the stage of no racial disparity.
One such person credited for initiating the movement to end racism was Ruby Bridges!
You May Also Like: Wyclef Jean And His Irresolute Relationship History; Also Known As A Philanthropist With Huge Net Worth
Born on Tylertown, Mississippi of the United States to parents Abon and Lucille Bridges, Ruby is considered as the first African-American child to desegregate the all-white William Frantz Elementary School in 1960.
Born amidst the civil rights movement to combine school for the black and white children, Bridges was one of only six children to pass the test taken to determine if she was capable enough of joining an all-white school. However, by the time came to join the school, she was the only black kid in the William Frantz Elementary School.
Amidst public protests, Ruby went on the first day of her elementary school accompanied by four marshals who were assigned by the state to protect the kid and her supportive mother from the opposing crowd that had gathered in front of the school.
In an interview with PBS Newshour in 1997, Bridge recalled the incident claiming she had no idea back then why the crowd gathered in front of her school,
"Driving up I could see the crowd, but living in New Orleans, I actually thought it was Mardi Gras. There was a large crowd of people outside of the school. They were throwing things and shouting, and that sort of goes on in New Orleans at Mardi Gras."
The growing chaos leads most of the white parents to pull their children out, leading Ruby to be the only student in her class.
Along with the parents, all the teachers of the school resisted teaching Ruby, apart from one, Barbara Henry, who later had to compensate for the action with the termination of her contract by the school.
Remembering the Through My Eyes author's first day at school surrounded with marshals escorting her, Norman Rockwell painted in down in the canvas titled, 'The Problem We All Live With' in 1964.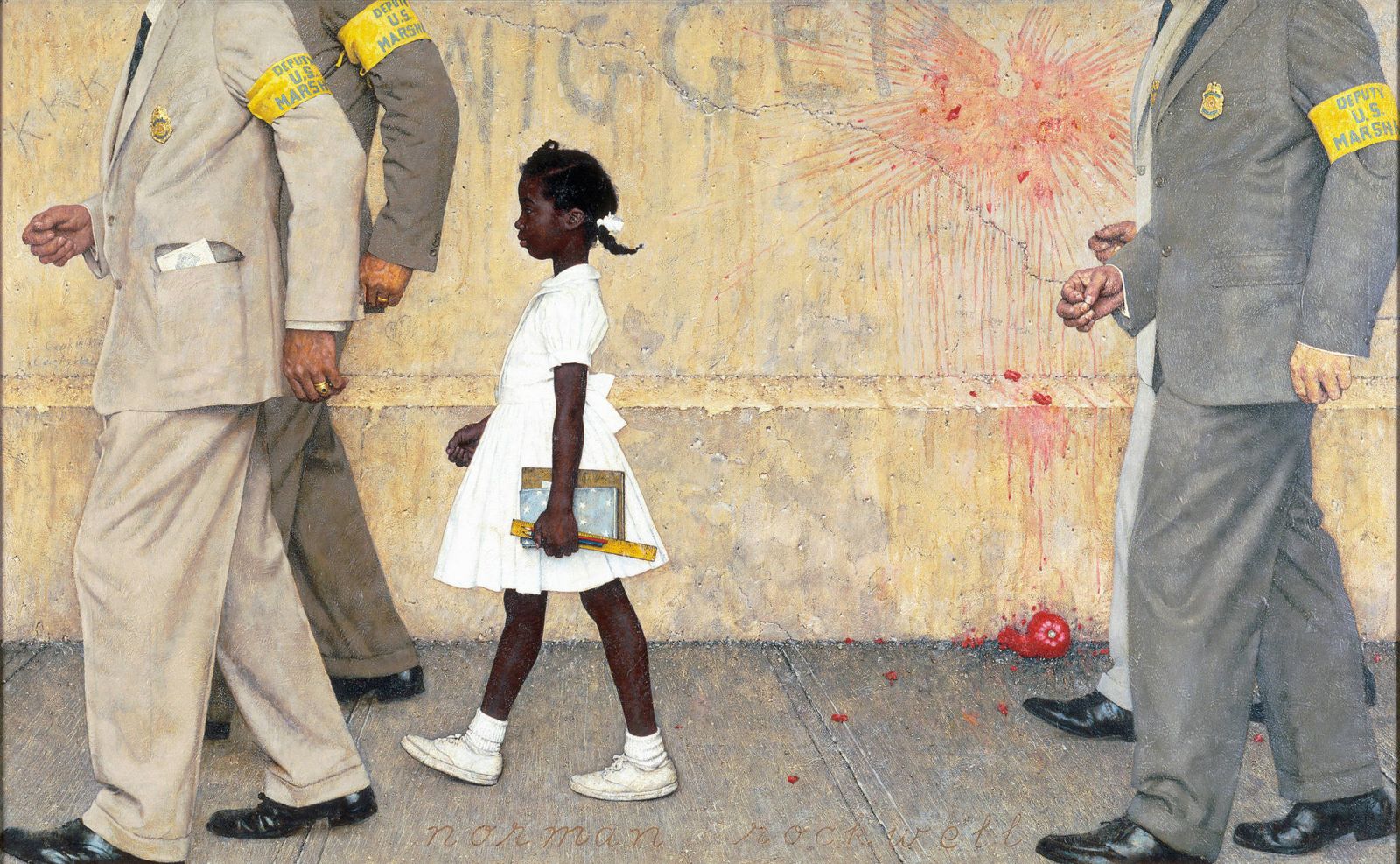 A painting by Norman Rockwell in 1964 titled, 'The Problem We All Live With' focusing on Ruby's first-day at school. (Photo: nola.com)
The painting was later hanged in the White House to commemorate the 50th anniversary of elementary school integration in 2011. The then president, Barack Obama also thanked Ruby on this occasion,
"I think it's fair to say that if it hadn't been for you guys, I might not be here and we wouldn't be looking at this together"
As time passed, the situation of a riot in 1960 got normal, and the school was successfully desegregated from an all-white school to a combined race school. But, the contribution of Ruby remained immortal in the history books.
Still Alive and Active At Age 64; Family Facts
The family life of Ruby was just like every other black family back in the days. Ruby, the eldest among her five siblings, was born on a lower-middle-class family working to make their ends meet.
See Also: Brigitte Gabriel Bio Unravels Old Love With Husband! Married To Last
After her career-defining revolution at a tender age, the now 64-year-old lady worked as a travel agent for around 15 years. Within the time-space, she met the love of her life in the form of Malcolm Hall and got married in 1984. The pair has four sons of their own together.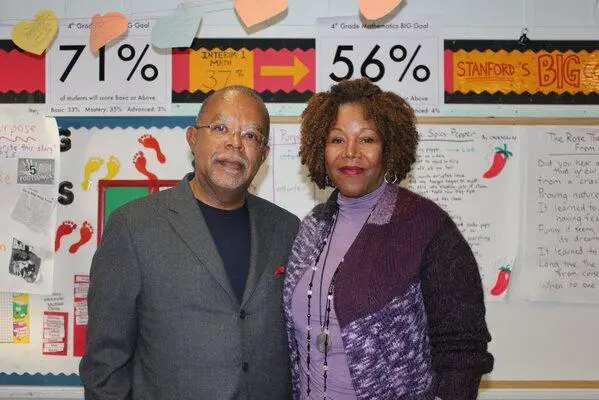 Ruby Bridges poses with her husband, Malcolm. (Photo: sutori.com)
She came in touch with her affectionate side later in her career in 1993 when she adopted her dead brother's four daughters and enrolled them in William Frantz Elementary School.
After forming The Ruby Bridges Foundation in 1999 to encourage parents to educate their child with a goal to end racism, Ruby has been career-defining silent in her philanthropist activities. Her silence raised a lot of curiosity over what the activist s currently doing now.
Don't Miss: Rachel Robinson Death Hoax Swirls; Still Alive & Carrying Husband's Legacy Proudly
Almost forgotten, Ruby recently caught the public eye and proved she is still alive and active in her civil rights activities when she was seen speaking at an event to stand against prejudice of any kind in September 2018.
Thus, a catalyst for ending racial discrimination, Ruby Bridges stands today tall and strong fulfilling her responsibilities within a large family, and raising her voice against what she believes to be wrong.