Entertainment
Ruth Bader Ginsburg Hospitalized, What Happened To Her? Report
Ruth Bader Ginsburg Hospitalized, What Happened To Her? Report
Entertainment
One of the most senior Liberal Justice of the United States Supreme Court, Ruth Bader Ginsburg, is once again battling out to regain full fitness against her recent health scares.
The judge was taken to the Johns Hopkins Hospital in Baltimore after she suffered from a fever and chill in her body on 22 November 2019. 
Though further information regarding the severity of the situation is not disclosed, the court's public information officer revealed that the examination of a possible infection and treatment were being conducted.
Been battling with cancer for the last two decades, Ruth often falls sick with her body slowly growing old with age. Just earlier in November 2019, the judge was absent because of a stomach ache and returned to the court only after five days for the next court meeting.
However, according to the Supreme Court, the situation is nothing severe, and she is expected to return soon and go along with the court proceedings. 
History Of Cancer, Sickness, And Hospitalization?
Other than Ruth Bader Ginsburg's extraordinary advocacy career, her constant battle with cancer separated her from the rest of the bunch. 
Famous News Personality:- Zoe Ball Married, Children, Net Worth, Today
Most often than not, she was battered with degrading health, but she never backed away from her responsibilities. The first time she encountered a major health scare was in 1999 when she was diagnosed with colon cancer.
Similarly, it was not long before Ruth developed pancreatic cancer cells in her body in 2009. Immediately, treatment was underway, and the doctors got rid of the danger.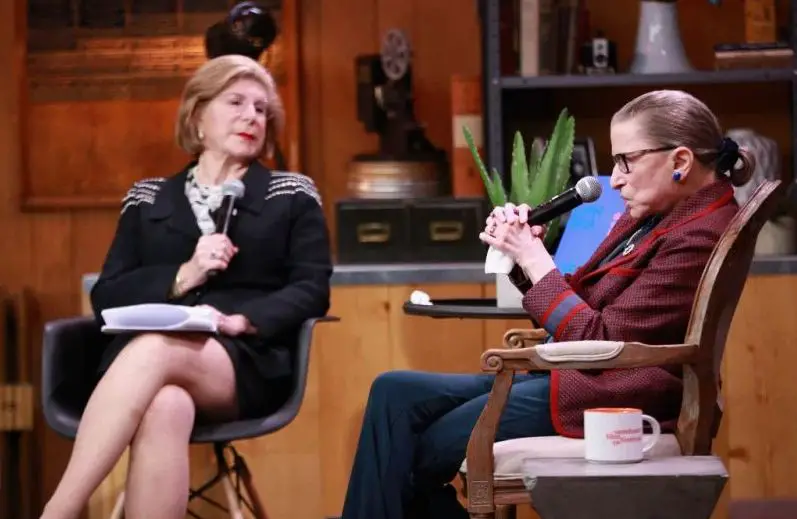 Ruth Bader Ginsburg during an interview at the 2018 Sundance Film Festival (Photo: time.com)
After that, she passed down a few relaxing years without any health problems before the doctors diagnosed her with lung cancer in December 2018. Since then, her health is depleting at a rapid pace. More often than not, she faces minor problems with her health and needs frequent medical assistance on the stand by.
Longtime Adviser:- Roger Stone Wife, Children, Gay, Net Worth
In August 2019, another cancerous cell in her pancreas was detected for which she went through radiation therapy for weeks. Despite returning to the courtroom after all the trouble, all eyes remain on her health. She is one of the nine members of the Supreme Court with a critical power in her hand. 
If by any means, Ruth is unable to fulfill her duties and decides to step down from her position, it will open up the vacancy in the appointment of a third justice to the nine-member court. However, that seems an unlikely situation as the Supreme Court Justice is recovering from chills and fever.