Entertainment
Rydel Lynch Walks into 2018 with Boyfriend! Instagram Filled with Dating Bliss
"As you prepare to usher in the New Year and bid adieu to this one, I suggest live a life that gives your soul bliss."~Latika Teotia
The quote's essence was perfectly manifested by the singer/actor Rydel Lynch as she came into 2018 with a boyfriend and is blissfully in love with him. Anyone can admit that it is nice to have someone to kiss at the midnight and enter the new year with the loved one by our side
Take a look at the young couple with details on how they celebrated their new year 2018 in a single scoop.
Rydel Lynch Walks Into 2018 With Boyfriend
The new year is the celebration of new hopes and new beginnings. And, most people take time out to celebrate this day in their special way with their loved ones. So was the case for Rydel Lynch who welcomed the new year in the arms of her boyfriend, Ellington Ratliff.
The couple had their new year's midnight kiss, and Lynch even shared that on her Instagram.
That is one fantastic way to start a year, don't you think?
Another Relationship : - Madison Chock Skates With Boyfriend, Dating Since 2017, Professionally Married
The couple celebrated their new year like they do in the movie Tangled: they bid goodbye to 2017 by flying lanterns along with their family members.
Rydel shared another picture of her and her beau with the caption "What a year!" It had to be another incredible year as they have been together for four years and still going strong.
They started dating back in 2013 and successfully managed to keep it a secret until 2015. Rydel admitted that she always liked Ellington from the day she met him.
"Pretty much I just remember always liking Ellington. Like from day one, he's just like the cutest thing in the world,"
Even though the couple made sure to keep their secret love affair to themselves, their band-member Ross Lynch, who also happens to be Rydel's brother, suspected before they even told their band members about the relationship.
"We were on a trip somewhere and Ross was like, 'Something's going on with them!' and I was like 'What are you talking about?'" Riker said. "Ross was like 'No seriously, something's going on!' And he kept telling me, and I was like 'No dude, they're normal. They're acting completely normal. What are you talking about?' And he's like 'No they're like sitting next to to each other all the time and like something's going on.'"
But the band eventually found out about the two secret lovebirds. Both Rydel and Ellington are the members of the group R5.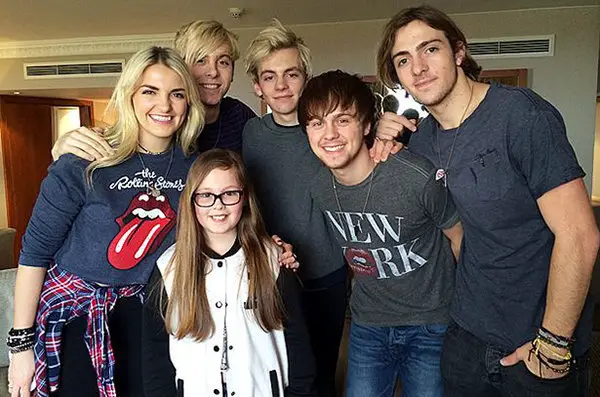 Rydel with her bandmembers of R5 (Photo Credit: mirror.co.uk.)
The band is comprised of Ross Lynch, Riker Lynch, Rocky Lynch, Rydel Lynch, and Ellington Ratliff. All except Ellington are Rydel's siblings. But well, now they're all a family to Rydel.
Love Life In 2019
In 2019 her old romantic ways have found its way to the arms of new boyfriend Capron Funk.
About Different Love:- Jesy Nelson Boyfriend, Dating, Parents, Ethnicity
Declaring him a keeper Rydel posted three photos of him. Showcasing her love for Capron, she was seen kissing her beau in an intimate PDA packed moment. Even her boyfriend took to Instagram to share a happy moment when he asked Rydel to be her girlfriend.
In a detail video graphics documentary of sorts, he tagged Rydel and talked about her.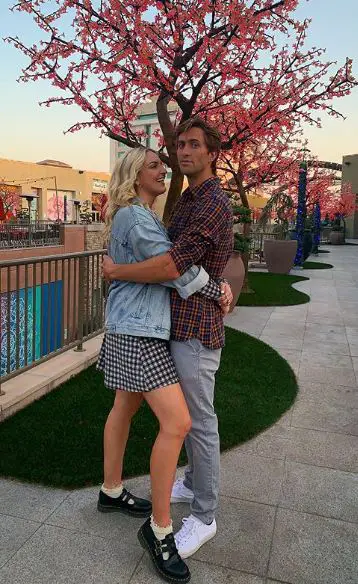 Rydel Lynch with boyfriend Capron Funk in November 2019 (Photo: Capron Funk's Instagram)
Since then the duo has remained quite active and full of energy about their romance. Not letting any moment pass by since then, the duo has been quite open about their romantic relationships.
Posting photos and videos on their respective handle with every chance they get, the couple is deeply in love in 2019.