Entertainment
What Is Sabrina Bryan's Ethnicity? Engaged-To-Get Married - Unconditional Love
The pop singer and actress Sabrina Bryan, who is best known as a member of The Cheetah Girls is up and ready to walk down the aisle on her wedding dress in perfection.
Wondering how her dream wedding with her man looks like?
Well, you are in for the treat as we brought you details of her wedding so without further ado let's get started!
Sabrina Bryan's Dream Wedding With To-Be Husband
Sabrina Bryan, who posses mixed ethnicity as she has Caucasian and Mexican roots, is engaged to her long-term boyfriend Jordan Lundberg, who is a salesperson. Jordan got down on one knee for his girl in August 2017. The duo was attending the wedding ceremony of Jordan's sister in Ireland when he popped the question.
During the wedding, Jordan was looking for a perfect time to ask his girlfriend to marry him. While taking family photographs, Jordan got down on one knee and proposed Sabrina with a ring. Sabrina was shocked even though she was expecting it.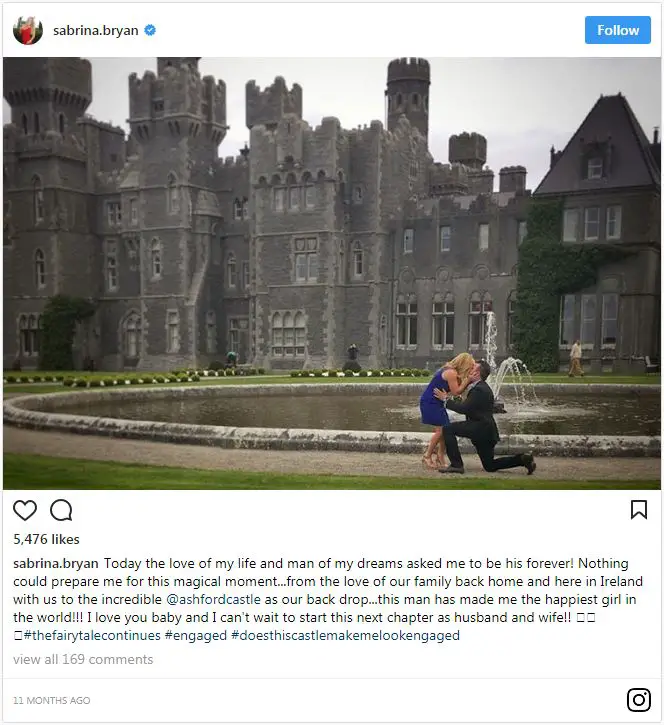 (Photo: Sabrina Bryan's Instagram)
Moreover, the couple is set to exchange wedding vows soon. They are set to tie the knot in the October of 2018 which she announced via Instagram back on 7 March while revealing that she is in search of a wedding dress in New York.
In New York on a hunt for my Wedding Dress and today marks 7 months from marrying the man of my dreams! Exited does not even begin to explain all the feels!!!
Likewise, it has come to notice that they are getting married at Wayne Newton's Casa De Shenandoah in Las Vegas which is owned by one of her Dancing With The Stars, costar, Wayne Newton. She visited the place firstly with Wayne. Later, during the opening ceremony of the venue, Sabrina visited it with Jordan. That was when the duo thought of tying the sacred knot at that place. Sabrina shared that she would be one of the first brides to walked down the aisle in the very place.
"Wow, this would be such an epic location for our wedding. It's just now becoming a wedding venue; I'm so excited to be one of the first brides out there."
Sabrina, who is up for a romantic glamour themed wedding, is working with Elle and Jay Events who are helping her plan her wedding and turn her vision into reality. Sabrina, who has a net worth of $2 million, wants simple florals arrangement with big chandeliers, crystals, and lighting.
Likewise, Sabrina opened up on how she met the man of her dreams and how the duo has been together since the day one.
"We hit it off right away and basically never stopped hanging out."
The couple dated for five and half years before getting engaged. Sabrina fondly talked about her relationship with her soon to be husband and said,
"He was so romantic and really different than anyone I'd ever met, so I was ready to get married after a year and half of being together. But he was just waiting for the right time.
Sabrina appears to be excited to get married to the love of her life and looking forward to upcoming years of marital bliss!
Previously, Sabrina dated Mark Ballas- a dancer and an actor. The duo met when they both were a contestant at Dancing With The Stars. However, their relationship could not last long and later ended, but they kept their friendship alive.