Entertainment
Sacha Baron Cohen Details On Wife & Kids, Ethnicity Net Worth & Facts
Sacha Baron Cohen is a British comedian, actor, and comedic writer..famous for his role in the 2012 movie The Dictator... is married to Isla Fisher...married his wife in 2010...has three kids with Isla...owns a net worth of around...he is of Jewish ethnicity and follows Judaism as his religion...his age is...through his career in show business...protecting the privacy of her family...
Sacha Baron Cohen is famous for creating hilarious yet controversial characters Ali G and Borat. He is also well known for his portrayal of Admiral general Haffaz Aladeen in the 2012 movie, The Dictator. 
Sacha is a figure to look up to when it comes to politically incorrect and controversial humor. His characters are often intentionally irritating, and bizarre. Through his characters, he also baits people to say controversial things, known as "gotcha journalism." 
Almost all of his works are popular. However, Da Ali G Show (2000 to 2004), The 11 O'Clock Show (1998 to 1999), Who Is America (2018), and The Dictator (2012) are his most popular works. 
Sacha Baron Cohen's Personal Life: Wife & Kids
Sacha met his wife, actress Isla Fisher, in 2002 at a party. They soon started dating.
After dating for a while, they decided to get engaged. Sacha popped the question to Isla in 2004. However, they waited a long time to get married.
Another British Comedian:- Is Ricky Gervais Married Now? His Relationship Details With Girlfriend
The pair tied the knot only on the 15th of March 2010 in Paris, after six years of getting engaged. Their wedding was a Jewish ceremony. Isla had to convert to Judaism before marrying Sacha, and she said the following about her conversion before her marriage:
I will definitely have a Jewish wedding just to be with Sacha. I would do anything – move into any religion – to be united in marriage with him. We have a future together, and religion comes second to love as far as we are concerned.
The couple has three children: daughters Olive (born on the 17th of October 2007), Elula Lottie Miriam Cohen (born in August 2010), and son, Montgomery Moses Brian Baron Cohen, who was born on the 17th of March 2015, on the St. Patrick's Day.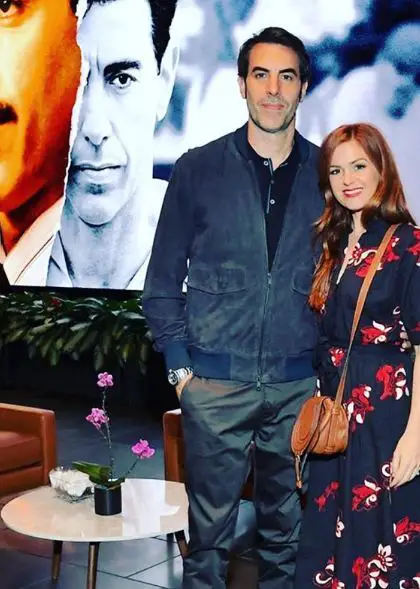 Sacha Baron Cohen with his wife Isla Fisher in September 2019 (Photo: Isla Fisher's Instagram)
Sacha and Isla are notoriously private about their family life. Isla cares sincerely about protecting the privacy of her family, especially of her kids. This is why she never shares pictures of her children on social media.
Sacha's Net Worth
Sacha has managed to gather a huge amount of wealth through his career in show business. The comedic actor has an estimated net worth of around $130 million according to Celebrity Net Worth.
Interesting Facts about Sacha Baron Cohen: Age, Ethnicity & Religion
Sacha Baron Cohen was born on the 13th of October 1971 in Hammersmith, London, England, the United Kingdom.
His full name is Sacha Noam Baron Cohen.
He stands at a height of 6 feet 3 inches (1.91 meters).
His parents are Daniella Weiser and Gerald Baron Cohen. His father was of Eastern European Jewish descent who was born in England and raised in Wales. His mother was of German Jewish descent who was born in Israel.
Sacha is Jewish.
Another Jewish Personality:- Jewish Ethnicity Sportswriter Jay Glazer's Splendid Workout Plan for Everyone, Fighters or Beginners
He has two brothers: Erran Baron Cohen, a musician, and Amnon Baron Cohen, a computer programmer.
He attended Haberdashers' Aske's Boys' School in Hertfordshire and then proceeded to attend Christ's College in Cambridge. He studied History in college. He even considered studying to get his Ph.D.
He splits his time in between residences in Los Angeles, California, and Central London, England.