Entertainment
All on Sam Darnold's Girlfriend, Family, Net Worth & More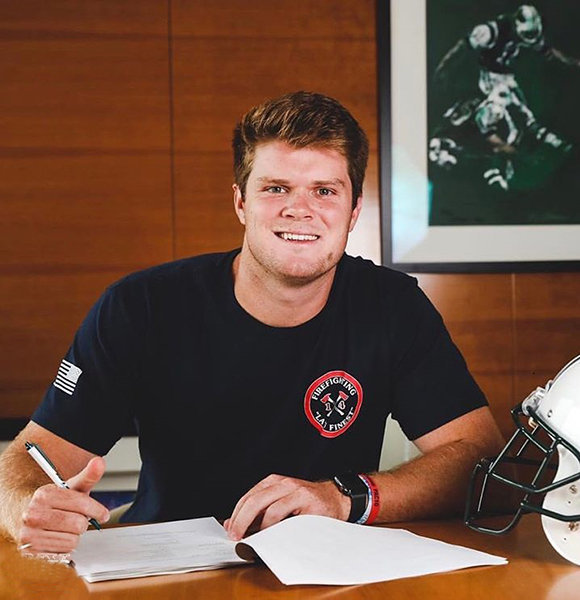 Legendary NFL player Sam Darnold went through a rough time after being traded by the New York Jets. During his hard times, his family always had his back, but the lack of a girlfriend figure in his life during those times raised a lot of questions about his love life.
So, was he always single? 
Did Sam Darnold Have a Girlfriend?
Darnold had a girlfriend when he was attending university, and the lucky girl was Claire Kirksey, whom he met at the University of Southern California and instantly fell in love with. 
Claire became Sam's girlfriend in September 2017, but the earliest connection of the duo, based on both of their Instagram handles, seems to be around November 2016.
NFL Quarterback:- Gardner Minshew NFL, Contract, Stats, Salary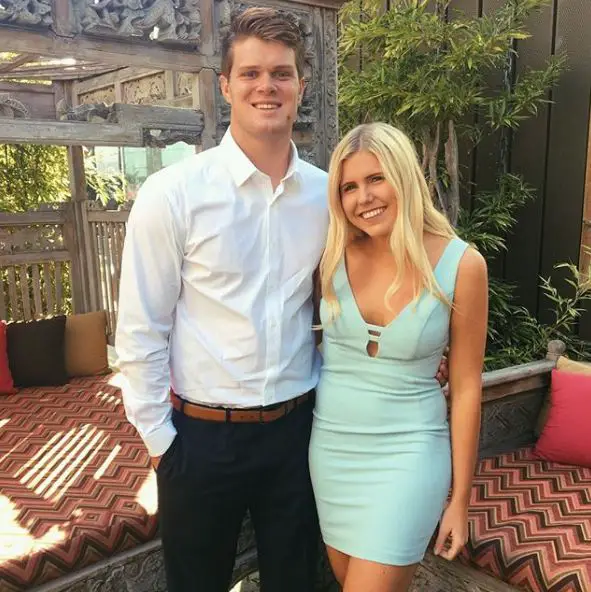 Sam Darnold with girlfriend Claire Kirksey in September 2017 (Source: Claire Kirksey's Instagram)
The boyfriend and girlfriend duo shared many pictures together in the past. But the last image of them together was uploaded in September 2017. 
Sam and his girlfriend were spotted together during a concert in Los Angeles around 2018. However, looking at their social media, it seems that they were no longer in a relationship back then.
After the couple parted, they did not give any news about the breakup, nor did any media cover it. However, the news about their split was confirmed when Page Six covered a story regarding Darnold being spotted with another girl.
According to Page Six, "Sam Darnold was wasted, hooking up with some girl. The other guys on the team had to [look after] him."
Moreover, Claire also introduced her current boyfriend, Liam McCloskey, around 2020, and the couple recently celebrated their two years of togetherness. 
Before dating his ex-girlfriend Claire, Sam dated Summer Thompson in 2014. The details about his relationship with Thompson are also buried, but there are a few pictures of the two together on Sam's Instagram.
Apart from Page Six story, Sam has not appeared in the limelight for his new relationship. 
Though he has not made any strides in his dating life, his family life remains fulfilling.
Sam Darnold's Family Life
Born in 1997 to parents Chris and Mike Darnold Jr, Sam Darnold celebrates his birthday on 5 June. Sam Darnold grew up with a sister named Franki Darnold, along with the care of his grandfather Mike Darnold.
Sam comes from a complete athletic family. His father was also a footballer at the University of Redlands in California who served as an offensive lineman.
His mother also played volleyball at Long Beach City College. She is a renowned physical education teacher at Shorecliffs Middle School.  
Also, his sister Franki is a college volleyball player at the University of Rhode Island.
Furthermore, his late maternal grandfather,  Dick Hammer, was a basketball player at USC and an actor who was featured in Marlboro advertisements back in the 1960s and 1970s.
Another Young NFL Player From Our Vault:- Allen Robinson Girlfriend, Family, Net Worth
It seems quite obvious that Sam got inspired by his family, which led to his successful career. 
Sam Darnold's Career
The 24-year-old NFL quarterback star Sam Darnold has made it to one of the biggest American sports. Sam started playing the 2021 NFL season with Carolina Panthers after being traded by his former team New York Jets.  
He also caused a stir on social media when he admitted to reporters on a Zoom call about not being vaccinated. People questioned his leadership, even though it was his own decision. On the other hand, he refused to say whether or not he had been vaccinated. But according to the source of ESPN, Darnold got both shots making him fully vaccinated. 
Regardless, he is improving as a player day by day, brightening up his future career prospects.
He has managed to earn massive wealth from his full-time football career. Alongside his career, endorsements, sponsorships, and brand promotions also have helped him earn reasonable sums. In 2021, As per Spotrac, Sam is estimated to have a net worth of $30 million. 
Taking about the successful player's measurements, he stands at the height of 6 feet and three inches (1.90 m) and boasts a weight of around 102 kgs.
With his growing career and look out for his perfect partner, we will surely update you guys, so keep up with us.