Sam Frost is an Australian radio host and actress...is dating her boyfriend Dave...is committed and happy with her partner...hinted about marriage in...is not married to her boyfriend yet...is 30 years of age...has a height of 5 feet...went under a weight loss routine...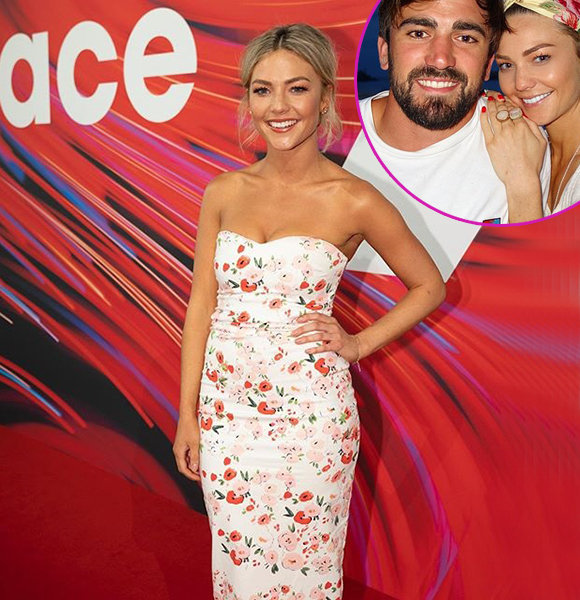 Australian radio host, and TV personality, Sam Frost has been doing good in her acting career. She has worked with various high-value productions such as Home and Away, Hell's Kitchen, and The Bachelorette Australia.
Similar to her professional career is her personal life, which is going well. She is dating Dave Bashford, and they have been doing great with each other. But, what about Sam's previous relations? Also, find out if Sam plans on getting married to her boyfriend.
Sam's Past Relationships
Gorgeous and talented, Sam has had quite a bit of success on the dating front of her life. She has been with a couple of guys before she got together with Dave.
The guy that came before Dave goes by the name of Sasha Mielczarek, a businessman. They met each other on the set of The Bachelorette in 2015 and immediately fell in love during the first season of the show.
Also Read About:- Is Mark Simone, The Savage Radio Host Married? Family, Salary & Facts
But, the relationship came to an end after 18 months of dating. Coincidentally, it was the same period that the two were contractually bound in the show. It led many to believe that their relationship was a contractual obligation.
However, Sasha took down those rumors in February 2017 in an interview with WHO magazine. He clarified that the relationship wasn't a contractual one and that he was still in love with her.
Sam's Current Boyfriend: Is Sam Planning A Wedding?
However, The Bachelorette star didn't stay a bachelor for too long after her split with Sasha. Sam confirmed the dating rumors about her boyfriend and long-term friend Dave Bashford through an Instagram story in July 2017.
The couple is together to this date, and she occasionally shows love for Dave via Instagram. But, is the pair already engaged?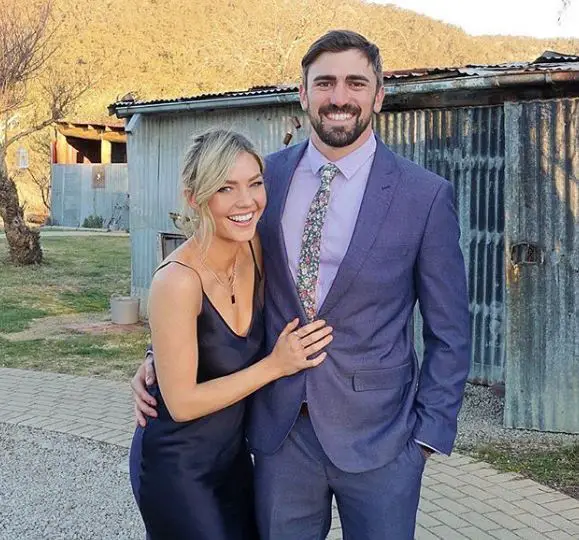 Sam Frost with boyfriend Dave Bashford during a friend's wedding on September 2019 (Photo: Sam Frost's Instagram)
Neither of them has spoken about the rumor. However, Sam did hint about her wedding plans with Dave. She asked one of her fans on Instagram to be a celebrant at her wedding. But, she didn't mention a date for the upcoming nuptials.
Who Is Dave?
Sam's significant other Dave is a navy clearance diver. He has served his home country Australia for over ten years. However, he has also been caught involving in illegal activities.
He pleaded guilty after being charged with possessing 0.4 grams of cocaine in July 2019. Dave went under intense public scrutiny after the arrest during a police raid. But, Sam supported him during this time, saying that she wanted to protect him.
Dave's Support For Sam
In spite of the lack of evidence of their marriage, one thing is evident - their love for one another. And, the care can be seen in their actions, especially Dave's efforts. He has been with Sam through her struggles with anxiety and depression.
Dave opened up about his experience dealing with Sam and her mental health issues through an essay in 2019. He has said that his girlfriend's battles with the problems have been "challenging" at times.
But, despite the hardships, Dave has always been by her side, supporting her through times, both good and bad.
Weight Loss Talks
Getting and keeping a fabulous figure takes a lot of work. Sam knows the pain and the pressure one has to go through while trying to lose weight.
Sam did an incredible job of losing 10 kgs when she was preparing for her return to The Bachelorette in 2015. She had to sacrifice a lot of unhealthy habits and focus on her diet to obtain the transformation she intended to achieve.
Recommended For You:- Simon Cowell With His New Look & Remarkable Weight Loss
She trained five days a week and focused on high-impact and high-attack weight training to burn fat.
Her hard work eventually paid off as the actress looked gorgeous during her return in The Bachelorette, and also in the TV series Home and Away.
Interesting Facts: Age, Height
Sam was born on 4th April 1989, in Australia.
The actress stands at a height of 5 feet 5 inches (1.65 meters).
Sam joined the cast of Australian TV series Home and Away in 2017. She portrays Jasmine Delaney on the show.
The former radio host reached the finale of both The Bachelorette Australia (2015) and The Bachelor Australia (2014).
During her time as a radio host, she won awards such as Radio Host Presenter of the Year and Women of the Year honors in 2016.