Entertainment
Savannah Soutas, 24, Married To Cole Labrant; But He Isn't The Baby Daddy!
The Fashion blogger, Savannah Soutas, is a social media star and has accumulated over 12 million followers on her musical.ly account.
Since Savannah has a huge fan following, her marriage news broke the heart of many fans, but the twist is that the mother of a six-year-old girl, Savannah, is not married to her baby's dady. Sounds confusing, right?
Well, worry not, as here we have disclosed the information about her new husband and her daughter's biological father as well!
Fairytale Wedding With Husband Cole Labrant
The famous couple, Savannah Soutas and Cole LaBrant tied the knot in 2017, after a year of the dating relationship.
Wedding That Might Spike Interest:- Miranda Lambert Wedding, Husband, Boyfriend
The wedding took place in beautiful Temecula, California with a faith-centered ceremony, and lots of meaning details. Savannah's daughter, Everleigh Soutas also witnessed the holy matrimony.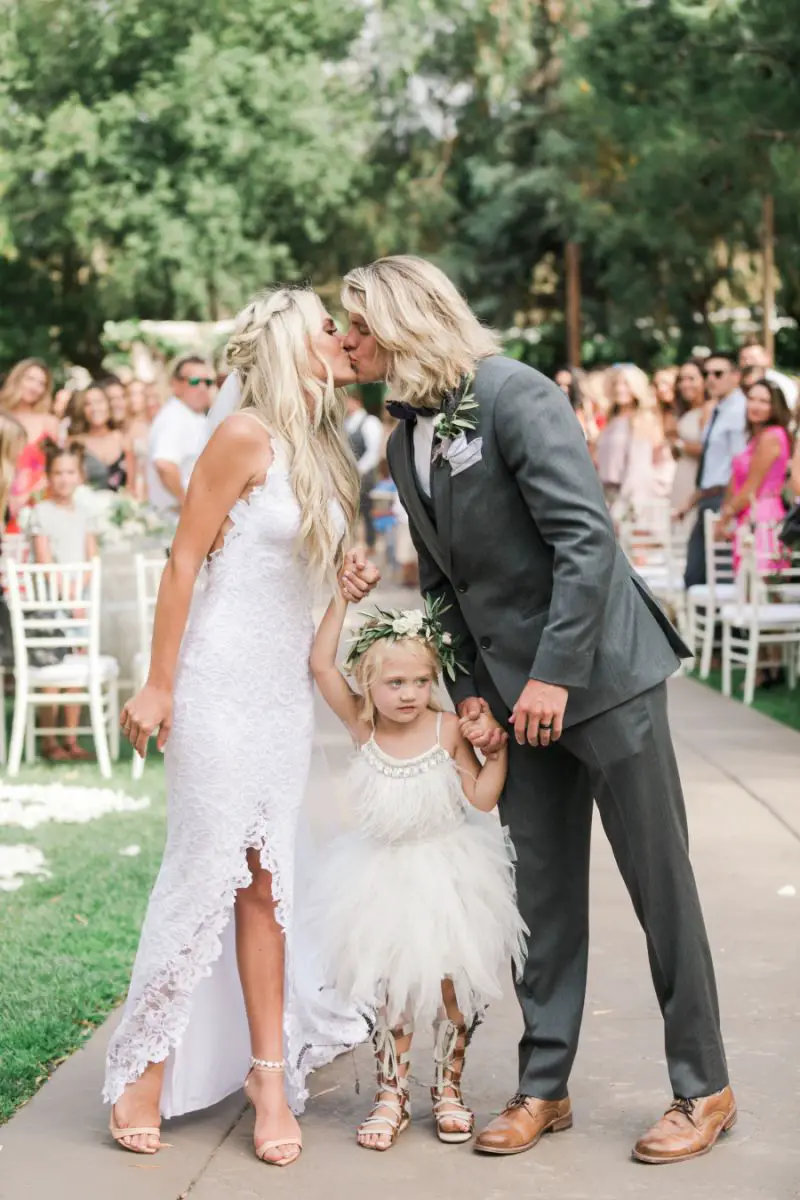 Savannah Soutas and Cole LaBrant on their wedding with the little Everleigh (stylemepretty.com)
The favorite couple, who claims to have a bit different relation than others, also shared their emotional wedding video on the channel Cole&Sav, where both Cole and Savannah were not able to stop their tears. She confessed that she never thought someone would fall for a girl who had a daughter. Her statement read:
"I was just coming out of a horrible relationship. The relationship that took everything out of me and made me feel unworthy and I thought in my head that nobody would accept or like me again since I had a kid."
With tears falling from her eyes, Savannah further shared her feelings as she continued,
"I never thought I would find somebody who not only choose and love me but also choose and love my daughter even more."
Cole emotionally vowed to her wife-to-be, quoting:
"How awesome is that I got to put us together and that you chose me not only to be your husband but to be Everleigh's dad. You are the most amazing, strong, loving women I've ever met"
Savannah also explained:
"You made me feel worthy you made Everleigh feel so loved. you showed us a life that we never thought we would ever get to experience, a life with someone who prays for us daily loves us aimlessly and makes us feel like the most beautiful girls in the world."
Well, the most exciting and emotional part of their wedding was that the new father of Everleigh promised her to love and keep her and her mother happy forever.
Savannah and her boyfriend-turned-husband Cole is parenting cute little Everleigh together though Cloe is not Everleigh's biological father. In this context, the question strikes; who is the biological father of Everleigh?
Any Info On Baby Daddy & Ex-Boyfriend?
Well, the newly married couple see a lot of questions about their relationship in general, so they answered it through a YouTube video, back in September 2016.
Similar Mystery:- Kehlani, Age 23, Confirmed Pregnant! Baby Daddy, Queer & Right In Front
Savannah and Cole together answered the question of the audiences where Savannah revealed about her past relationship too.
Savannah conceived her daughter at the age of 18 and became a mother when she was 19. She explained that she never got married to her child's father, who was her boyfriend at that time.
She also claimed that her ex-boyfriend was not excellent and suitable father to her daughter. Despite revealing all those to her fans, she didn't disclose the name of her ex-boyfriend.
They regularly update their family life through their YouTube channel 'Cole&Sav.' And whatever the past held, the family of three was living a happy life, which got even dandier once they learned about Savannah's pregnancy.
Pregnant Four Months Before Wedding Anniversary; Welcomes Second Baby
No longer able to contain the happiness to themselves, Savannah and her husband shared the reaction video of them learning about the pregnancy on YouTube on 9th May 2018. They were four months away from celebrating their first wedding anniversary.
From the day they knew of their upcoming baby to the time of the actual labor, the duo made a conscious decision to cherish and later chronicle every moment on social media.
Another Pregnancy Journey:- Catelynn Lowell Pregnant, Baby, Net Worth
After months of anxious wait, Savannah and Cole welcomed their first child, a baby daughter named Poise Rayne on 28th December 2018. At the time of the birth, baby Poise weighed six pounds and 13 inches.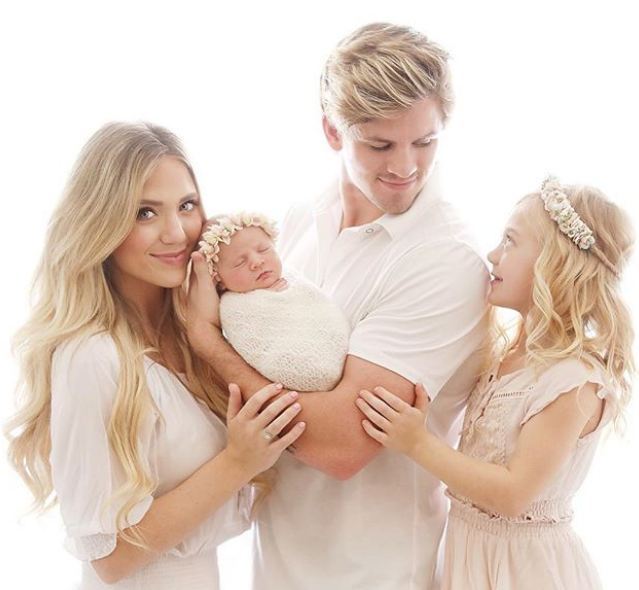 Savannah Soutas and the company pose for a family following the birth of Poise Rayne on 28th Dec 2019 (Photo:- Savannah Soutas' Instagram)
In subsequent days, the Soutas-Labrant family released a set of beautiful photos to celebrate the birth of Everleigh's baby sister.