Scott Rogowsky is a New Yorker...his birthday is on the 4th of December 1984...he has kept his personal life secret from the media...rose to fame with HQ trivia in 2017...now hosting weeknight Major League Baseball show, DAZN...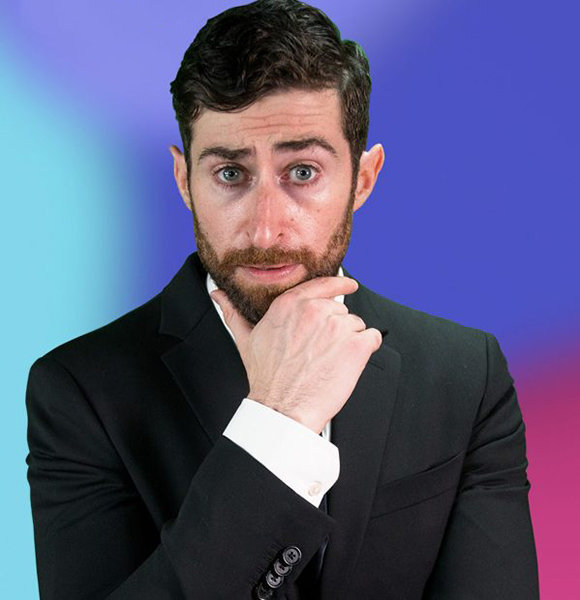 Known throughout America as Quiz Daddy or Trap Trebek, Scott Rogowsky is a stand-up comedian. He became a member of the American household ever since he started hosting the HQ Trivia in August 2017.
Wiki-Like-Bio
Scott Rogowsky was born into a Jewish family in 1984. He was raised in Westchester County, New York City. A Sagittarian, his birthday is on 4th December.
Regarding his background, Scott comes from a long line of law school graduates; his father, his mother, and his uncles all are law professionals. His father, Marty, even worked with Scott in Running Late with Scott Rogowsky. As for his siblings, he has a sister.
Is Scott Married To Wife?
Scott is one of those people, who have successfully kept his personal life away from the eyes of the wanderers.
Ever since he became a household name with HQ Trivia, everyone wants to know, who the lucky partner is in his life. However, Scott has kept his mouth shut about his relationship.
A Secret Revealed:- Britt Robertson's Secretive Dating Affair Revealed! Meet Hunky Actor Boyfriend 
So, there are rumors that he is gay. But, there are no confirming evidence to support this either. Whatever the case may be, fans of the comedian will have to wait and laugh at his puns until he decides to reveal any information.
Career; Education & Work
Nobody knows what the future holds for them. Scott is a perfect example of the statement.
For his education, he attended the Johns Hopkins University to pursue Political Science.
However, he found his calling in making people laugh. He made some stand up when in university. Scott gained fame with several viral videos, including 10 Hours of Walking in NYC as a Jew, and Taking Fake Book Covers on the Subway.
Aged Game Show Host:- Bob Barker Health Issues Arise: Hospitalized At Age 94 As Backache Sears
He reached his height in entertainment with the role of HQ trivia's host on 2017. HQ trivia is an app created by tech entrepreneur Rus Yusupov. The app hosts trivia twice every weekday at 3 PM and 9 PM.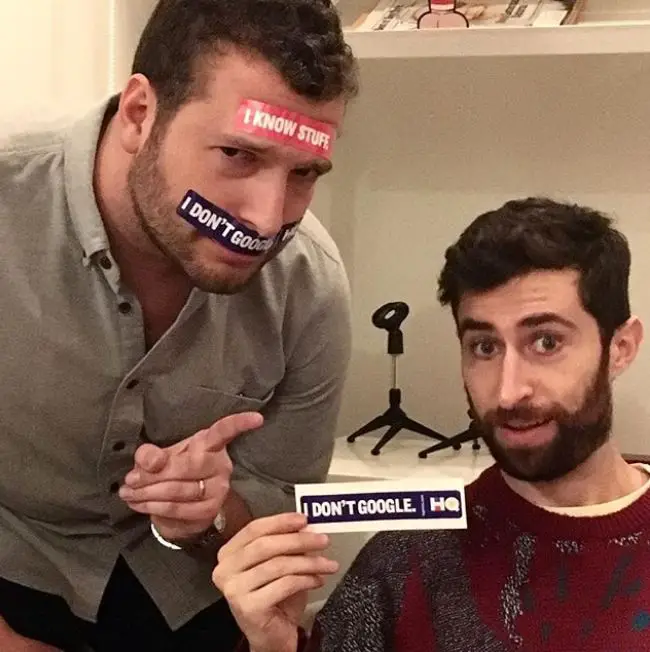 Scott Rogowsky with his colleague at HQ Trivia on 10 December 2017 (Photo: Scott Rogowsky's Instagram)
Scott started hosting weeknight Major League Baseball show, DAZN in late March 2019. DAZN is a sports-streaming service headed by executive chairman John Skipper, former head of ESPN.
Meanwhile, his journey with HQ trivia came to an end on March 2019. Many speculated that he was fired, but the truth of the matter is he decided to leave on good terms.
With the burst into popularity, he has come a long way since his days of living with his parents. Although his salary at HQ Trivia and DAZN are not public records, he has undoubtedly accumulated an impressive amount of net worth.