Entertainment
Scott Timlin Found His Way Back To Having A Dating Affair! This Time His Girlfriend Is A Real Deal
Feelings do change; the people that you like today might no longer lure you in the days to come. With the change in feelings, your relationship changes, until you find somebody worth settling down with.
The reality star, Scott Timlin has also experienced multiple relationships in the past till he found the one he was searching for all this time. Excited to know who she is?
Well, explore for yourself in the segment below!
After Dating Several Girlfriends; Scott Timlin Seems To Have Found a Lasting Girlfriend:
The internet world knows that Scott Timlin, best known as Scotty T, is an expert when it comes to dating. This Geordie Shore star has formerly dated Ashleigh Defty, Sam Faiers, and Francesca Toole, someone who he calls his best friend.
Scott and Francesca were in an on and off relationship, which ended back early this year in February. But, while they were together, they were seen having a lot of fun and were often pictured pretty close with one another.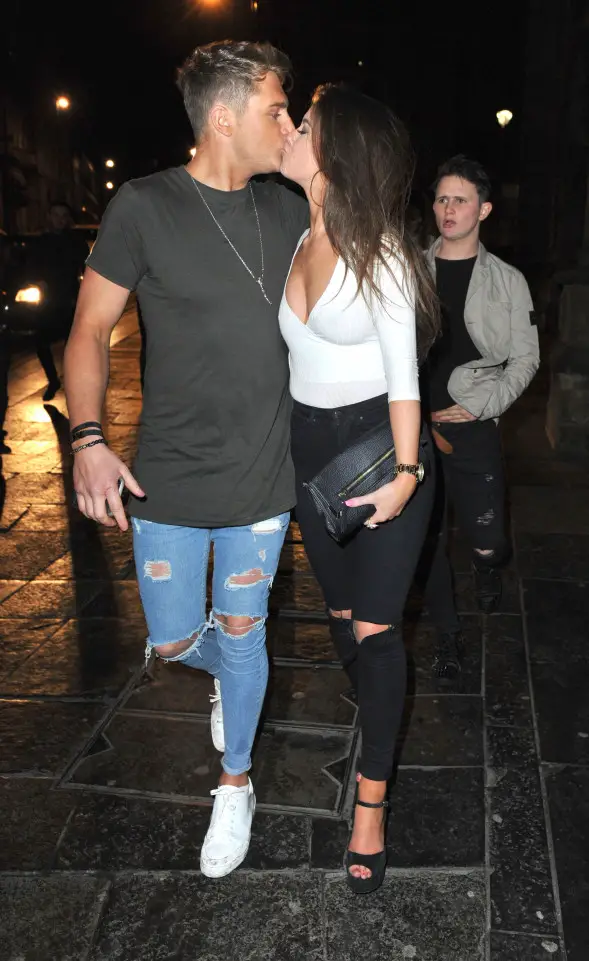 Caption: Scott Timlin was in an on and off relationship with Francesca Toole. 
Photo Credit: thesun.co.uk
Scott, back in May 2016, elaborated; that due to his professional obligations, he was not able to commit to Francesca. He said,
"Francesca is my best friend. I don't want to go out and pull other girls – I've been there and done that. If I have spare time I want to spend it with Francesca, but I don't think it would be fair on her or me. If I have a girlfriend I want to spend every day with her. It's a really hard situation. I would marry her] if I wasn't away and always in Newcastle."
But this CBB 2016's winner is now past Francesca and has a new flame in his life, who is "opposite to him." Sharing some minute details about his current love, he said,
"My new girlfriend never goes out and she is chilled out as well," 
He continued,
"With Francesca it was like "let's go out and into town", she was rowdy and she was trying to act like me but I don't need that. I need someone who is the opposite to me. I need someone to bring me down a bit.

"I am doing my thing and my new girlfriend is the perfect girl for me. I am in love with her."
While the man opts to keep his girlfriend's identity a secret, they reportedly met while doing panto over Christmas last year, and his girlfriend is professionally a dancer.
Good to know that he is now with someone, with whom he can find a stable future and could enjoy every dimension of love!
Once in the past, he was accused by his criticizers to be on the gay side of sexuality, but his relationship timeline slams all the haters down, ensuring that he is straight, and not on the gay side!
Speaking of his family life, Scott was raised alone by his mother Gill Baxter after his parents split up, but he is equally close to his father and lived with him for around eight months in Tenerife.
Think we're missing something? Do let us know in the comment section below!