Entertainment
Who Is Sean Astin's Real Father? His Family & Personal Life Info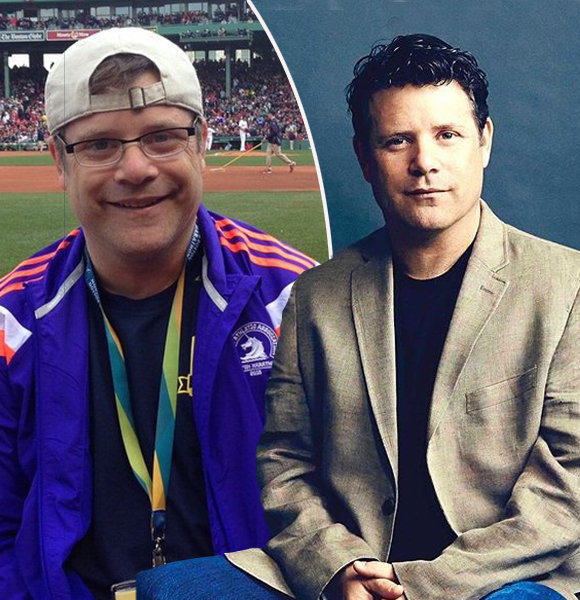 American actor Sean Astin has always been incredible in the acting industry, but did you know how his life was going through a spiraling mystery surrounding his biological father? Let's read about it.
Who Is Sean Astin's Father?
Standing at 5 feet 7 inches, the actor Sean Patrick Duke was born on 25th February 1971 in Santa Monica, California, USA. His mother is actress Patty Duke who belongs to German and Irish ancestry.
The actor was surrounded by a very peculiar mystery since his pre-teen, where the identity of his biological father was unknown. But, through that, he was surrounded by his brothers, who gave him a sense of comfort.
During the birth of Sean, Patty had just annulled her marriage with Michael Tell and come out of a relationship with Desi Arnaz Jr.; so, the question "who actually was the father of her child" remained unanswered. 
However, the actress finally cleared the confusion by revealing an affair with John Astin and stating that Sean was indeed his child. John Astin was married at that time, but he divorced his wife and married Patty eventually. He then gave his surname to the child.
 
Insights On Actor Justin Kirk's Life:- Age, Height, Movies, Net Worth & Dating Status
But, when Sean was fourteen years old, his mother confessed that Desi was the birth father. Which led Sean to meet Desi, and the two bonded very well. 
It was not until when Sean met Michael Tell's relative that he found out about his biological father. Michael's relative suggested that they were related, and Sean's curiosity led him to go for a DNA paternity test. 
The paternity test revealed that Michael was the biological father of Sean, clearing up the biggest mystery of his life.
In 2001, the actor had this to say to PEOPLE, 
 
If you want to know who I am, John Astin is my father, Michael Tell is my biological father.
Finally, Sean has maintained a good relationship with all three men: Michael, John, and Desi. 
Apart from a confusing childhood, Sean has a beautiful married life and a pleasant career.
Sean Astin's Romantic Life
Sean has been married to his wife Christine Astin since 11th July 1992.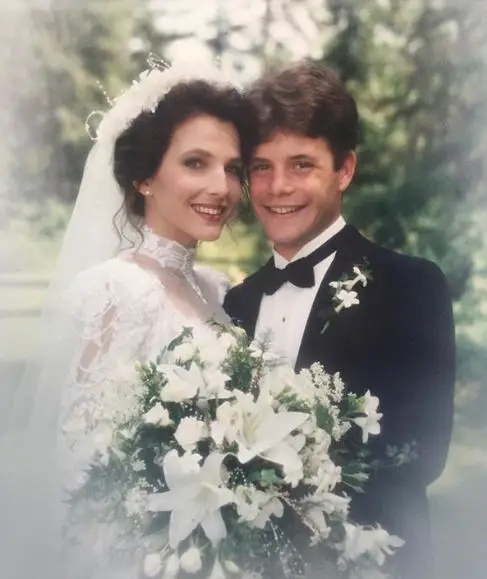 Sean Astin with His Wife Christine Astin on Their Wedding Day1992 (Photo: Instagram)
The two first met when Christine began to work at a talent and production agency called Lava Entertainment in Los Angeles, which Sean founded. 
Further, Sean and Christine exchanged their wedding vows on 11th July 1992 at his mom's Idaho farm.
The couple is blessed with three daughters: Ali Astin- born on 27th November 1996, Elizabeth Louise Astin- born on 6th August 2002, and Isabella Louise Astin- born on 22nd July 2005. 
Sean's wife, Christine, is Miss Teen Indiana (1984). She is most recognized for her work as an Academy Award-nominated producer of Kangaroo Court (1994). Christine is also well known for her position as Vice President and CFO of Lava Entertainment.
She was born as Christine Louise Harrell on 12th September 1967 to Nancy Miller and Frank Harrell in Indiana, USA. 
Sean scored very well in his romantic life; similarly, his professional life is as marvelous.
Career
He attended UCLA and graduated from there with a BA in History and a BA in English in 1997. 
American actor Sean Astin debuted in 1985 with Steven Spielberg's movie, The Goonies, in which he played a character named Mikey.
Following that, the actor has appeared in a variety of roles in movies like Rudy (1993) and the Academy Award-winning trilogy, The Lord of the Rings: The Fellowship of the Ring (2001), The Lord of the Rings: The Two Towers (2002), The Lord of the Rings: The Return of the King (2003), 50 First Dates (2004), The Big Bang Theory (2019), Stranger Things (2017–2019)
According to Celebrity Net Worth, Sean enjoys a net worth of $10 million. 
He published a memoir titled There and Back Again: An Actor's Tale in 2004.
He also won various awards such as Young Artist Awards, MTV Movie Awards, Utah Film Awards, and more. Witnessing his flourishing career, we cannot wait to cover more on his future projects.