Entertainment
Sean Couturier Stats That Cost Him Teeth; The 'Gaps' Affecting Dating Life?
Born to a family of hockey players, Sean, age 25, has received great coaching from ........His incredible points tally of .......points with a shooting percentage figure maintained at .......is as good as it comes. However, these incredible career stats have come at the cost of ......
Courage is what counts to skate down the ice with their eyes on the puck, continuously looking out to prevent that one bone-crunching hit that leads to an easy concussion. But then again, American-Canadian ice hockey player Sean Couturier is all about courage with the heart of a lion. 
Currently playing for the Philadelphia Flyers of the National Hockey League (NHL), he even had to sacrifice his teeth while adding numbers to his stats.
An exceptional player with an incredible career stats to back him up, Sean has been overcoming various obstacles and challenges all his way. However, this time the player might have to face the "gaps" in his dating life left by his teeth issues!
Incredible Stats At Cost Of Teeth
Born to a family of hockey players, with his father also playing in the International Hockey League (IHL), Sean, age 25, has received great coaching within the family from his early years. He took full advantage of his family's hockey background and had gone on to maintain incredible career stats.
Fellow Canadian Ice Hockey Player:- Hayley Wickenheiser Just Couldn't Get Married And Have A Husband But She Did Have A Son From The Relationship
With over 498 games played throughout his NHL career, Sean has an impressive 101 goals and 166 assists to boast about. His incredible points tally of 267 points with a shooting percentage figures maintained at 10.4% is as good as it comes.
However, these incredible career stats have come at the cost of something. His smile highlights his three missing teeth at the front which he lost during his career playing as a centerman in hockey.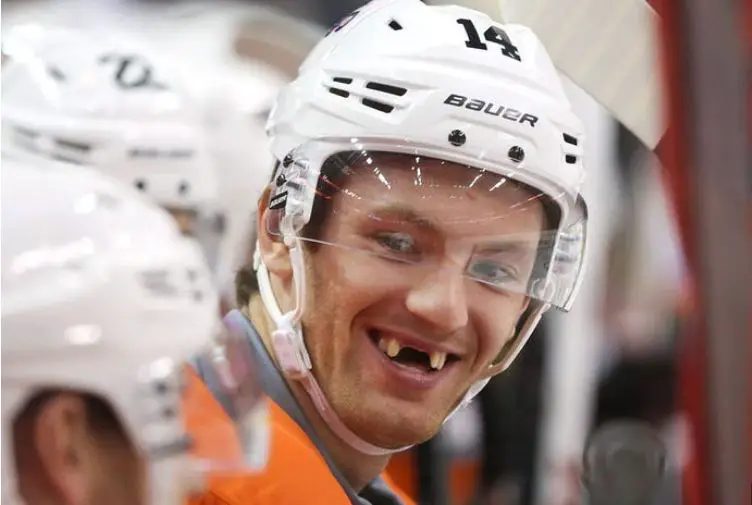 Sean Couturier displays his missing teeth. (Photo: thesportster.com)
This trait of his is picked upon by his teammates, fans and his team as well as in 2016, coming from a long layoff, the Flyers welcomed Couturier back by showing off his false teeth in twitter in a post that read,
"Guess who's back.."
The player got back on the ice despite his broken teeth.
College Sweetheart-Turned-Girlfriend; Dating All Over Instagram
Call it bad luck due to his teeth diversity or his behavior of keeping secrets, his personal life hasn't been much highlighted in the media. Blessed with immense good looks, Sean has a huge fan following amongst the ladies despite his teeth issues.
You May Also Like:- American Music Awards 2018 | Winners & Nominees List You Can't Miss
However, Sean was not dating rumors free for he is reportedly dating Laurence Dionne, a mother of two after the latter changed her Instagram profile picture having the NHL star by her side. The two appeared together in an award function in 2018 as well, restrengthening their dating rumors.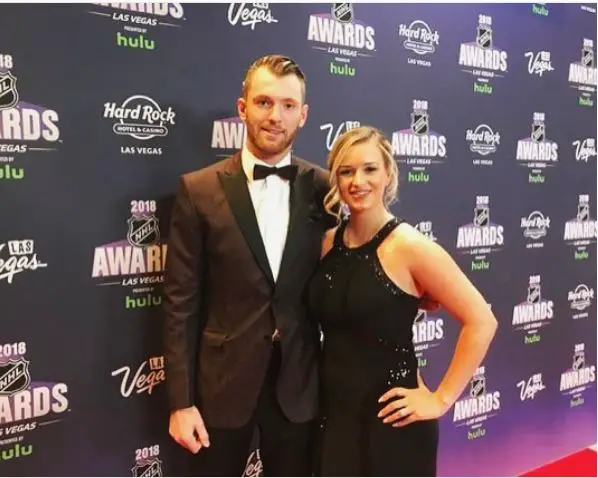 Sean Couturier poses with rumored girlfriend, Laurence Dionne at an awards show. (Photo: Hockeywags' Instagram)
The duo is reportedly dating since their high school days. 
Career Consequences: Injury, Salary, Net Worth
Every player in the NHL leaves their body and mind on the ice and play through the cuts, broken bones, blood and pain for the fans. Therefore injuries seem part and parcel of the game. Sean as well has also gone through some major injuries throughout his playing career.
Divorce Story In Our Vault:- Ainsley Earhardt, 42 & Will Proctor Split; A Well Thought Out Divorce Route
After being sidelined for four weeks on August 2018, after injuring his knees for the second time in five months, the NHL star has recovered well and looks all set to go for the start of the 102nd season of the NHL.
The risk associated with hockey is properly compensated by the contracts that their players receive. Sean signed a 6-year contract on 28 July 2015,  as per which his salary for the 2017/2018 season was $4 million. His current total net worth is estimated to be around $5 million.
Ice hockey, a sport which demands more chaos, passion, triumph, and tragedy than any other sport, has a gem in the form of Sean Couturier, who with his toothless smile, appears endearing and lovable than ever.