Entertainment
Shaun King Family Insight: Who Are Parents & What's His Ethnicity?
At the peak of The Black Lives Matter Movement, no other name typified the collective struggles of Black America than writer and activist, Shaun King. What James Baldwin was to the 1960's Civil Rights Movement, Shaun was to Black Lives Matter Movement.
He had first gained traction after he began writing about the death of an unarmed African-American man named Micheal Brown in Ferguson in 2014. The Maryland native would go on to become the de-facto face of The Black Lives Matter Movement.
A year later, he would be thrust in the spotlight one more time after numerous conservative media outlets began publishing articles disputing Shaun's claims of being a child of bi-racial parents. Shaun's wife, for her part, seemed adamant that her husband is anything but of mixed ethnicity.
Debate Over Shaun's Ethnicity; White Parents & Black Father At Large
Shaun's year-long activism against unjustified police killings in America and systematic oppression of African-American people was put on hold after the reports alleging the 39-year-old lying about his ethnicity grew exponentially in August 2015.
Read Also:- Jeff Bridges Family: Wife Love Brings Back Faith In Love
Conservative media critic and Brietbart's very own Milo Yiannopoulos accused Shaun of lying about being bi-racial. As a proof, Milo had cited Shaun's birth certificate obtained from the Kentucky Office of Vittal Statistics. According to the document, both his parents (Jeffery Wayne King and Naomi Fleming) are white.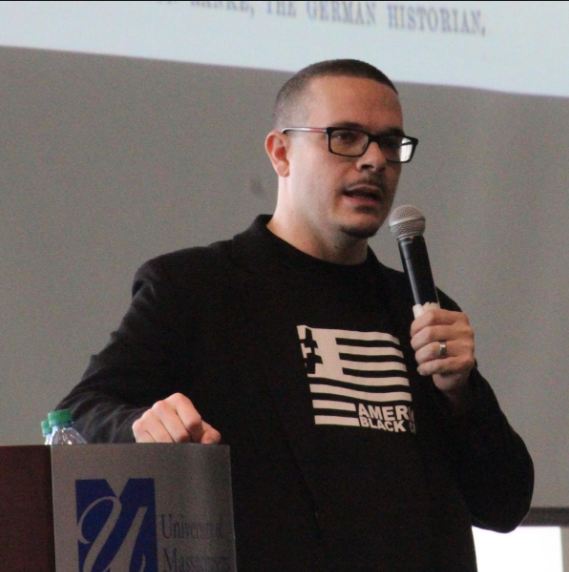 Shaun delivers a speech at UMass Boston (Photo:- UMassmedia.com)
Even CNN's Don Lemon corroborated with Milo's accusations by reporting that a family member confessed that Shaun's parents are both white.
Few days after the airing of the family secret, the Morehouse College Alum - who has a reported net worth of $500 thousand - addressed the accusations by penning a column on Daily Kosh. He explained:
"I refuse to speak in detail about the nature of my mother's past, or her sexual partners, and I am gravely embarrassed to even be saying this now, but I have been told for most of my life that the white man on my birth certificate is not my biological father and that my actual biological father is a light-skinned black man."
Further, in the post, Shaun expressed sadness over the how some media outlets had invaded his private space. In a mournful tone, he wrote:
"All of my siblings and I have different parents. I'm actually not even sure how many siblings I have. It is horrifying to me that my most personal information, for the most nefarious reasons, has been forced out into the open and that my private past and pain have been used as jokes..."
Likewise, he delved into the identity and whereabouts of his "light-skinned black" father. The Black Lives Matter Movement leader was struck with an epiphany-like moment as he wrote:
"Until this past week, never has anyone asked me who my father was during these 35 years of mine. It occurs to me now that I've never asked anyone that question either..."
Following the publishing of his column, The Black Lives Matter Movement sympathizers and liberal critics showered Shaun with words of support and praise for his continuous fight against social injustice.
Discover:- Film Actor Richard Armitage Engaged to his Girlfriend, When can We hear about them Getting Married?
Shaun King's Wife: "He's No Rachel Dolezal."
All the praise and support from his colleagues and followers fell second to the supportive words from his wife.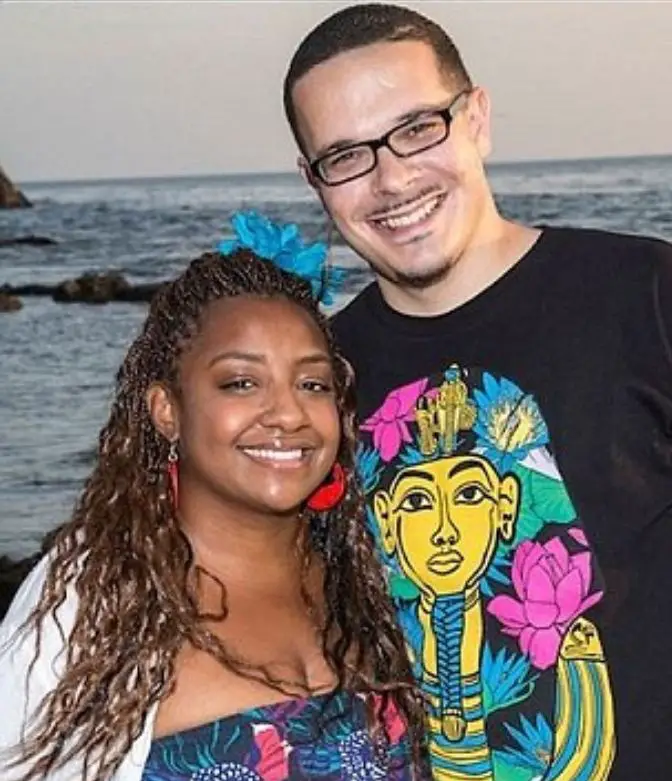 Shaun King and his wife, Rai pose for pictures while on vacation (Photo:- Dailymail.co.uk)
At the height of the accusations labeled against Shaun, his wife, Rai King wrote a Facebook post in his defense, and all the while lashed out at the "biased" media outlets for invading the family's privacy. She wrote:
"There is nothing fake about Shaun King. He's no Rachel Dolezal. What's white about him is white, and what's Black about him is Black and always has been from the time he was a child..."
Then Rai would go on to bash their family member who had accused Shaun of lying about being targeted for dating a white woman. The high school sweetheart's friends too chimed in the matter, having witnessed Shaun being a target of hate crime.
Interesting:- Fox News' Upbeat Financial Guru Eric Bolling's Net Worth and Salary
Shaun - who is believed to make $66k in salary every year as a civil rights activist - and his wife, Rai are proud parents of five children. In the past, the pair of seventeen years has taken in other children.