Entertainment
Shaun Sipos, Age 34, Not Married Yet. Still Dating With Actress Girlfriend Stephanie?
If you are a talented and dedicated actor, you need no time to make a break in your acting career. To get established in the entertainment industry is not a joke. If you are established once, it's obvious to have a number of fans and followers.
Likewise, the Canadian actor Shaun Sipos has numerous female fans whose heart was broken when Shaun revealed his affair with actress Stephanie Fantauzzi. Today we are going to find out whether he is still in a relationship with Stephanie or not.
Girlfriend & Dating: Shaun Sipos Affair With Actress Stephanie Fantauzzi
Shaun Sipos, 34, was in a relationship with actress Stephanie in 2012. Shaun even tweeted saying "I love Stephanie."
Likewise, the Melrose Place actor sent out a tweet towards the end of the same year bellowing his girlfriend problems. It is still unclear if he was alluding to Stephanie or someone else he was dating at the moment.
Interesting:- Lauren Jauregui Dating Status Now; Does She Have A Boyfriend Or Girlfriend?
However, they tried to maintain privacy in their relationship. On June 2012, they were spotted together at Judi's Deli in Beverly Hills Los Angeles. They were having lunch together. Since then, there is no any news about their public appearance as a couple.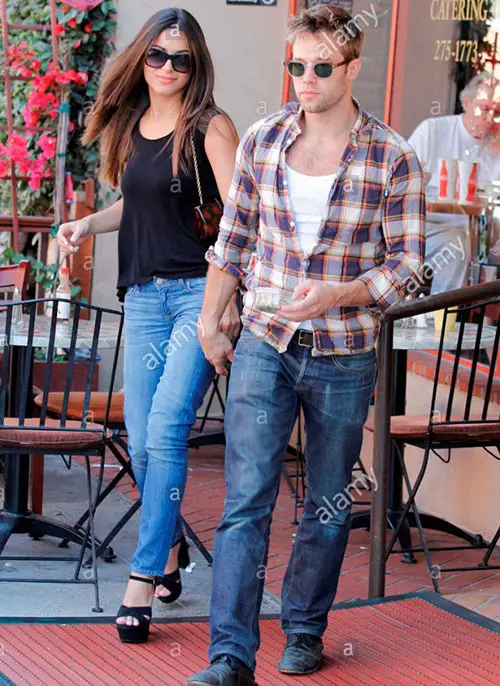 Shaun and Stephanie after eating lunch together at Judi's Deli in Beverly Hills Los Angeles, California(28 June 2012) (Source: alamy.com)
While the public remained baffled with the low-key nature of their relationship, Shaun and his alleged girlfriend Stephanie's bond seemed to have gone from strength to strength over time.
A year after getting spotted for the first time in public, the pair were photographed at a red carpet event held in Hollywood.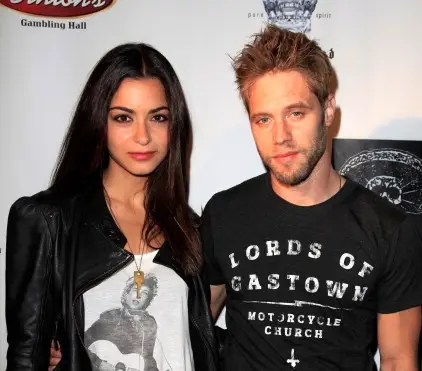 Shaun Sipos and Stephanie Fantauzzi at the Velvet Margarita's 10th Annual Cinco de Mayo Benefit with Annual Charity Celebrity Poker Tournament at Velvet Margarita on May 4, 2013, in Hollywood, California (Source: gettyimages.com)
Between their first date to their hyped red carpet debut, Shaun did it all he can to keep their romance fresh. From waxing poets about Stephanie's beauty to wishing her on her birthday, Shaun presented himself as a perfect boyfriend on Twitter.
Don't Miss:- Is Luke Kleintank Dating? Has A Girlfriend Or Is He A Gay Man?
When the dust of their whirlwind romance had finally settled down, a bigger question loomed over the pair's head: Have they taken their relationship to the next level?
Gay Rumors Aside, Are Shaun & His Wife Prospect Stephanie Married?
Actor Shaun who is not yet married has not revealed any information about his affair.
However, he still seems to be in a relationship with his girlfriend Stephanie as there is neither any news nor any rumors about their separation. They are even active in sharing comments on Twitter.
Shaun is not gay at all. Interestingly enough, he has always shied away from being labeled anything. Replying to a fan's tweet about who had asked if he were gay, the British Columbia native wrote:-
"And no labels!"
If he and Stephanie are still together, then that means they have been in a relationship for four years, i.e. from 2012. We hope that their relationship grows stronger with time. Wouldn't it be exciting to see Stephanie Fantauzzi as Shaun's wife?
Discover:- Ryan Eggold Keeping Dating Affairs To Minimal After Break Up With Alleged Girlfriend? Secretly Married?
Shaun Sipos's Short Bio Including Net Worth & Filmography
A Canadian actor Shaun Sipos was born on October 30, 1981, in Victoria, British Columbia. Shaun, who is in his mid-thirties, is best known for appearing on The CW series Melrose Place (2009-2010) where he portrayed the character of David Breck.
Likewise, he is popular for portraying the role of Jack on ABC series Complete Savages (2004-2005). His recent acting credit includes CSI: Crime Scene Investigation (2010), Life Unexpected (2010-2011), The Vampire Diaries (2013-2014), and Dark Matter (2016).
Shaun's acting exploits have made him a rich man. According to numerous sites, he has a reported net worth of $2 million.