Entertainment
Shawn Crahan Hefty Net Worth At Age 49! Mask History & Family With Wife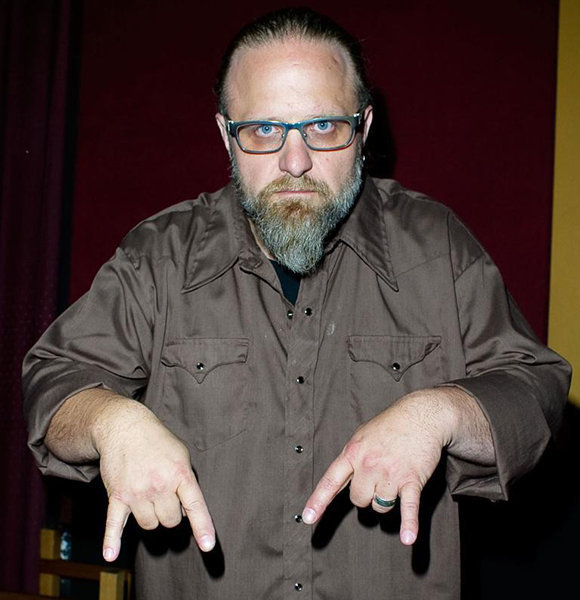 Spliknot with its nine angry men has become one of the heaviest bands capable of influencing fans with their background noises and fake faces.
The band members, who refer themselves numerically, appear among their devoted fans wearing creepy masks and bar-coded coveralls.
Shawn Crahan, popularized by his stage persona "Clown," is the percussionist as well as the co-founder of the Grammy Award-winning heavy metal band and enjoys a massive net worth to his name. Referred to as the "Number 6," the Iowa native was the one to initiate the iconic mask culture among the band members.
Well, Shawn has a significant contribution in making the band, what it is now. While he puts in efforts to play music for his distressed listeners, the musician also manages to balance his family life at the same time.
A married man, he is committed to his wife and is a loving husband despite the terrifying persona on stage!
Spliknot Iconic Mask History, "Clown #6"
Spliknot makes up with its nine band members, who are battling their demons. The members put on their masks and perform on the stage putting their soul into the song. 
See Also: Wolfgang Van Halen & Girlfriend Ready To Get Married, Become Family?
The mask culture in the band began with their first performance back in 1995. Back then, Halloween was just around the corner and the band was rehearsing. At the same time, they were going around in circles wondering what they would wear for the gig. That is when the idea of putting on a mask crossed the percussionist's mind. 
A few days earlier, Shwan had visited the mall with his then-girlfriend, and as he walked into a Halloween store, he was drawn by the iconic clown mask. He tried on the mask and suddenly felt something else.
The American musician bought the mask, and while his bandmates were rehearsing, he pitched the idea of wearing the mask to their first gig.
At first, some of the members thought it was "stupid" but eventually agreed to it. After more than two decades, the band makes an official appearance with their masks on performing for their devoted fans. 
Devoted Family Guy Behind The Mask, Relationship With Wife And Kids
Off the stage, Shawn Crahan, age 49, is a committed husband and a loving father. Shawn has been married for over two decades sharing the loving relationship with his wife, Chantel Crahan. The couple tied the wedding knot back in 1992.
The Slipknot co-founder had exchanged the wedding vows long before the thought of starting a band struck his mind. Only when he was determined enough to take a severe risk, Shawn turned to his wife and dropped the news that he would be starting a band.
You Might Not Wanna Miss: Ann Wilson Struggle Against Her Weight: Mother of 2 Adopted Children, Married to Husband in Her 60s
His ultimate other half was supportive of his decision as he began assembling the band. Being the co-founder, Shawn managed to give time to the young group as well as his family. 
Shawn and his wife together share four kids -  Alexandria, Gabrielle, Gage, and Simon. His kids are taking off to making a name for themselves in their respective careers.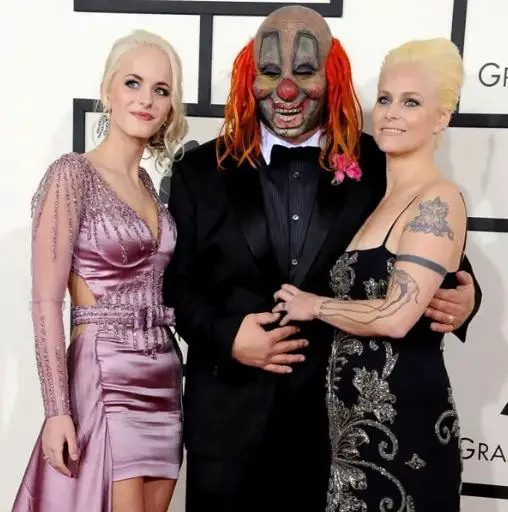 Shawn Crahan with his iconic mask appearing at Grammy with his wife and daughter. (Photo: 9gag.com)
His son Simon has started a band following his father's footsteps alongside Corey Taylor's son, Griffin. Likewise, Shawn's daughter Alexandria is a blogger, who writes a fashion blog.
More from liverampup: Joe Perry, Regaining Strength From Illness, Will Be Back on Stage Soon
Shawn proclaims a net worth of $10 million and is blessed to have his family of six while fathering four children and making music at the same time.