Entertainment
Sissy Spacek True Love - Husband & Young Daughter Fascinating Story
American actress Sissy Spacek is the winner of Academy Award for Best Actress for the 1980's film, Coal Miner's Daughter. She debuted into the acting career with the 1973's movie Badlands, which garnered her with fans attention.
Also a Grammy nomination singer, her debut movie not only became the grounds for establishing herself as the talented artist but also the meeting place her life-partner on the set of Badlands.
And the two celebrity couple is rejoicing their 44 years of married life along with the two beautiful, popular children.
Four Decades With Husband; Bank Balance To Divorce
Sissy Spacek, who was born as Mary Elizabeth Spacek, had dominated the Hollywood industry during her times. As of now, she is well-recognized as the mother of the two beautiful actresses.
And what could be the more proudest moment for the parents than this one?
The legendary actress shares the two actress daughter, Schuyler Fisk and Madison Fisk with the art director husband, Jack Fisk. She got married to the production designer, Jack Fisk in 1974 after meeting on the set of Badlands.
Read Also:- Who Is Joseline Hernandez Baby Father? 'Parents' Tag Goes To This Musician
Also a singer, Sissy met him at the start of her career when they were both young in their twenties on the set of Badlands in 1972; Sissy was playing the lead character, Holly whereas Jack was an art director in the movie.
After their meeting, the couple dated for two years before tying the knot in a small event in a small chapel of California, cladding in jeans on a presence of one attendance, i.e., their dog.
During the height of her career, she escaped from becoming Hollywood Queen and headed for the country in 1981, where she and the award-winning director husband raised their daughters, Schuyler, who was born on  8 July 1982 and Madison who was born on 21 September 1988.
Since their wedding, the couple built a private life for themselves away from the publicity but worked on several successful films together including Carrie (1976), Raggedy Man (1981), and Violets Are Blue (1986).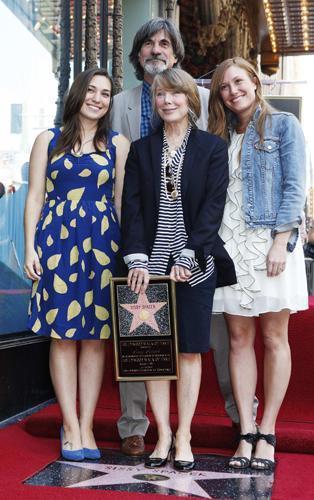 Actress Sissy Spacek, family at the induction ceremony on the Hollywood Walk of Fame Ceremony at Los Angeles on 1 August 2011 (Photo: Reuters)
While talking to Rolling Stones in October 1979, Jack described their same kind of conviction to work drawn them together. However, the couple never thought that they are marrying for the lifetime. Also, Sissy told People on 3 October 1983:
"We never expected a lifelong relationship. In fact, we even opened a bank account and put $30 in it, because that's how much it cost to get divorced. Now I think it would take something dramatic like death to end it."
Throughout their 44 years of married life, the couple, who has a void on a journey to the old age, has managed to find a balance between keeping a low profile and working together in Hollywood.
You May Also Like:-  Mary Austin, Freddie Mercury's Muse Wiki: An Exquisite Relationship That Silently Thrilled Everyone
And according to the couple, they've made it work because of their shared passion. Sissy revealed their mutual understanding and their long relationship with The Huffington Post in May 2012:
"First we met working together, and throughout the 1970s we just did almost every film together. We really supported one another and we really understood the business. It was what brought us together. And we were passionate about the same things, including movie-making. And that's something that we continue to share."
Working together turned naturally a lifetime for the husband-and-wife. Their shared interests, enthusiasm for work, and willingness to work together may be what makes their bond so strong and keep their relationship alive till date.