Entertainment
Model Sjana Earp Age 24 Bio Reveals Height & Dating Status Of Yoga Expert
Her height and model-like body measurements may be better suited for a life on a ramp, but the Instagram star Sjana Earp's love affair with Yoga proved all too enticing for her to ever consider being one.
In return, her expertise in the ancient Hindu spiritual and ascetic discipline has earned staggering net worth. Now dating a photographer-cum-model boyfriend, the Aussie, at age 24, represents a pinnacle of relationship as well as body goals.
Delve into Sjana's biography to learn about how practicing yoga helped cure her depression!
Instagram Model/Yoga Guru Sjana Earp's Bio Unveils Her Height, Body Measurements, & Net Worth
By Sjana's admission, she didn't seek yoga; instead, it found her.
Yoga Related:- Married in 2007, Pablo Schreiber, Divorced With Yoga Instructor Wife: Investing Love to Children
At the time when she first got introduced to the ancient Hindu regiment, the Instagram star was still a sophomore in school and battling depression. Her bouts with mental struggles even landed her on the psychiatric wards in more than one occasion.
"Yoga helped me to find beauty in even the simple things in life. It allowed me to find gratitude and also enabled me to see life through entirely new eyes; eyes of appreciation, love, kindness, happiness, and grace. Yoga was what taught me how to love myself again, and loving myself allowed me to wholeheartedly love others too." -- My Story by Sjana Earp
Later that academic year, she dropped out of the school and took a course in photography as well as pursued Certificate 3 in fitness training all the while honing her newfound passion (yoga).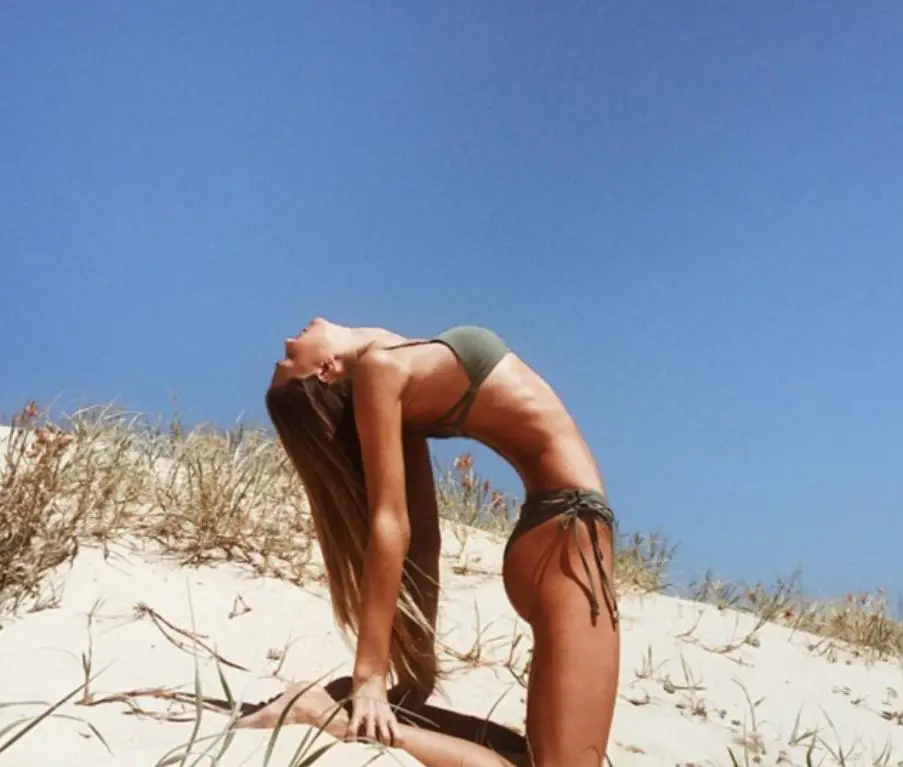 Sjana shows off intricate yoga pose (Photo:- dailymail.co.uk)
Fellow Aussie:- Paige Butcher Age 39 Gives Birth To Baby No.10 For Eddie Murphy
Two years into posting videos of her practicing yoga on Instagram, Sjana - who by then had amassed hundreds of followers - had to put her studies on hold as the streams of income from the site became too difficult to overlook.
Boasting 1.6 million Instagram followers today, the ambassador for yoga wear brand Alo Yoga charges in the upwards of $15 thousand per post, which constitutes a big chunk of her burgeoning net worth.
Above all, she considers herself a brand; a product, people can trust even with closed eyes. Nothing exemplifies this more than her resistance to selling anything as ads she wouldn't usually use herself.
Born on 19 November 1994 in Australia, Sjana hourglass-like body measurements may have initially lured her followers, but it's the lifestyle the Instagram sensation - who stands 5 foot and 9 inches in height - sells that compels them to return for more.
Instagram Star In Our Vault:- Anllela Sagra Bio: Stunning Model Explicit Details - Age, Boyfriend & Family
Sjana Earp's Dating History; Her Boyfriend Now
Speaking of things keep returning for more, the 24-year-old Aussie's rumored love interest & 1D's very own Harry Styles has the habit of popping in her life in every three to four years or so.
After their now infamous McDonalds date in 2013, Sjana and her alleged boyfriend Harry connected once again in 2016 but to no avail. Around the same time, the former opened about her three-month long intense yet fruitless romance with her yet-to-be-named ex-boyfriend.
The whirlwind affair saw the yoga instructor move in together within the days of dating. In the stated three-month "incumbent" time, she didn't even speak to her family members. As the bliss of the new romance fade away, her consciousness returned.
"When he said I love you, I had nothing else to chase." -- Sjana Earp on the breakup
Discover:- Gregg Popovich Breaks The NBA Win Record While Embracing Warriors' Style Of Playing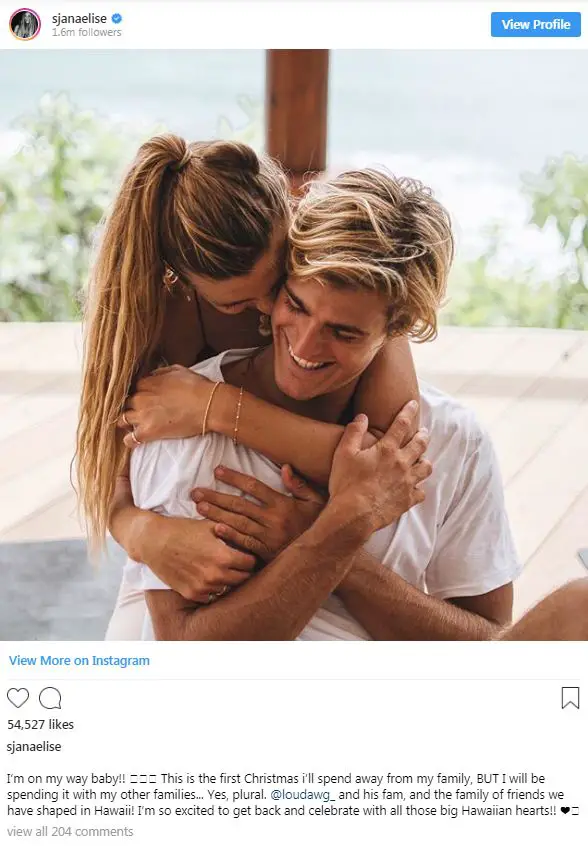 Sjana professes excitement for her first ever Christmas with boyfriend (Photo:- Sjana Elise Earp's Instagram)
As fate would have it, she would eventually meet the man of her dreams in photographer/model boyfriend, Louis Solywoda. Since convening each other via a mutual friend in 2015, the lovebirds have fostered an unbreakable bond over the years.