Entertainment
Sky Katz Age 13 Is Shooting Fiercely; AGT Star Family, Nationality, Facts
Sky Katz at the age of 13 is thriving in her career as a...born and raised by her...parents, Sky is the youngest of her...siblings. Sky of...natinality gained popularity through her appearance in America's Got Talent (AGT) where she won many hearts through her...
For young talents, age is never a barrier to emerge out of their shells. 
Just at the age of 13, the young talent Sky Katz has been able to make her mark in the world of music. Influenced by rap music from all generations and various styles, Sky has already taken her fierce steps towards the success.
Through multiple attempts, Sky finally landed herself in America's Got Talent (AGT) which led her towards fame and recognition.    
The daughter of proud parents, Sky is making her way into the world of entertainment while gaining many fans following through her talents and skills. Well, let's take a look at the bio of this young star who recently stepped into her teens.
Bio Reveals Race And Nationality, Family Details
Sky Katz, who landed herself a breakthrough role as Tess on Disney Channel's Raven's Home, is climbing the stairs of success in the world of entertainment. Being born with a white race and as the youngest child in the family, Sky's parents raised her among three older siblings.
See Also: Navia Robinson Facts! Age, Nationality, Parents And Much More On The Table
Sky, who possesses an American nationality, discovered her talent as a rapper at the young age of five. Inspired by rappers like Biggie Smalls and Nicki Minaj, Sky marched swiftly towards her love for music.
Before she found her passion in the verbal art, Sky did not incline towards music. Instead, she wanted to follow her father's footsteps and become a doctor. But eventually, she gained interests towards a creative career which required no academic involvement.
She then had her hands in music. While growing up, Sky also played basketball and thoroughly enjoyed the game. 
Even today, Sky often steps onto the basketball court and enjoys her free time playing the sport. As she was growing up, Sky auditioned for America's Got Talent which gained her massive fame and fortune.
Even though she was disqualified before the quarterfinals of the show, Sky was one of the most popular contestants, and her fan following had increased exponentially over time.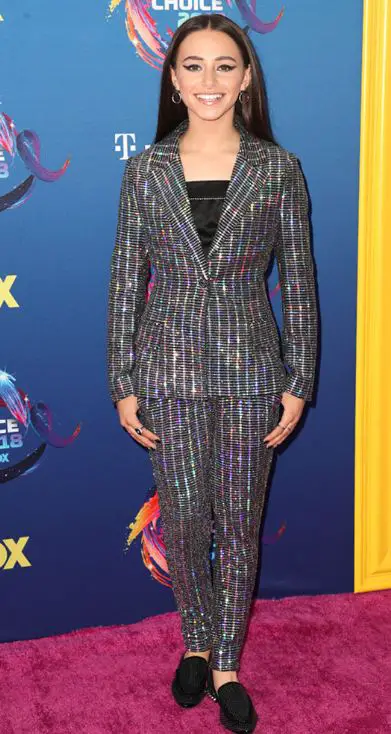 Sky Katz attends Teen Choice Awards 2018. (Photo: eonline.com)
After her journey in AGT ended, Sky started her own YouTube channel back in February 2016 where she covers her favorite songs. Her first upload was a cover of Nicki Minaj's song 'Monster' which gained more than half a million views within months.
Don't Miss: Ariana Greenblatt Age 11 Bio: Young DWTS Star's Parents, Net Worth, Facts
Even today she is excelling as a rapper and making a name for herself as she is set to release her debut album.
Parents Initially Unaware About Audition At AGT
While Sky is marching towards the spotlight, she has gained a massive fan following through her appearance in America's Got Talent. It turns out that Sky was secretive about her audition for AGT and left her parents unaware about their daughter's participation in the show.
Sky didn't initially tell her parents that she had sent the videotape during the initial phase of AGT. Before sending out the tape for the audition at AGT, Sky has also sent audition footages for different talent competitions including the American Idol. 
You May Also Like: How Old is Bella Robertson? The One with The Sibling Squad
But everything changed for Sky when her dad received a call and informed her that she had made it to AGT. Initially, her dad thought it was a prank call but later believed it. As she walked out of the stage with "Four Yes" from the judges, Sky described the experience as "crazy" as the unimaginable had happened for her.
Well, she has given her best and now enjoys the fruit of her hard work and success.