Stephanie Bendixsen is a well-known name in the gaming industry as she hosts the famous game review show, Good Game.
Despite initially being harassed for presenting the said program, she quickly became a fan favorite and also accumulated a significant net worth for her contributions.
Also, an author, Stephanie, is famous among kids for writing a couple of children's book.
Dating Life; Engaged To Longtime Boyfriend
While Stephanie had a few boyfriends in the past, she also spent a significant portion of her teenage life as a single lady. But, the same can't be said about her adult life.
The TV presenter started dating Peter 'Pierreth' Burns in 2012 after which she has never been single again. Peter is a production coordinator for the online game company, Good Game.
Stephanie and her boyfriend casually dated for years before getting engaged in February 2018. She shared her ring's portrait via Instagram to mark her engaged status among fans.
Engaged & Soon-To-Be-Married:- Paige Price Engaged To Actor Frankie Muniz; Officially Getting Married Now
A few weeks after her engagement, the couple along with their family members joined up for a dinner where the two families celebrated the pair's relationship.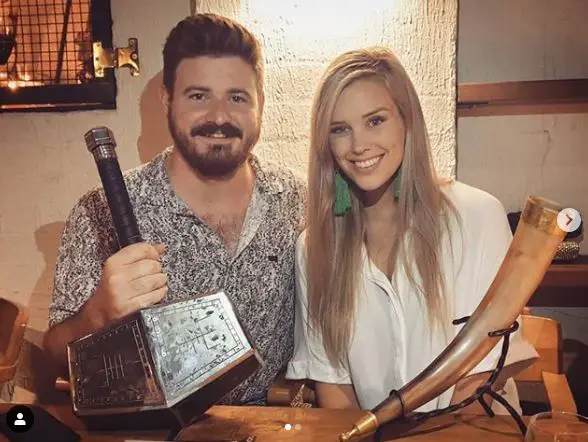 Stephanie Bendixsen with fiance Peter Burns at their engagement dinner in March 2019 (Photo: Stephanie Bendixsen's Instagram)
While the duo has not revealed any plans on getting married, it seems like a wedding is not far ahead.
Mixed-Race Family; Age, Salary & Net Worth
Born on 31 March 1985 in Sydney, Australia, Stephanie belongs to a mixed-race family consisting of an Argentine father and an Indonesia-born Dutch mother. Her mother eventually passed away from Alzheimer's in April 2018.
Stephanie spent the first nine years of her life in Auckland, New Zealand before her family moved back to Australia. Back in her homeland, she got her middle school education from a Catholic School.
Her career in media began in 2009 when she started working as a host on the gaming review program, Good Game. Further, she has presented other shows like screenPLAY, Only In Oz, Good Game: Spawn Point, and Thrones 360.
Stephanie's Show Biz Competitor:- 'WCVB' Maria Stephanos Bio: Amazing Husband & Family Journey, Inspiring!
Apart from a TV presenter, Stephanie is also a published author and has written several books for children book series: Pixel Raiders.
As an author, she makes a salary of AU$62,000 per year; whereas, her job as a TV presenter also earns Stephanie a handsome annual salary amounting to AU$82,000. Her net worth is still kept private.
Height & Weight
Stephanie is not known to be a tall lady, but she is also not a dwarf. The host stands at the height of 5 feet 4 inches, which isn't much but, matches with her body physique.
Further, she keeps her weight suiting to her body. Although she gained a few pounds back in 2017, Stephanie immediately lost the extra weight and got back her slender looks.